In December last year, the sales of plugin vehicles accounts for 55.4% of the total volume of passenger car sales in Germany. Those break down to 33.2% market share for BEVs and 22.2% for the plug-in hybrids.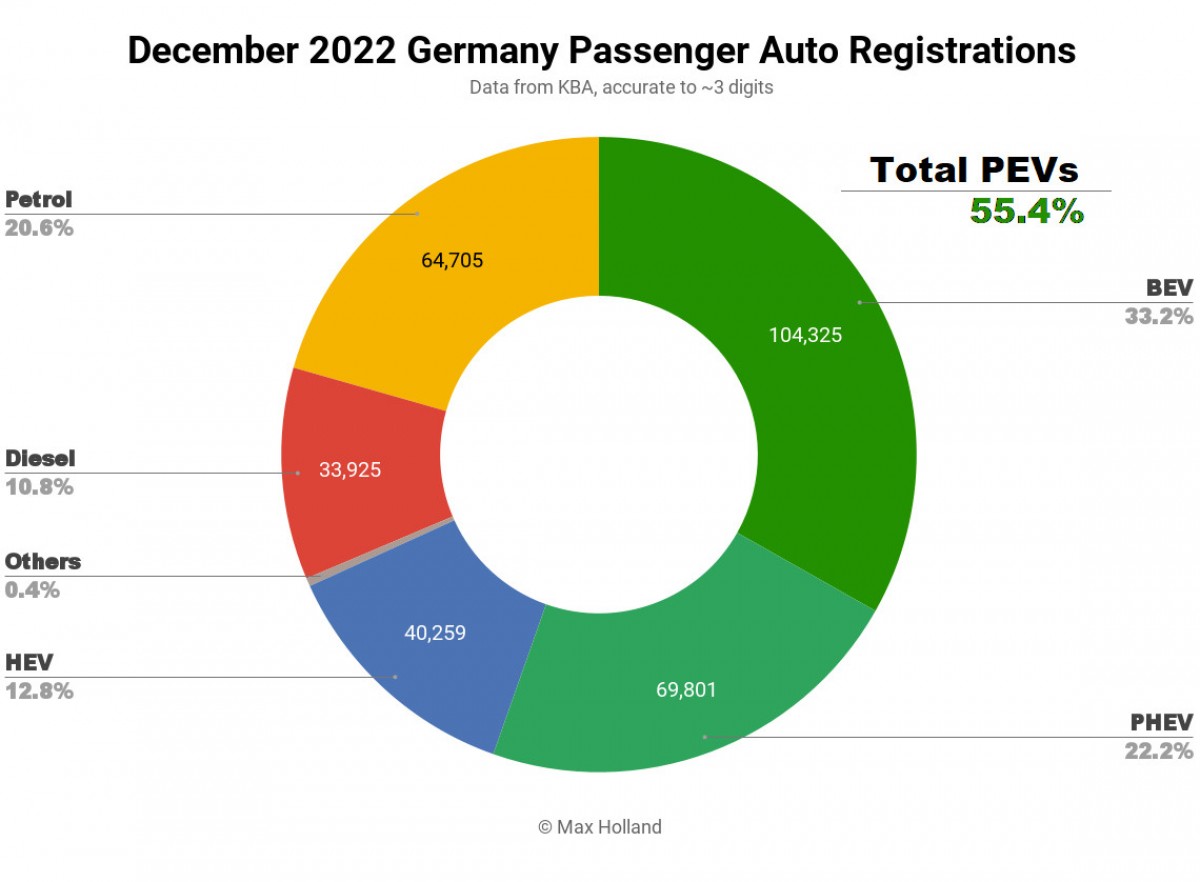 That's a huge increase year-over-year increase, as December 2021 saw 21.3% and 14.4% PHEV and BEV shares, respectively. Part of the reason for the December 2022 uptick is the cut in government subsidies. From January 1, BEVs costing less than €40,000 will be subsidized with €4,500 instead of €6,000, while vehicles ranging from €40,000 to €65,000 will be subsidized with €3,000 instead of €5,000. Additionally, PHEVs are getting completely disqualified from the subsidy program. The government plans to cut subsidies further in 2024.
Still, analysts believe that BEV market will continue to grow and perhaps reach 50% in 2026 and close to 90% in 2028.
Looking at the full 2022, BEVs reached 470,592 total sales, which is a solid 32.2% growth year-over-year. Considering that overall vehicle sales are flat this year (just a 1% increase YoY), the BEV shipments are even more impressive.
The best-selling vehicles in December were Tesla Model 3, Model Y, while VW's ID.4 and ID.5 took the third place. For the entire Q4, the first two places remain unchanged, but Fiat 500e takes third place. And looking at 2022 as a whole, Tesla's Model Y outperformed the Model 3 while the Fiat 500e maintains the third spot.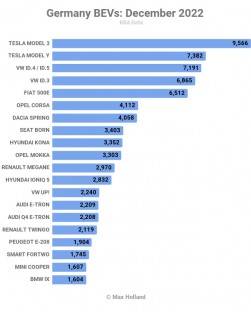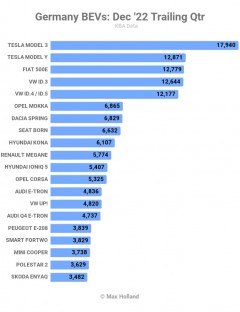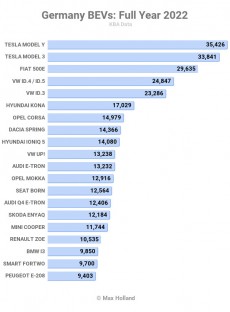 Best-sellers in December, Q4 2022, full 2022
Moving onto the UK, the total electric-driven vehicle sales are not quite as high, but still rapidly increasing. About 39.4% of the new cars sold were plug-ins (32.9% BEV and 6.5% PHEV). Compared to December 2021, the UK market saw a 53% increase in BEV sales, while PHEVs remained mostly flat.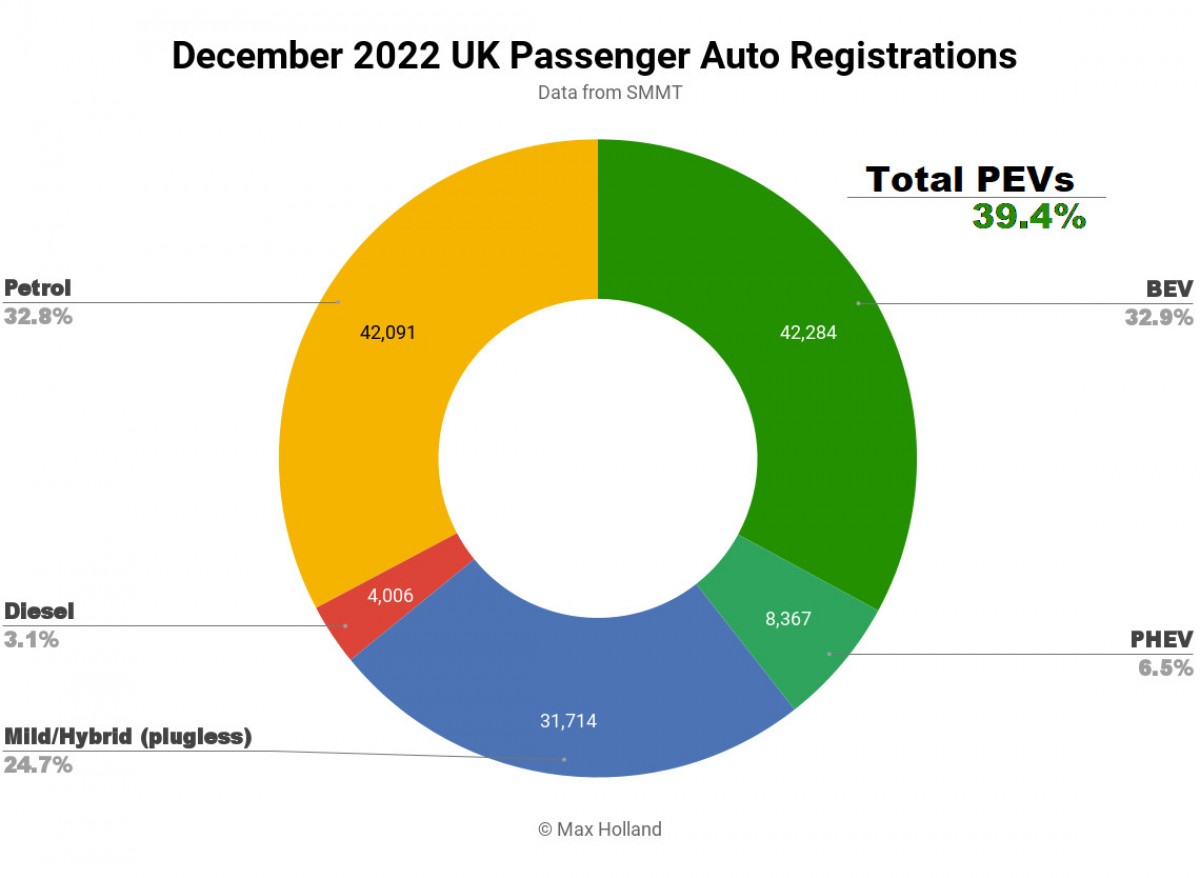 In 2022 as a whole, the BEV share stands at 16.6%, while PHEVs are just 6.3%. That's a healthy 43% growth YoY for BEVs and considering the numbers for the final months the trend is only accelerating.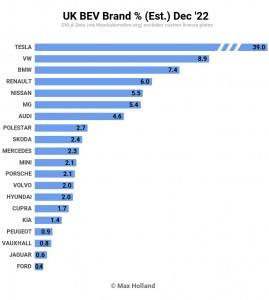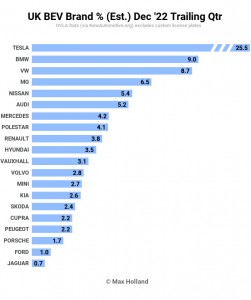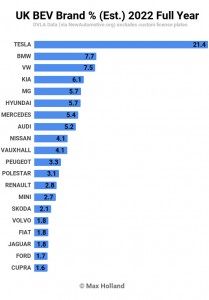 Best-selling brands in UK: December, Q4 2022, full 2022
The most popular BEV brand in the UK for December, Q4 2022 and the whole 2022 was Tesla, followed by BMW and VW. Best-selling cars for 2022 are Tesla's Model Y and Model 3, while Kia's e-Niro takes the third spot in the country.