Dacia has been offering the Spring for three model years now, and the success of the small EV seems to be exponentially growing. It should excel in its category by offering cheap and reliable transportation for the masses. It is not a car intended to win any awards from design shows, nor is it the most luxurious vehicle to be in. However, it does its job perfectly by providing cheap and reliable transportation for up to 4 adults.
The model we reviewed is Dacia Spring Electric 45, manufactured in 2023. It's an FWD car with a 33 kW (45 hp) 92 lb-ft electric motor and a battery with 26.8 kWh usable battery capacity.
The Dacia Spring's claim to fame is that it offers value for money like no other competitor. Almost 49,000 units were sold in 2022, which is 75% more than what they sold in 2021, making it Dacia's 4th best-selling model and the 8th best-selling EV in Europe. For now, it is only being sold as the Dacia Spring, but it's expected to enter other markets like India as the Renault Kwid Electric.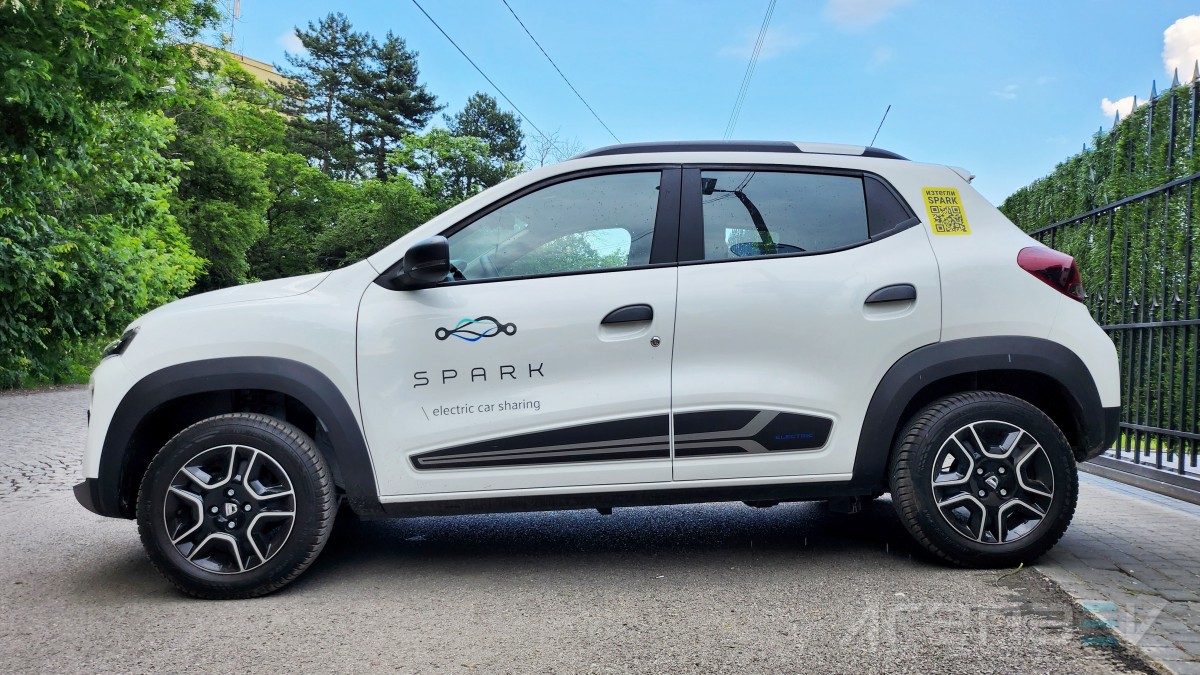 The size is what makes the Dacia Spring so unique in a segment where it is faced with such strong competition. It is compact in size and very lightweight. Visibility and maneuverability are an added bonus thanks to the compact sizing, which turns the Spring into an ideal city-oriented vehicle.
Dacia Spring at a glance:
Dimensions:

147 inches

x

59.7 inches

x

63.9 inches

,

95.4 inches

wheelbase.
Drivetrain tested: Electric 45 - FWD 33 kW (45 hp),

92 lb-ft

, 26.8 kWh usable, 27.4 kWh total battery capacity.
Other drivetrains: Electric 65 - FWD, 48 kW (65 hp),

83 lb-ft

, 26.8 kWh usable, 27.4 kWh total battery capacity.
Charging: 34 kW DC max, 10-80% in 38 min; Type 2 6.6 kW AC, 0-100% in 13 hours 32 min
Range:

137 miles

WLTP
Weight:

2,138 lb

unladen,

2,835 lb

gross
Other features: Bluetooth audio, Forward collision warning, Rear parking sensor, Cargo version.
Exterior
The Spring's exterior isn't a design masterclass, but it certainly isn't ugly. The ground clearance of 5.9 inches makes it look lifted like a crossover, but it still looks more like a hatchback than a conventional SUV because of its size. The front carries unmistakable Dacia characteristics like the center grille with the big Dacia logo that hides the charge port, the shape of the headlights with a single strip of LED lighting and the big high beams below the running lights. It looks like it fits perfectly into the Dacia lineup without any differentiation from the ICE models design-wise.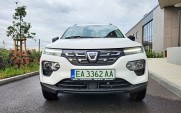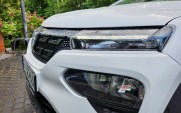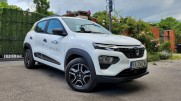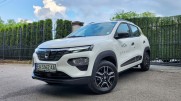 The all-electric Spring has the signature Dacia front
The side profile of the Spring takes after the Sandero, while also incorporating unique features like the door rubber plates that are meant to prevent scratches and dents in tight parking spots around the city.
The tires are very small by today's standards, with a size of only 14 inches. The back is more lifted than the front, which enhances the SUV look.
Mounted on top of the vehicle are some fake roof bars that are unusable for extra luggage but give the car a more rugged and complete look.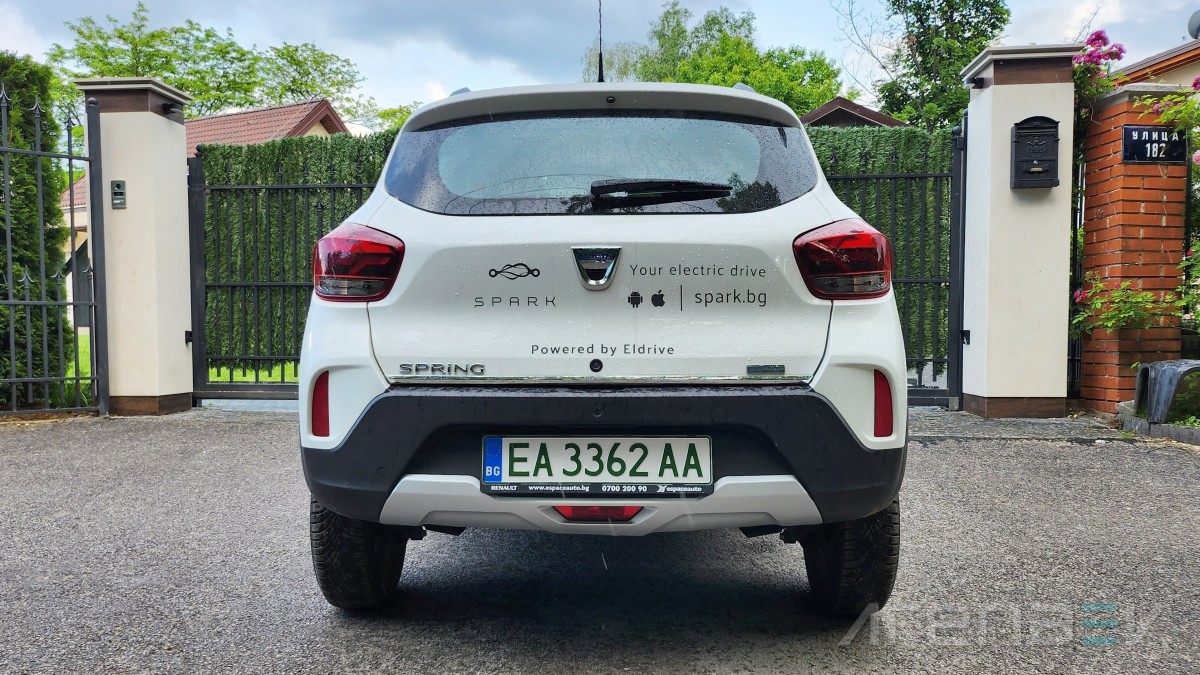 The back of the Dacia Spring is easily recognized because of the Dacia logo on the tailgate and the taillights that are reminiscent of the Duster with their design and inner LED lighting. Some trims may offer a huge "Dacia" lettering instead of an emblem, which makes it even more recognizable. In the middle of the trunk, there is a prominent black button that opens it, and it disturbs the otherwise clean look of the back end.
Interior
Stepping inside the Spring, the driver and passenger are greeted with solid build and big dials. Nothing inside even tries to pass as being luxurious, but the materials feel solid and durable. A lot of cheap plastics line the interior, but none of them give in, and there are no creaks anywhere.
The steering wheel is made of a rubbery material that doesn't feel great to touch, but you can get used to it. The steering wheel height, however, cannot be adjusted, which may be a problem for taller drivers, who will have to choose between proper steering wheel position or proper seating position. Sadly, choosing both is not an option.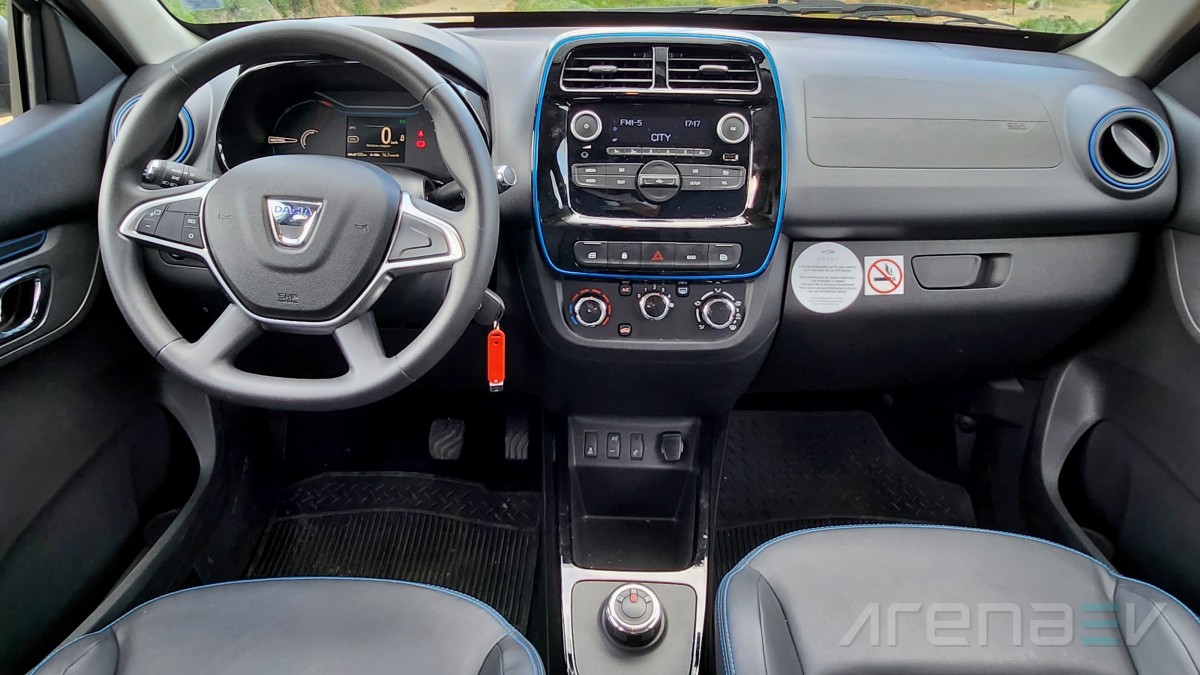 An obsolete concept from ICE cars is brought into this EV, and that is the key, which has to be rotated in order to start the vehicle. In gas-powered cars, this movement engages the starter, but in an EV, this whole procedure is completely redundant. Perhaps its purpose is to ease EV usage for people who are used to driving ICE cars all their lives and need some kind of "awakening" for the battery.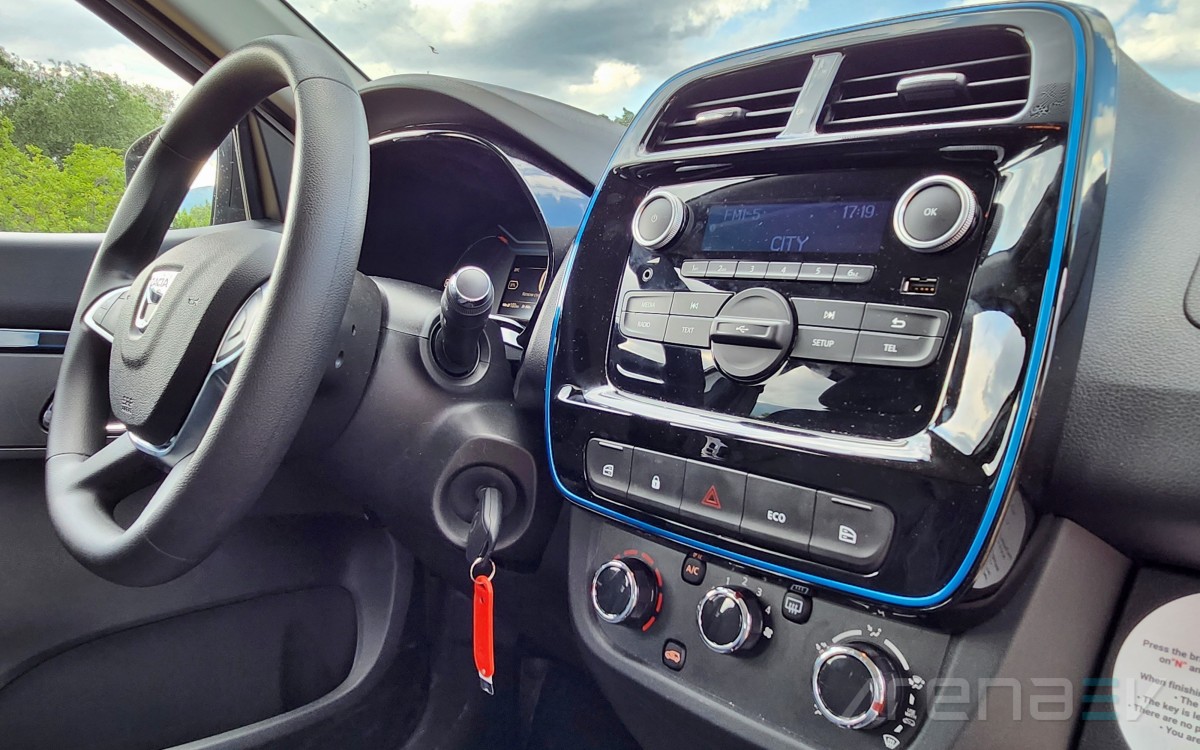 The seats in the Spring are exactly what you expect them to be in a cheap daily vehicle. Very cushy cloth seats, with almost zero side or thigh support, much like a sofa at home. Combined with the soft ride of the vehicle, these seats actually make daily driving in the Spring a surprisingly leisurely experience.
The center console is one solid piece with all the needed controls. The buttons are big and easy to read and operate. Our test model doesn't have the optional touchscreen display and relies only on physical buttons to control the multimedia. There are no gimmicks or quirks anywhere, only proven technology that is known to work.
In the absolute center of the dashboard, there is a big black plastic cover, which hides a second USB slot behind it. We imagine many owners will misplace the cap sooner rather than later.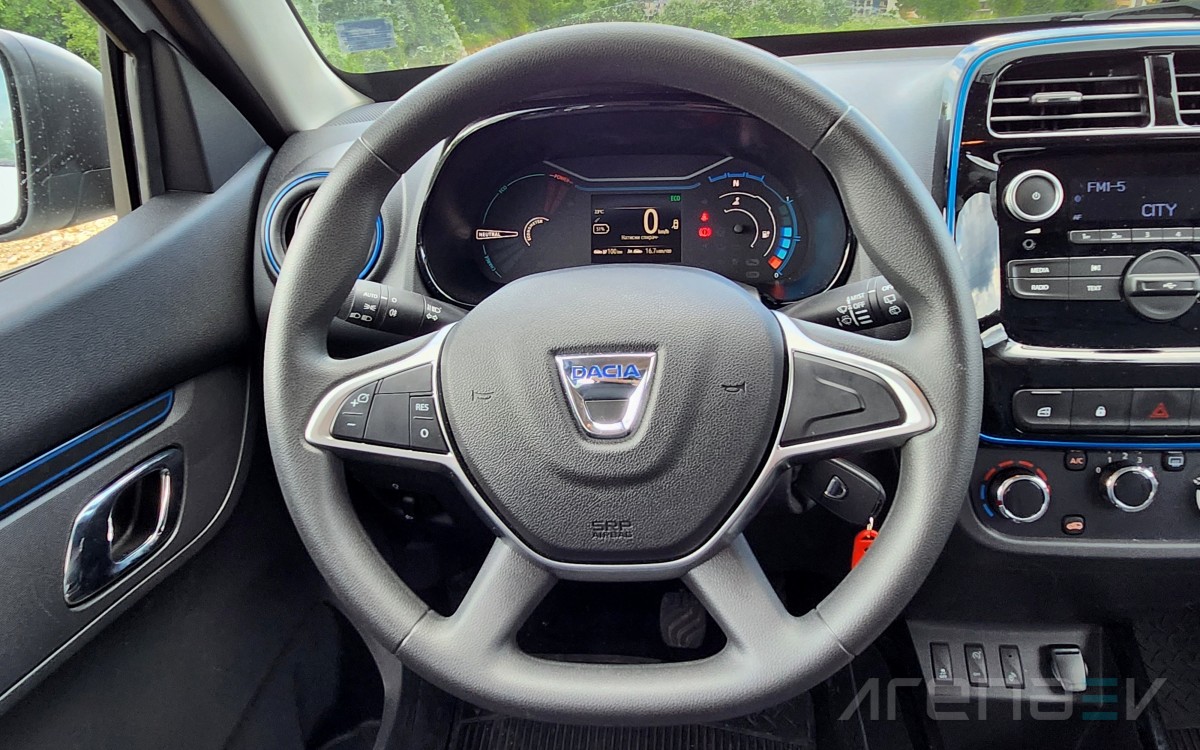 Going to the back row of seats, the only interesting features are the electric windows, which, strangely enough, cannot be operated from the front.
The bench seat offers no support, and comfort is minimal, but there is extra headroom, which makes riding a lot more comfortable for taller passengers.
Leg room is decent for such a small car, so 4 passengers should be able to travel comfortably in the vehicle.
This here reviewer is 1.95 m tall (6'4"), and after adjusting the driver's seat in a comfortable position, there is enough leg room for comfortable travel in the back seat.
Storage & practicalities
A small car rarely provides much storage space, and that is exactly the case with the Spring. It offers a small trunk with a volume of 9.5 ft³. This doesn't sound too bad, except the trunk floor lining doesn't offer any support and gives in under any heavier load. A very bad place to do cost-cutting exercises. Also, the car does not have a frunk, which furthermore reduces storage space.
Inside the Spring there are many storage spaces up front and none for the backseat passengers. It offers two big sections in both door pockets, which are deep enough for water bottles and other daily items. In the lower part of the center console there is a big open space for storage, as well as a huge glovebox by today's standards.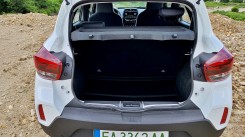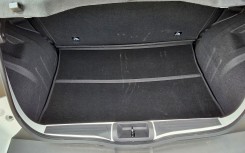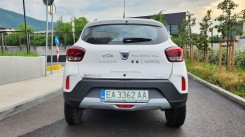 The trunk opening is low and wide, but the floor lining gives in under load
The Cargo version, however, may offer up to 38.8 ft³ of useful cargo space, which is a lot for such a compact vehicle. Whoever opts for this version loses the backseats in exchange for increased storage space.
Driving experience
Driving the Dacia Spring requires some adapting. The center position of the wheel is nonexistent, especially with low city speeds. In the beginning, you are never sure how much to turn the wheel to get the car where you want it to go - not unlike a motorboat. The steering wheel is also heavily assisted and gives absolutely no road feedback. Combine that with the fixed steering column, and the result is one vehicle that's pretty hard to maneuver, despite the car's small size and great visibility. Once you master it, however, the Spring would cheerfully slot in the tightest of parking spaces and would feel at home in any narrow city street.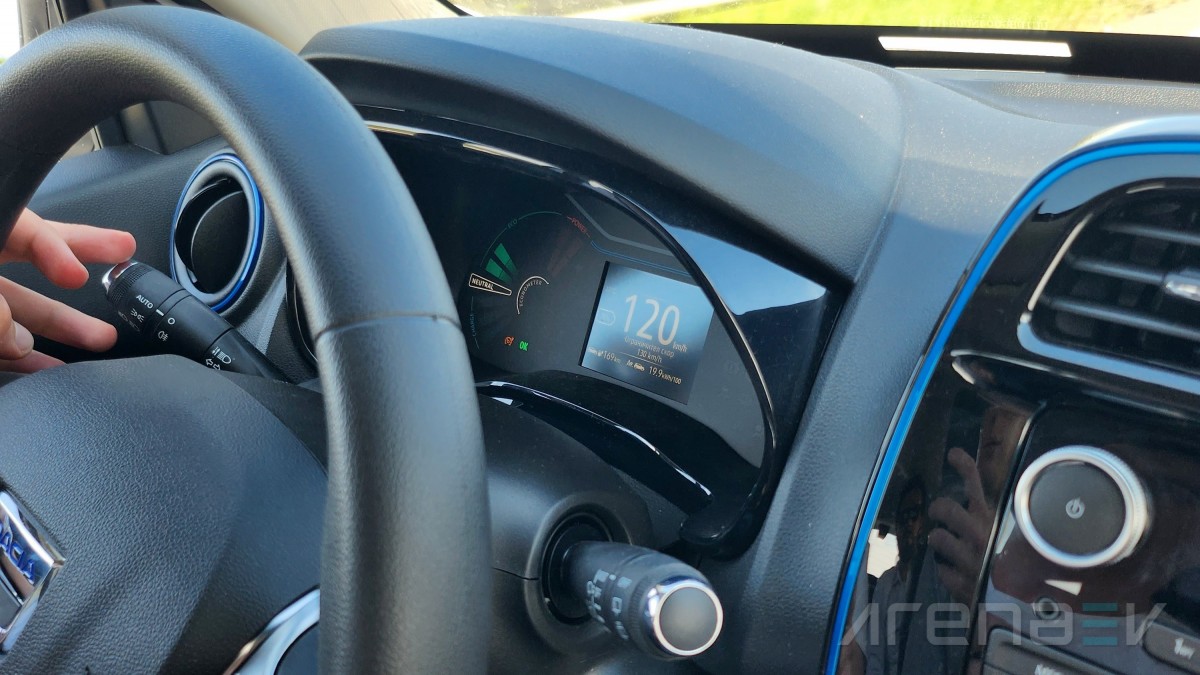 Surprisingly, the Spring offers really good riding comfort. It shares the same philosophy as the old-school Citroen 2CV, which was designed for comfort, and no handling or sporty feel was ever considered in order to keep the car cheap. Such focus was generally present in many other models up until the '90s when automakers started shifting towards a sportier driving experience. The Spring brings back this long-lost feeling into the modern era. Bumps and other road obstacles are hardly felt in the light Spring, but when it's time to make a sharper turn, things can get ugly very quickly.
The small tires, low weight and soft suspension combine in a unique way, which awards relaxed drivers and heavily punishes everyone that wants to go fast. This feeling was underlined in our highway test, where the little Dacia felt unsafe over 68 mph even though it could reach its 78 mph top speed. The Spring struggles with the airflow, and losing focus when driving at such speeds may easily lead to an accident.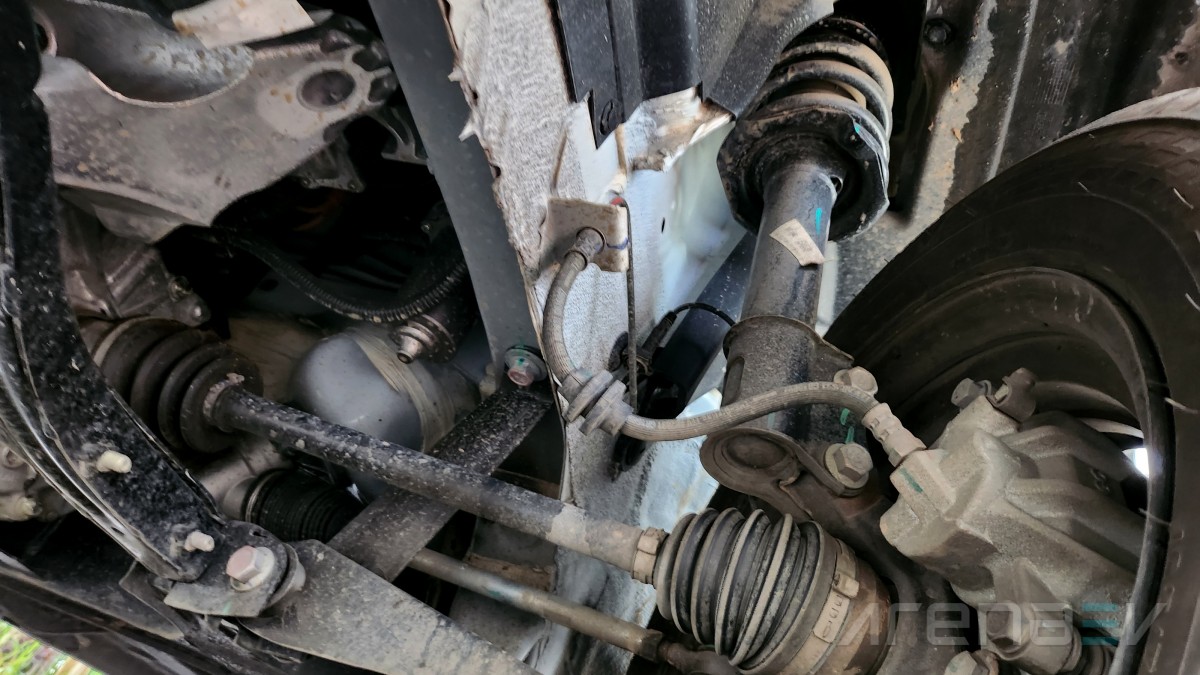 What it lacks in high-speed stability, it makes up for in off-roading capabilities. The soft ride allows for a smooth drive on gravel and dirt roads, while the 14-inch wheels should make it a true winter warrior when equipped with good tires.
Tech features
The little Dacia Spring doesn't shine as a technological pioneer but utilizes existing technologies from high-end models and brings them down to the most affordable class.
On board, there is a forward collision detection system as standard, which can even brake in case of emergency. That is a feature which was reserved for only the most luxurious cars on the market up until a few years ago.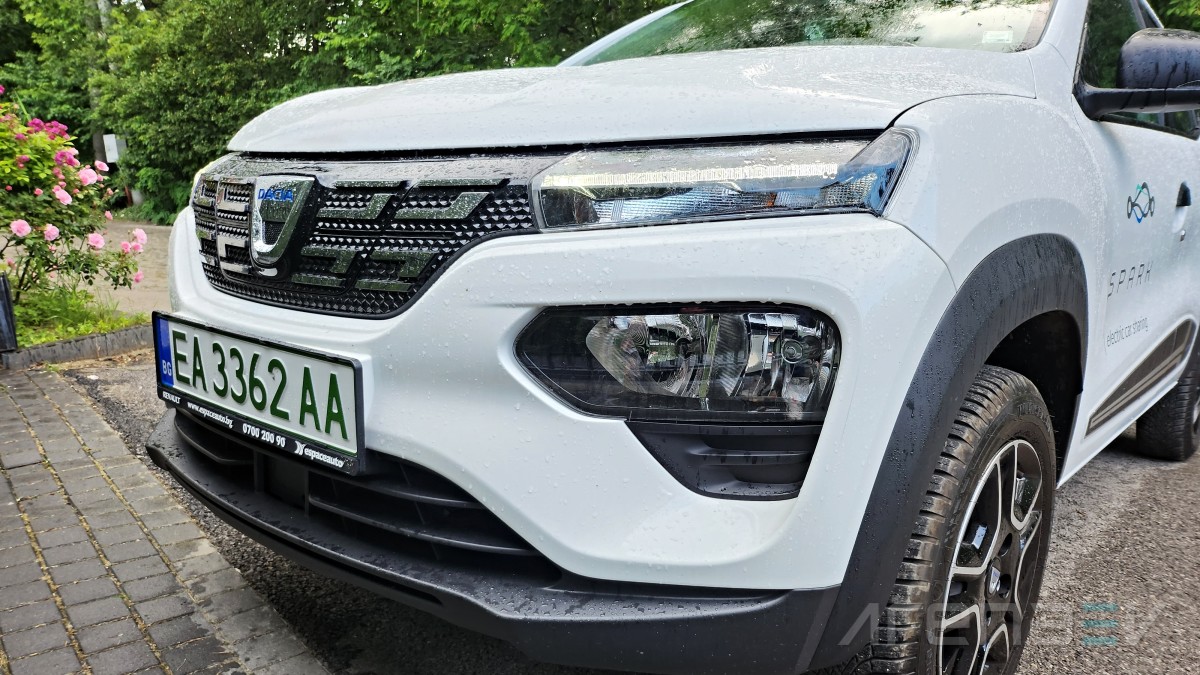 As an option, Dacia offers lane departure warnings and a rear-view camera. Rear parking sensors make fitting into tight spots especially easy.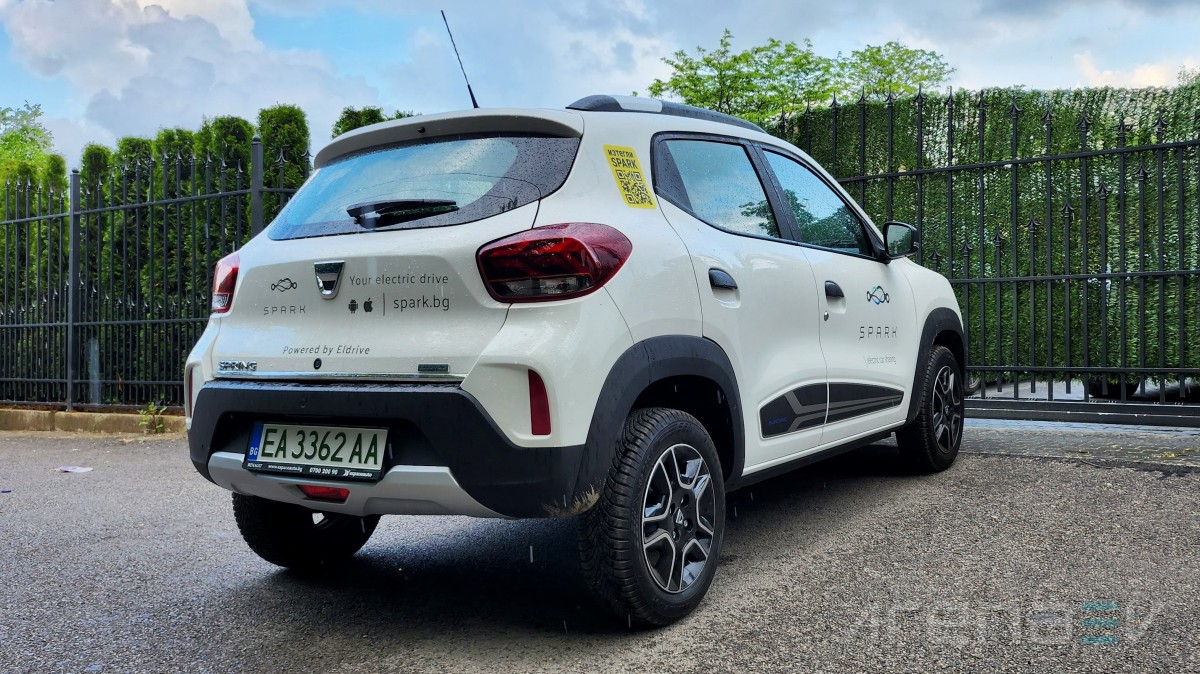 The optional multimedia system is good, but definitely not a must. It bumps the price of the car significantly, which takes away its biggest benefit - affordability.
Ride comfort
The soft ride was once again confirmed when driving on our bumpy test track, which proved the vehicle to be smooth with cracks and potholes. Uneven surfaces are gently absorbed by the soft suspension, while big potholes cause the car to shake before balancing out, but a harsh hit is never felt. Overall, the Spring offers a surprisingly comfortable ride for such a small and cheap vehicle.
Cabin noise
While the ride comfort may be excellent, the cabin noise inside the Dacia Spring is quite high. We tested the noise inside the Spring, and the results confirmed the subjective feel for a noisy interior. This is a result of both poor aerodynamics and a lack of insulation for the cabin.
Dacia Spring Electric 45 Cabin Noise:
| Speed | Cabin Noise |
| --- | --- |
| 50 mph | 76.7 dB |
| 56 mph | 79.3 dB |
| 78 mph | 81.3 dB |
Sound level tests are carried out with a specialized sound level meter placed in the car's cupholders. The test is conducted with air conditioning and radio off and while maintaining a steady speed.
Acceleration and braking
Accelerating with only 45 hp is painfully slow. The best time we could achieve is 20.52 seconds for the 0 - 62 mph sprint. The Spring feels surprisingly slow, even off the start. Although it doesn't weigh much, it is truly underpowered.
Braking felt good at first, but with a braking distance of 47 m (154'2") from 62 mph to a halt with the Firestone Multiseason GEN02 tires it had fitted. This is not a great result considering the brake system has to stop a weight of just under a tonne. Furthermore, the drum brakes quickly overheat, and multiple hard stops are not advised since they lead to increasingly worse results each time.
Acceleration and deceleration are measured with a RaceBox device inside the car. Testing is done with a single person inside the car, with air conditioning and traction control off.
Consumption
The Dacia's frugal consumption is one of its applaudable aspects. You can easily reach the official WLTP combined range of 140 miles. Some drivers may even go further than what the manufacturer states. We tested our model at 68°F. It is the best possible temperature for such testing and lower or higher temperatures may lead to worse results.
Dacia Spring Electric 45 Consumption:
| Speed | Consumption | Range |
| --- | --- | --- |
| 50 mph | 8.4 mi/kWh | 225 miles |
| 56 mph | 6.5 mi/kWh | 173 miles |
| 78 mph | 3.2 mi/kWh | 86 miles |
We measure consumption by driving at constant speeds on an identical test route during the day. Testing is conducted with air conditioning, all safety systems and radio on. The data comes from the vehicle's board computer. Specific testing parameters such as ambient temperature are mentioned in the text on a case by case basis.
Charging speed
To calculate the expected charging times in every possible situation, please refer to our tool below, which is based on real-life data. It estimates charging times with different charger types and how long it will take to charge up to your desired percentage.
Our tool can calculate the charge time required for any range – the typical 10%-80%, a full 0%-100% and anything in between. You can, for example, leave yourself a bigger safety margin if you think an upcoming charger may be out of order. Or you calculate the charging time for a full charge if you plan on having a longer stop anyway.
Competition
The Dacia Spring is positioned in a segment with many competitors, yet it has no direct rivals. It tries being both a hatchback and a crossover, which means it competes in two of the most saturated segments at the moment. However, when it comes to pricing, the electric-only Spring plays in a league of its own with a starting price in Europe of around $24,700 before subsidies. For the moment, it can only be compared with used EV's price-wise.
The closest overall competitor to the Dacia Spring is the Renault Zoe. It offers less interior space and ground clearance but makes up the losses with better equipment, longer range and much quicker acceleration. Price when new is significantly higher, starting at around $32,000, but a used one can easily be picked up for way below that.
Another competitor is the Nissan Leaf. It has good interior space, offers more creature comforts and has a larger battery. However, its pricing as new is once again around $32,000 for a base model, which offers only slightly better range than the Spring. So only used Leafs can compete with the new Dacia Spring.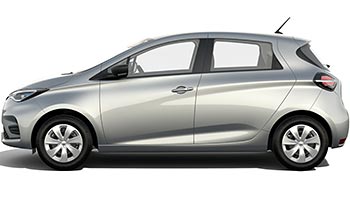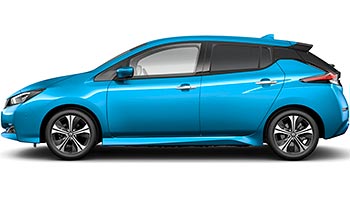 Renault Zoe 2018 - • Nissan Leaf 2018 -
Verdict
The Dacia Spring is a good daily commute vehicle that delivers exactly what it promises. It doesn't shine with anything, but it also doesn't bother you in any way. Dacia promotes it as a city-oriented vehicle, and with its compact size and good visibility, the little Spring zips around town with ease. It is clearly intended as a no-frills transportation, and it does that well.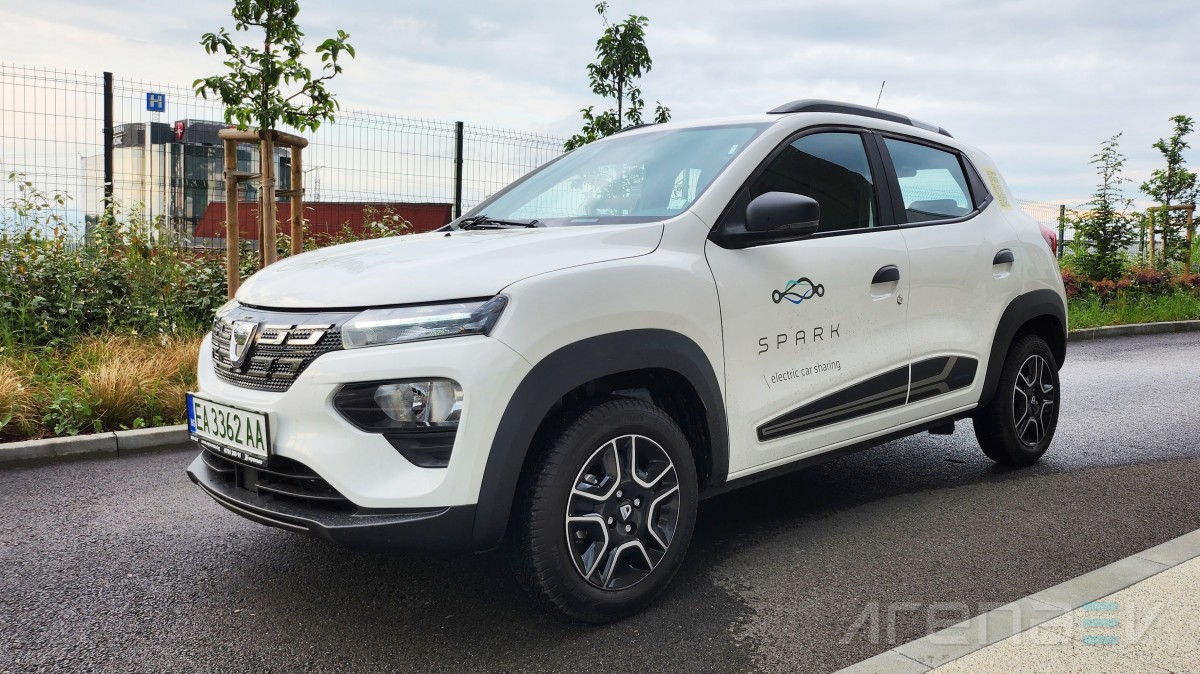 Pros
Good interior space, well suited for 4 adults.
The range easily exceeds the car's WLTP rating.
Soft and comfortable ride.
Solid build quality.
Cheap price for a new EV.
Cons
Car feels underpowered and slow.
Steering is light but indirect, and the wheel position is not adjustable.
Roof bars are decorative only and can't support any luggage racks.
The trunk floor lining is thin and soft and gives in under heavy objects.
Actually going for more speed did hurt the car. It would have been bit quicker if it did 80km/h instead. Guess, Renault wanted to advertise the car as capable of european highway speeds.
Previously to Dacia Renault K-ZE. https://en.wikipedia.org/wiki/Renault_Kwid
The key isn't actually redundant. I believe that turning to the drive position engages the high voltage battery through the contactor. Thus it is easy to know if the HV electrics are isolated for servicing and maintenance.