This "thing" is off the scale, it is off the scale of all scales. It is insane, I honestly don't know what they were thinking, in fact - I don't wanna know. The Renault 5 Turbo 3E is a result of giving a huge budget to someone who clearly knows and respects automotive history, and at the same time is absolutely in love with the electric future. And doesn't know how to drive in a straight line, the only way she or he knows - is sideways.
The R5 Turbo 3E is an absolute tool, it is what people "in the biz" call the drift machine. It's an out-of-the-box tire slayer that pays homage to its iconic grandfather while insulting pretty much every other car out there. What do we expect? It's French, after all. And it is the best thing to come out of the Renault factory - ever.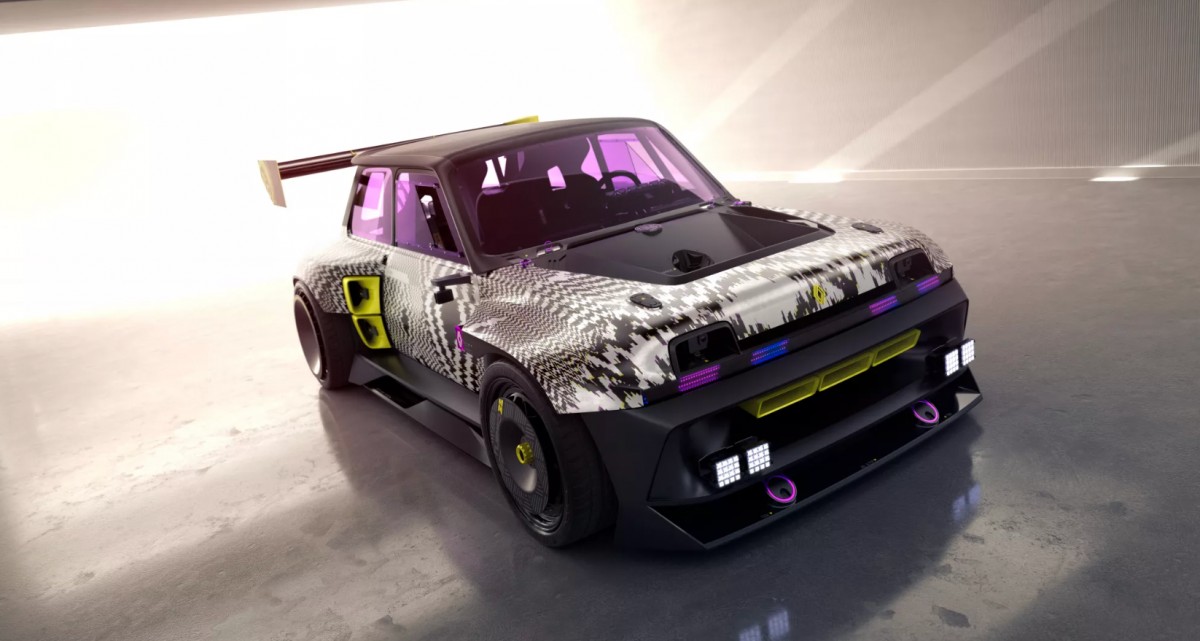 Renault R5 Turbo 3E
Taking the graphics and colors away just for a second, and looking at the car in its pure shape - it takes your breath away, then it throws it back at you with the force of a door slamming in your face. It's obnoxious, it's wide and it has the biggest rear wing ever fitted to a car, probably nicked from an airplane.
Let's start at the back. There are air vents in the C pillars just like on the original 5 Turbo, there are air vents going into the wheel arches to cool down two electric motors - not so different from the original. The attention to detail points to a work of love, someone has a serious issue with symmetry - look at those HV cables. Beautiful.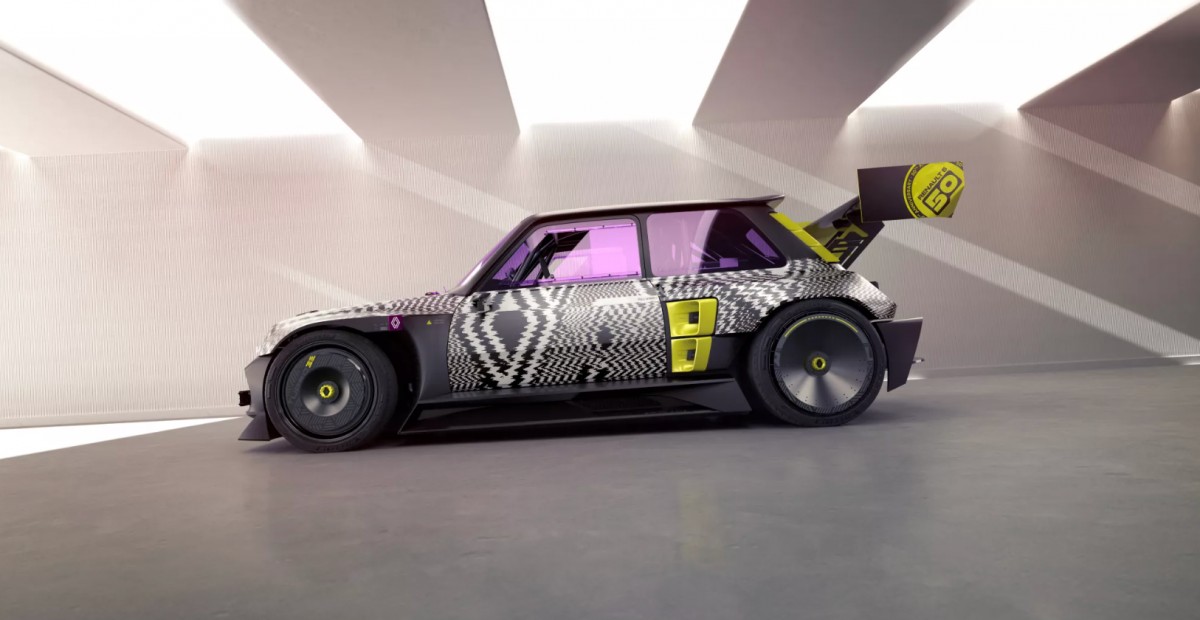 Moving to the side and stepping back a bit - clearly, it is a Renault 5, you can't even for a second pretend that you don't know what car it is. There is nothing else on this planet that looks remotely like this engineering miracle. The front wheel arches are struggling to hide the 225/35/19 tires wrapped around the coolest, retro-styled rims with a center lock.
The front is just mean, if you've seen that in your rearview mirror - you'd be looking for a place to hide. Giant bottom spoiler able to scoop up all the air and little birds along, then put it through the three yellow air vents over the bonnet and straight over the roof towards that giant rear wing. All function, with a little bit of French flamboyance.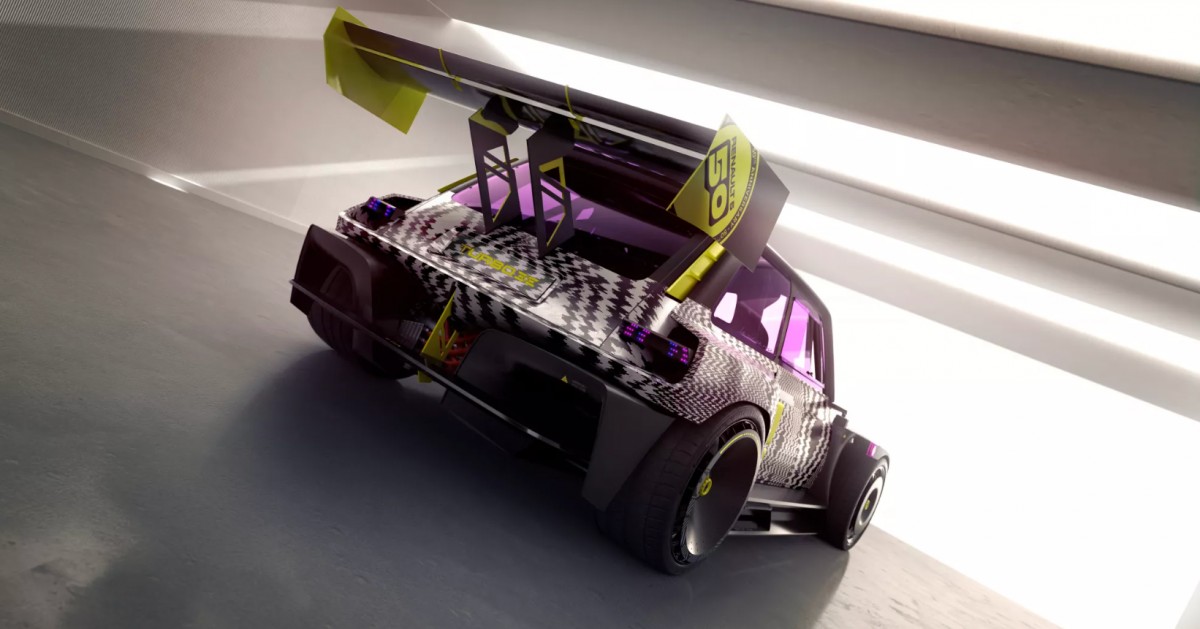 That wing...
Black pocket rocket, with fluorescent yellow air vents, purple Lexan windows, and digital black-and-white graphics, topped off with that oversized wing. What a creation, an electric masterpiece. I know it's useless on the road, you can't take your kids to school in that - although I probably would anyway. But we all should have one like that, quietly tucked away in the garage, waiting for the weekend. Renault, are you listening?
Let's jump in and… wait a minute, carbon fiber Sabelt seats, classic Renault patterned fabrics, harness, and the mighty drift stick point straight away for this car's intended use. The digital dashboard doesn't hide it at all - four driving modes are available: Turbo, Battle, Donut, and Track Invader. To start the car up, you need to press the "Free Play" button in the center console and then choose one of the driving modes. Utter madness and paradise at the same time.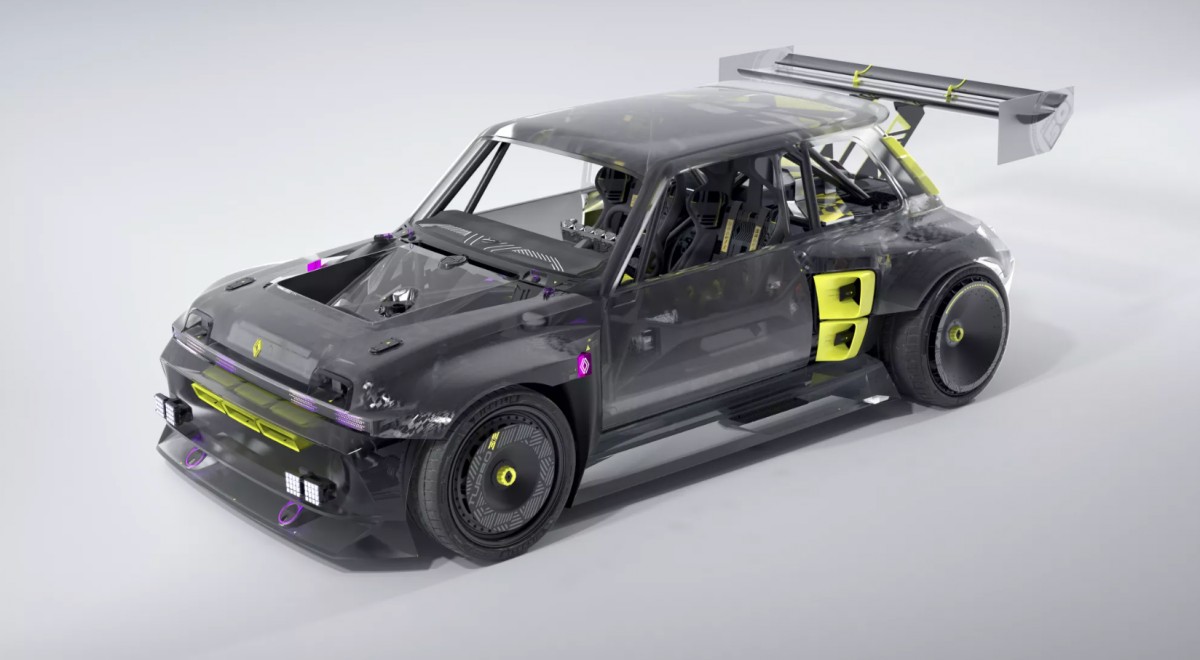 Looking at the technical side of things, you can tell this isn't just a show pony, dressed to impress and then be forgotten. Oh no, this is the real deal, this pony can walk the walk. The Renault R5 Turbo 3E is built on a tubular chassis with a flat base, fully FIA-approved. The two electric motors power only rear wheels, the combined output is 280 kW or 375 HP. The torque comes at 700 Nm and to try and control some of it, the rear tires come in a giant 325/25 R20 size.
The battery that powers this heavenly beast, is on a rather small side of things, 42 kWh is all we get but it keeps the weight down and it recharges in about 2 hours using a 380V and 32A charger. The top speed is 200 km/h and this little hooligan takes 3.5 seconds to accelerate from 0 to 100 km/h. Unless you choose the Turbo mode, which rather misleadingly puts the car into a drift mode. If you do that - you will be rewarded with a 3.9 seconds sprint and a smoke screen big enough to cover half the world.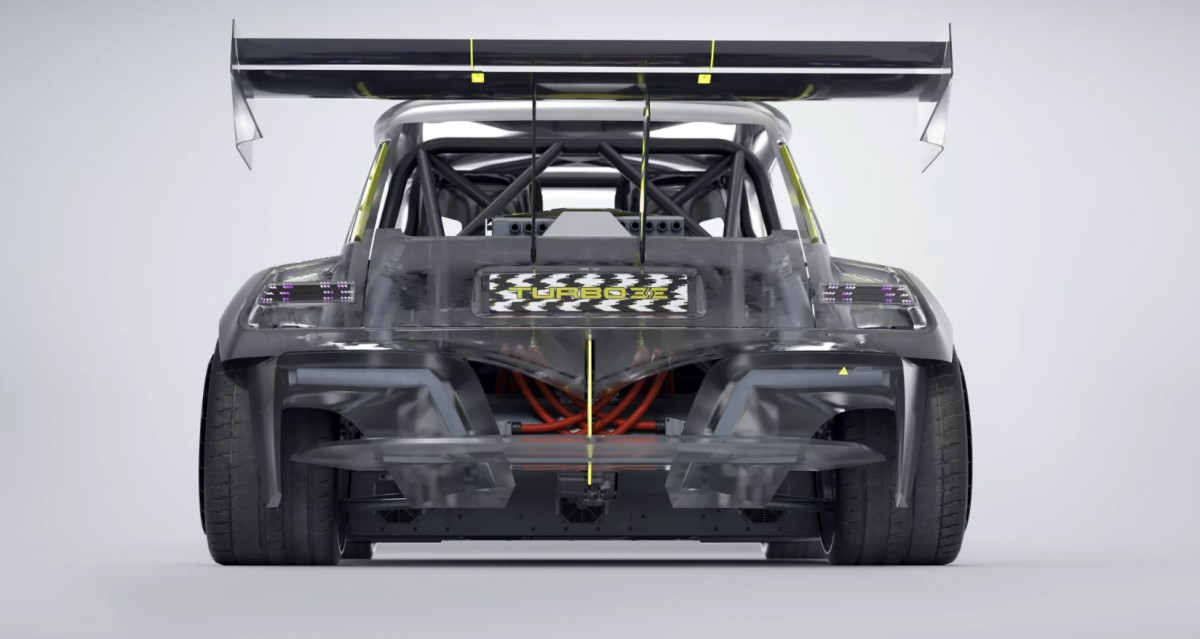 The final piece is the weight, the designers and engineers put a lot of thought and work into this project and managed to keep the car under 980 kg. That's without the battery pack, that essential item adds another 520 kg for a total of 1.5 metric tons. Yes, it is heavier than many competition cars - be it drift or time-attack especially - but it has the grip to make up for its handicap, it has the torque and the power. And it has the biggest wing. And after a fun day at the track, it has oodles of style worthy of an Instagram king. Well done Renault, well done.