Another week - another milestone for the team at Giga Berlin. The production ramp-up is accelerating and last week the magic number of 5,000 vehicles per week have been finally cracked. That brings Giga Berlin into volume production of 250,000 units of Model Y per year.
Tesla's original plan for Giga Berlin was to achieve this number by the end of 2022 but with global problems affecting supply chains, the factory managed to produce 3,000 vehicles per week last December. Only last month we reported on Giga Berlin ramping up production to 4,000 vehicles per week and already the team is smashing 5,000 cars off the production line.
Giga Berlin hits 5k builds/week—1 year after delivering the first vehicles to customers pic.twitter.com/PZigSaSci5

— Tesla (@Tesla) March 25, 2023
The 5,000 vehicles per week is a huge milestone for the factory and for the company. Tesla considers this number to indicate the factory achieving volume production. At the same time, this is the point at which Giga Berlin becomes a profitable operation, with every vehicle over the 5,000 units mark, the factory will now bring profit.
It's not time to rest on the laurels for the team though, the production ramp-up is far from over. The initial plan for Giga Berlin was to have a capacity of 500,000 vehicles per year or 10,000 per week. That plan has already changed - Tesla recently filed an environmental impact application in which it is asking the German regulators to be allowed to increase the production to 1 million vehicles per year.
The 1 million EVs a year is a huge goal that will take years to achieve but it doesn't need the Giga Berlin expanding. The factory itself will need some internal changes and of course, it will most likely need to be running 24/7 with additional workers, but the 1 million units are possible within a realistic timeframe.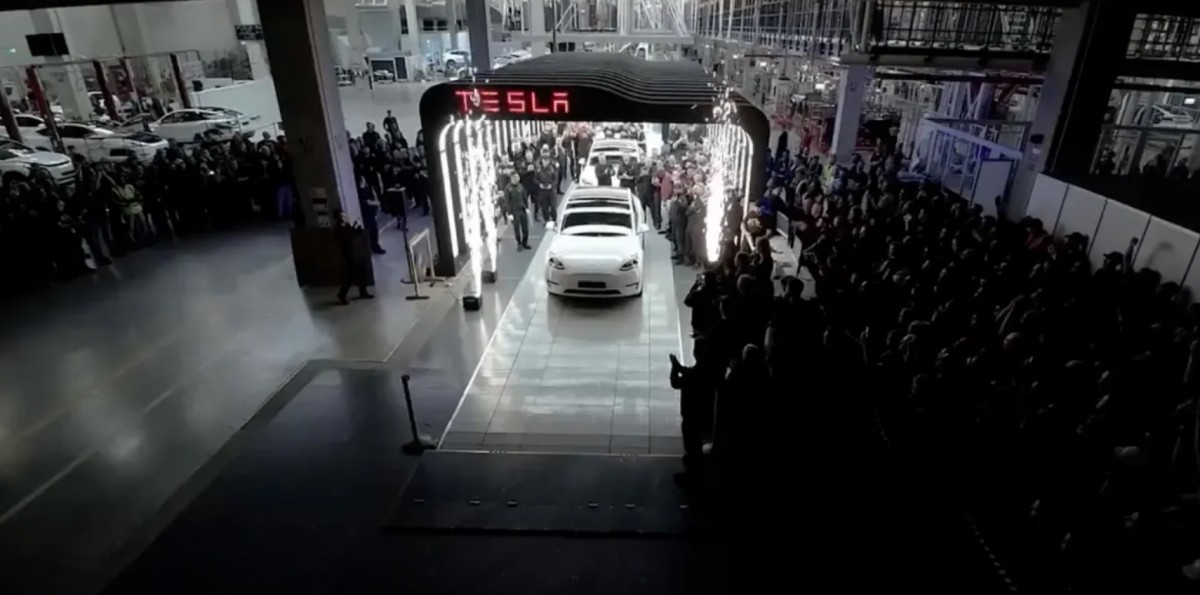 Late night celebrations at Giga Berlin
It has taken Giga Berlin 1 year to achieve 250,000 vehicles yearly capacity, from the day the production started. What is interesting, is that production, and the resulting sales, were achieved with just one vehicle - Model Y. The company always planned to add a second model to the production line in Berlin and many analysts agreed it was going to be the Model 3.
As usual, Tesla is refusing to confirm which vehicle will be added to production at Giga Berlin. It won't be a swift move either, it can take as much as another year before the factory is ready for another production line which leaves time for introducing the Model 2. We can expect to see more details on the smallest Tesla later this year, the new Giga Mexico is rumored to be focusing on Model 2 production but it makes sense as well to have it made in Europe.