BMW is launching a small pilot fleet of iX5 vehicles powered by hydrogen. The less than 100 units fleet will be distributed among BMW's trusted partners and will be used as demonstrators and trial vehicles to assess viability of the hydrogen fuel cell.
BMW took 4 years to develop the hydrogen fuel cell technology and incorporate it into the iX5. The first concept vehicle was unveiled at the IAA show back in 2019 and the first working vehicles were used at the IAA Mobility 2021 as shuttle service to showcase the technology to visitors.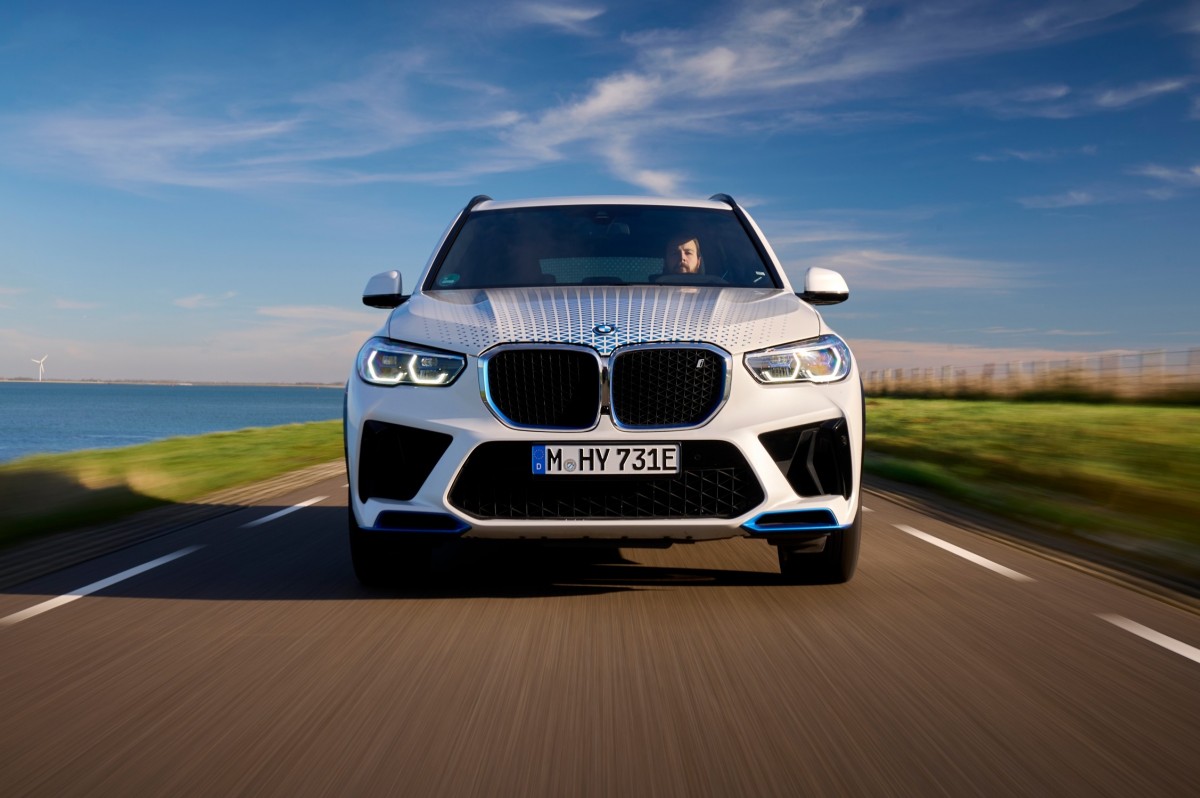 BMW has been toying around t¡with hydrogen for many years, the company built 100 units of 7 series in the past - the E65 and E66 models. Those cars were powered by V12 engines which burnt gasoline and hydrogen but the range was abysmal - 50 liters of hydrogen was needed to cover 100 km. Those cars actually couldn't even do the 100 km, their range was a shockingly low 80 km, but it was just an experiment.
The new technology involves a hydrogen fuel cell and one that's very efficient. BMW claims that the iX5 WLTP range is 504 km or 313 miles on 6 kg of hydrogen which is about 67 liters at 0 degrees Celsius. Compared to the old 7-series, that's about an 8-fold improvement.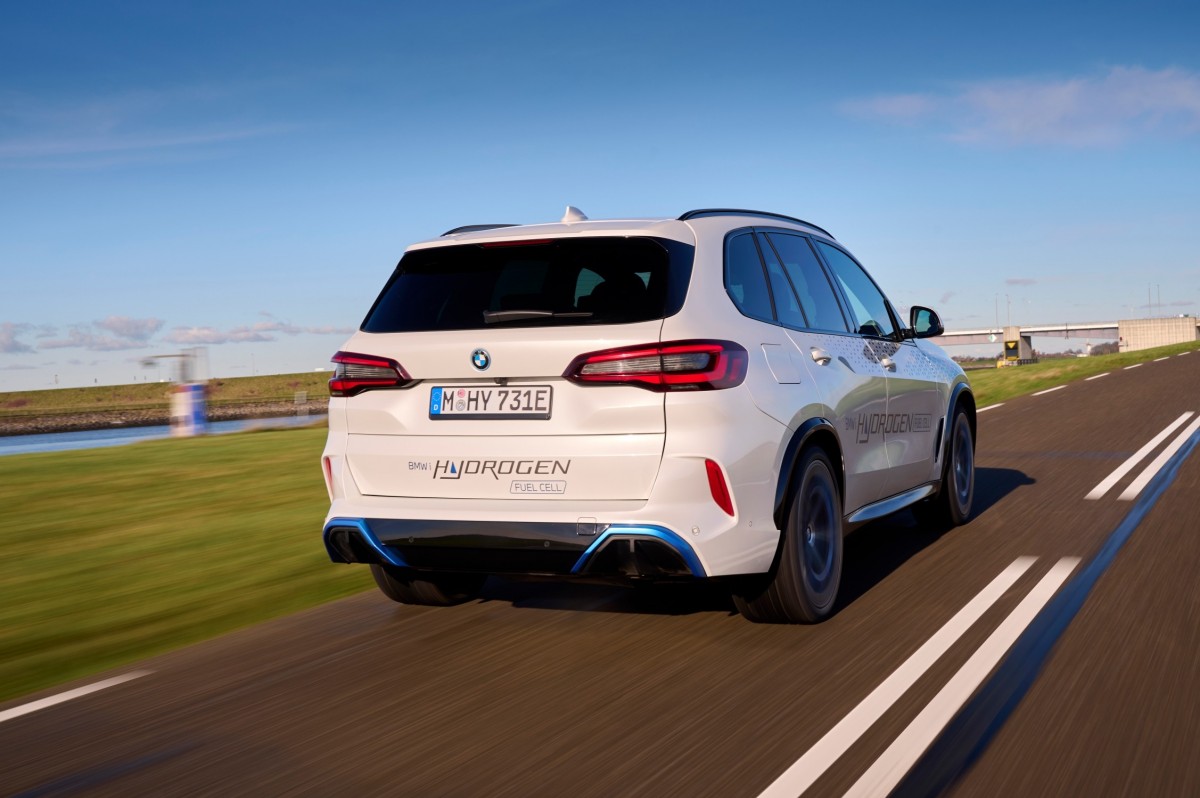 The biggest part of the new technology is the fuel cell itself, supplied by no other than Toyota. BMW managed to squeeze out continuous output of 125 kW (170 hp). When combined with the lithium-ion battery on board that gives another 170 kW (231 hp) we end up with a system that delivers 295 kW of electricity and is perfectly matched with an electric drive rated at 295 kW or 401 kW.
It may be a little bit confusing why BMW is including a lithium-ion battery in the vehicle but this is the smart bit. Since the fuel cell is constantly pumping out electricity at 125 kW it is just as if the car was plugged into a DC charger. Electric motors take the electricity from the battery in most of the situations and only when the full power is required, both the battery and fuel cell are used at the same time. As long as there is hydrogen in tanks, the battery is constantly being recharged and the vehicle keeps on moving.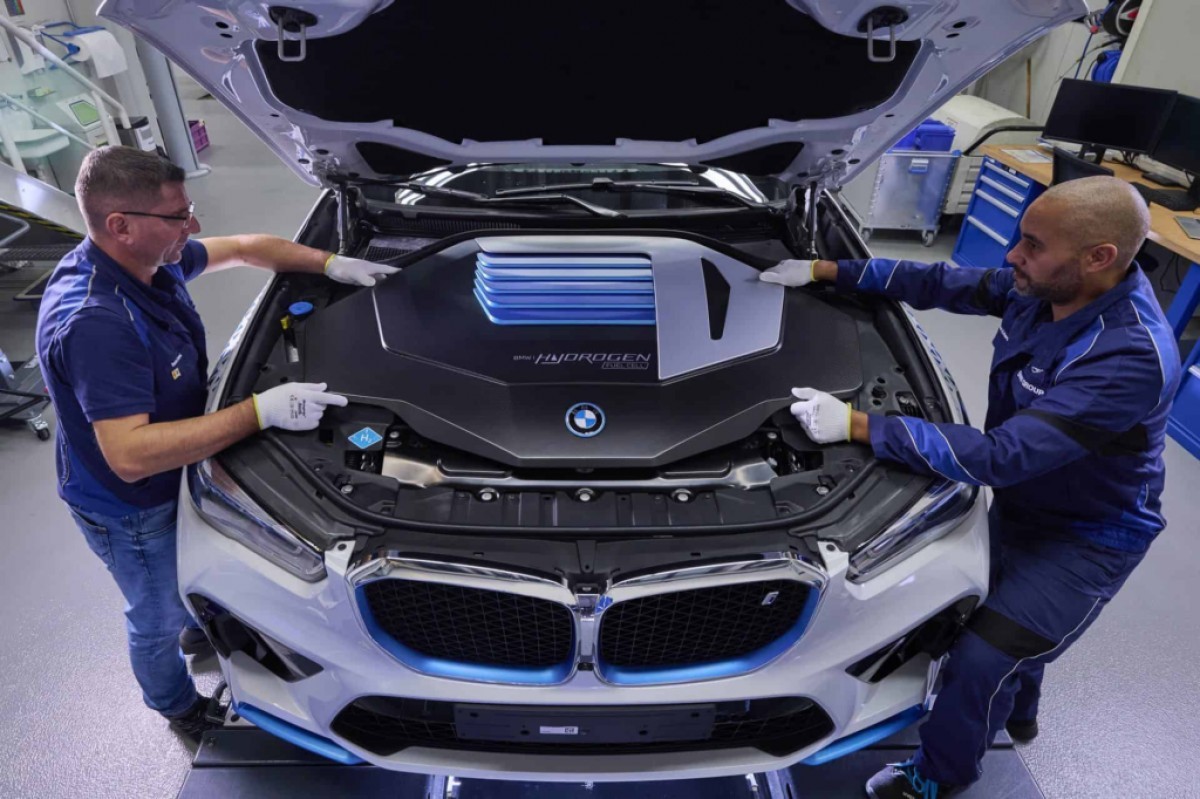 The iX5 with its hydrogen fuel cell is manufactured at a dedicated pilot plant in Munich, Germany. Small team of 900 workers have experience in working with small volume experimental vehicles and have access to the latest manufacturing and development technology.
Unfortunately we can't just go and buy the iX5 but it will be possible to try it out some time soon. While many BMW partners will be evaluating the car for their own purposes, some vehicles will be used as press demonstrators and some will be available to the public.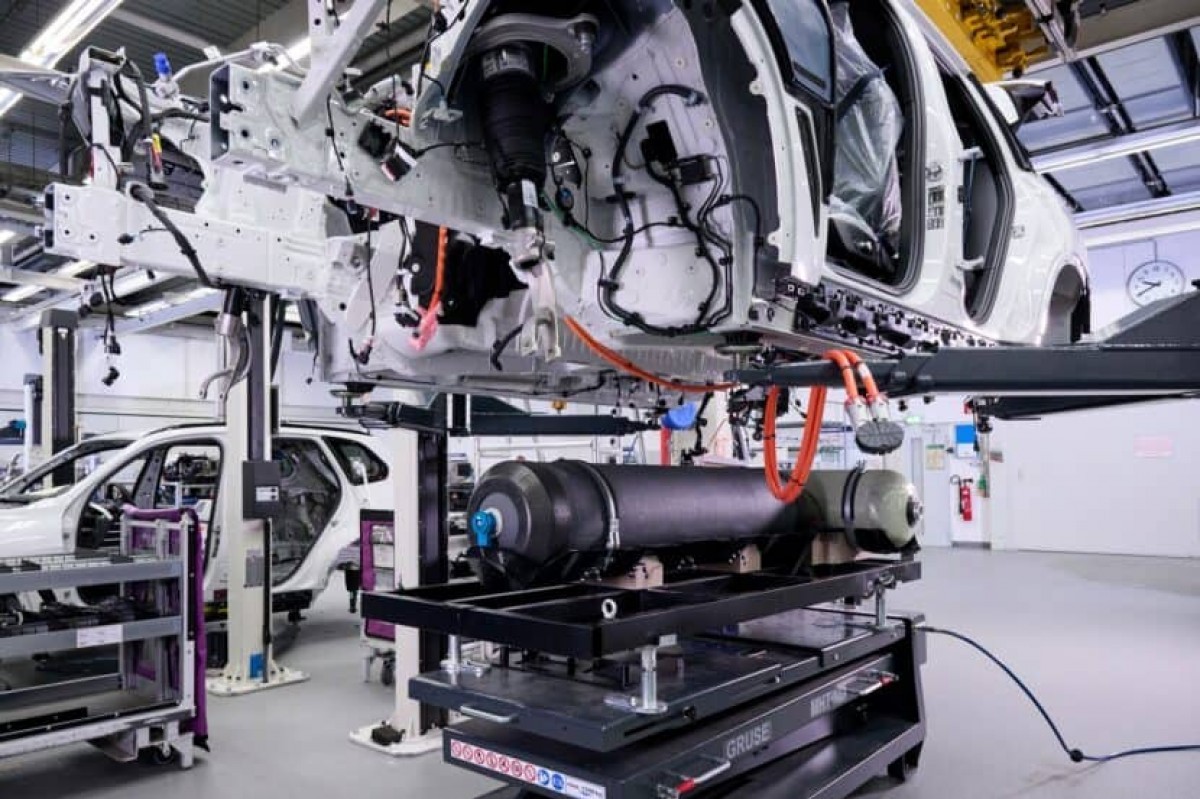 So, is this a better solution than a battery-powered EV? Both hydrogen-powered and battery-electric cars have a place in the future. Both solutions offer different benefits and both have opponents. We need cars like the BMW iX5 to actually evaluate the technology in everyday use. There is no point arguing if we cannot compare one solution with the other in practice. BMW's implementation is very clever and - on paper - seems very efficient.
In California the price of hydrogen is about $17 per kg, that means covering 313 miles for $102. For comparison, gasoline currently is nearly at $5 per gallon and BMW X5 xDrive40i achieves combined 21.9 mpg meaning it can do 313 miles for about $71.50. The BMW iX xDrive50 with its 111.5 kWh battery pack can cover a distance of nearly 380 miles (WLTP) and it will cost about $15 to recharge at home or as much as $40 if charging from empty at a public DC charging station. This example applies in California and prices will vary depending on your location.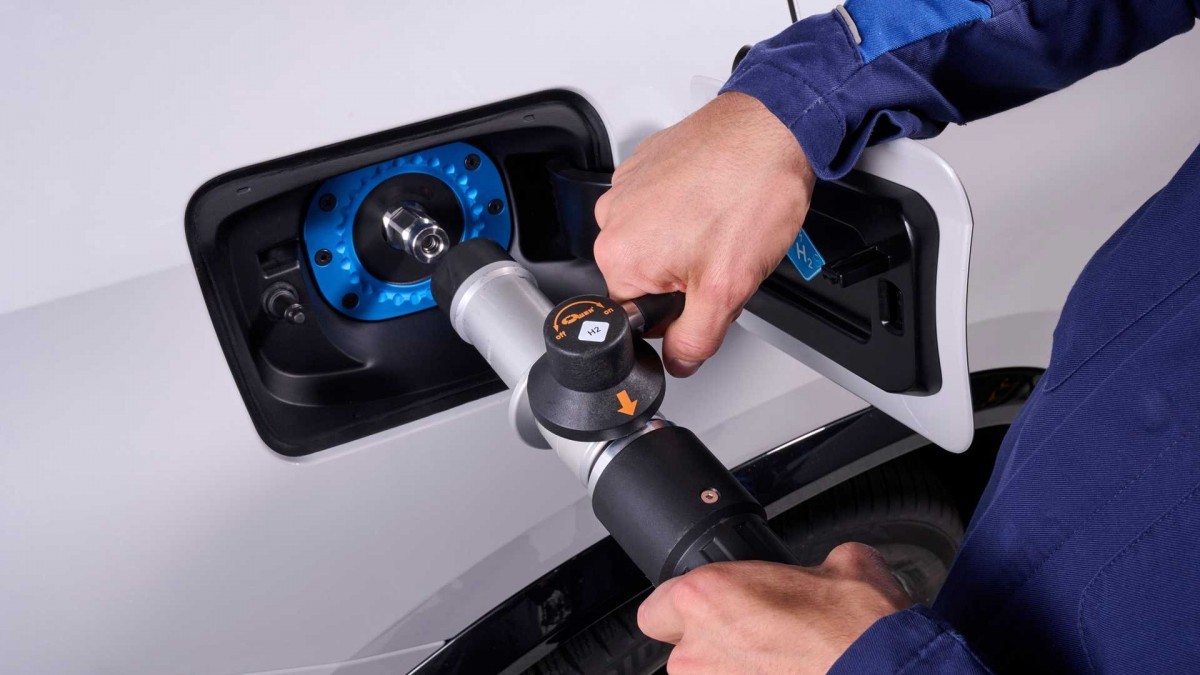 Does this example prove anything? For now, as long as the electricity prices remain where they are, electric cars are the cheapest to run. Gasoline stations on the other hand are the easiest to find and if hydrogen was available at each one of them, the transition would probably mean the least hassle.
There is so much more to it that it needs its own series of articles but the point should be this - there is no doubt we have to walk away from diesel and gasoline and it is far too early to decide which one is better - hydrogen or battery. We should focus on developing both technologies as both mean reducing harmful emissions. Time will tell and customers will decide with their wallets, which technology is better.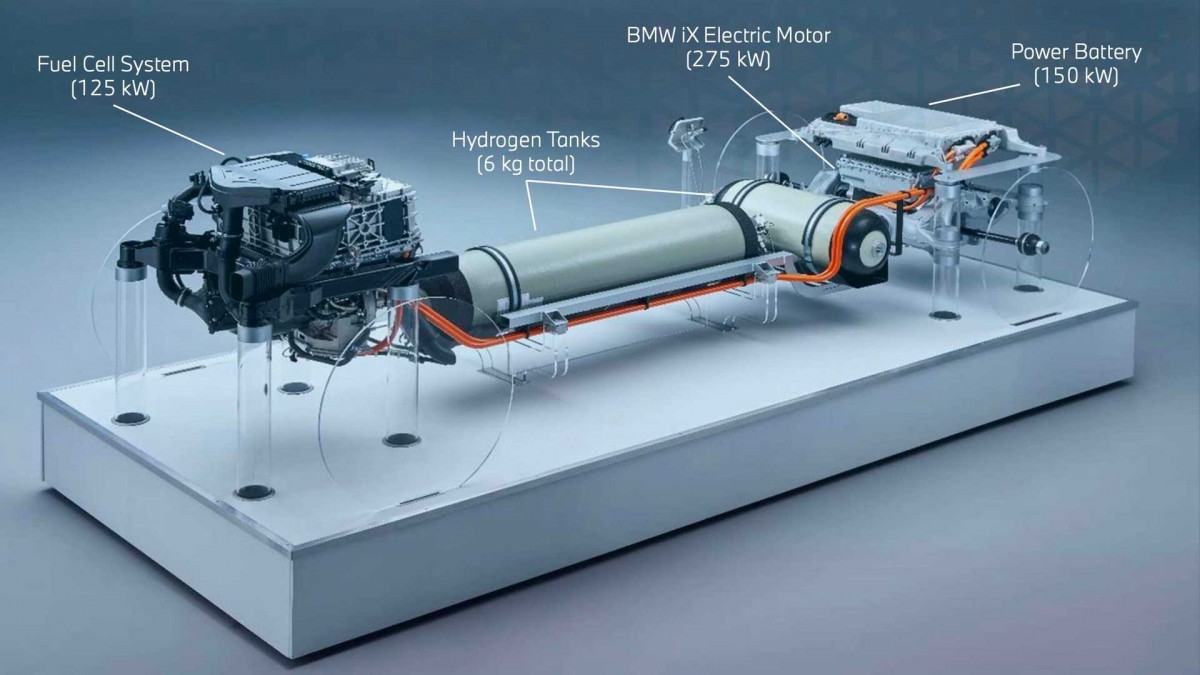 Expensive for an electric car. California has one of the highest prices on gasoline and people are leaving California now. For instance my Mustang GT V8 consumes in the city 15mpg which is about 15L/100Km and 25mpg on freeway which is almost 9L/100Km...