Unraveling the Pandora's box of automotive technology and Tesla's fans and haters, we delve into the 'frunk' - front trunk - of the much-anticipated Cybertruck. The existence of this rather small detail was exposed via a leaked video from inside the Tesla Gigafactory in Texas. And, just like Dorothy in The Wizard of Oz, we too had our hearts skipping a beat, not knowing what to expect!
But let's first consider the hype, or rather, the realistic expectation behind the frunk. It has been an attractive prospect for many, given its promise to be a cleaner, more enclosed alternative to the standard truck bed. Besides, who wouldn't love an extra closet for storing those small but important essentials? Both the Ford F-150 Lightning and GMC Sierra make the most of the available space, while the Cybertruck seems to be a bit shy with its front storage.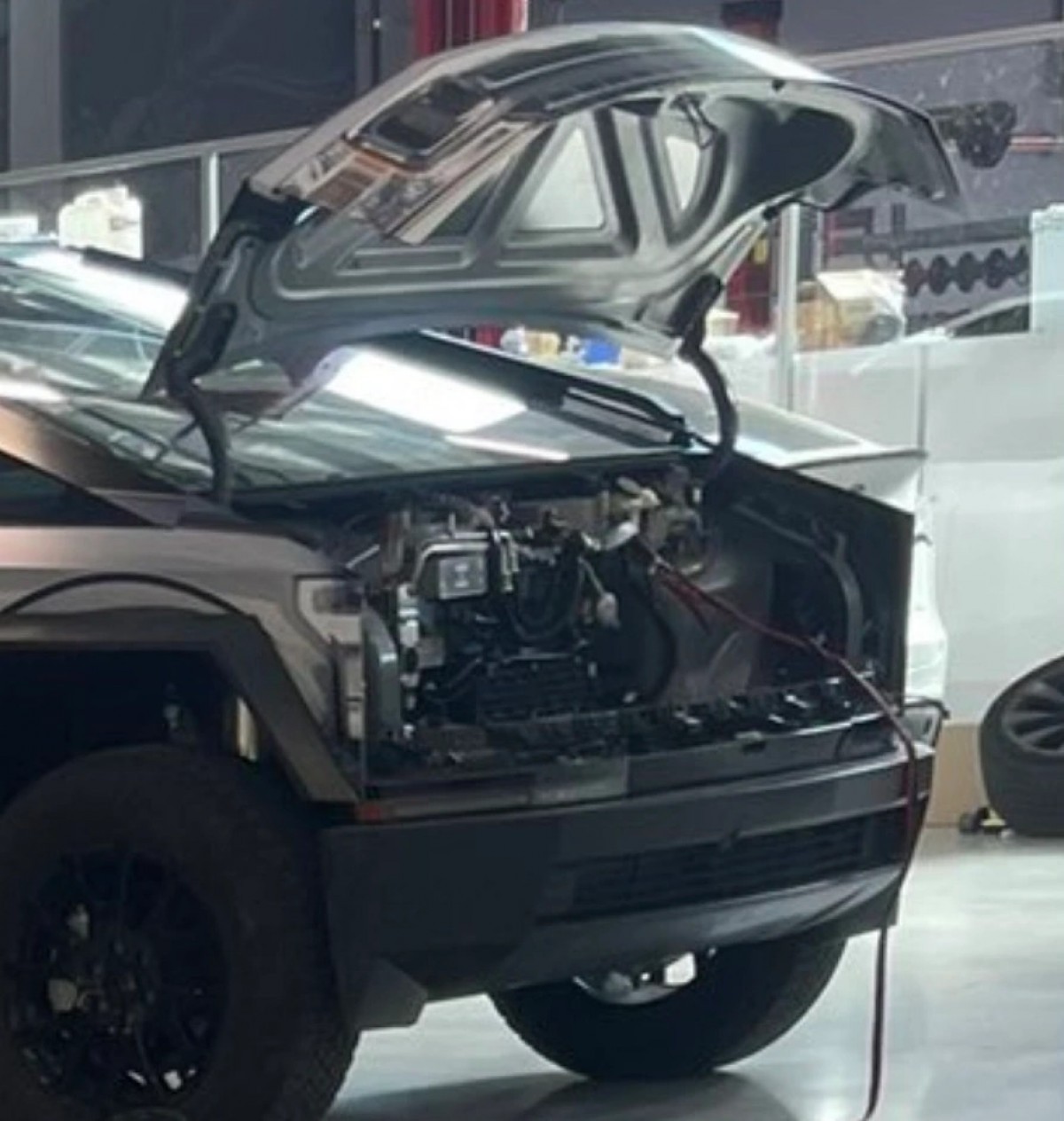 First leake images showed frunk without the liner
Earlier sightings of the Cybertruck teased an impressively expansive hood opening, igniting hopes for a roomier frunk. But with the advent of the recent production candidates, we had to revisit those starry-eyed visions.
The plot took an interesting twist when a recent leak provided a closer look at the under-the-hood details of the Cybertruck. The busy, liner-less space sparked fears of a possible nonexistence of the frunk. Yet, amidst the clatter and clutter, one could discern the tiny contours of a potential frunk. Talk about small joys!
Now, a freshly leaked TikTok video from within the walls of the Gigafactory has put those speculations to rest. With a liner partially in place, the clip confirmed that the Cybertruck indeed houses a small frunk. Albeit petite, it appears commodious enough for a couple of carry-on suitcases or a grocery haul.
Here's an interesting tidbit for you: Did you know that the concept of the frunk first came into being with the advent of rear-engine vehicles? Think of the classic VW Beetle or the likes of the early Fiat 500 as the pioneers.
Tesla is all set to kickstart the first Cybertruck deliveries by the end of next month. Further details regarding the specs, pricing, and other features of this electric pickup truck are anticipated to be revealed at the delivery event.
Whether the pint-sized frunk manages to win hearts and live up to the hype, only time will tell. It's ironic that Musk has been making fun of F-150's truckbed and yet kept quiet about Cybertruck's minute - by comparison - frunk.
I would say the Cybertruck is making better use of space than the other pickups frunks. The other trucks only have bigger frunks because of their gigantic hoods, creating a blind spot massive enough to hide an entire classroom of kids. I'd...