Polestar 2 will get a specs update in 2024 and the details of that one were revealed prematurely by the German EV news outlet Nextmove. The changes are quite significant for some trims, others get a lesser bump. Let's have a closer look!
The biggest change in the 2024 Polestar 2 is that single-motor models will feature rear-wheel-drive. Unlike the current models, which had the electric motor powering front wheels, the 2024 Polestar 2 is adopting the wider trend of packaging single motors in the back.
First is the new Standard Range model with a single electric motor. The current version comes with 69kWh battery and 228hp power output, the new one will get a power bump to 272hp (200kW). That's enough to shave off 1 second from its 0 to 100 km/h time, which will sit at a respectable 6.4 seconds. Despite the identical battery capacity, the shift to RWD makes the range goes up from 474km to 518km WLTP.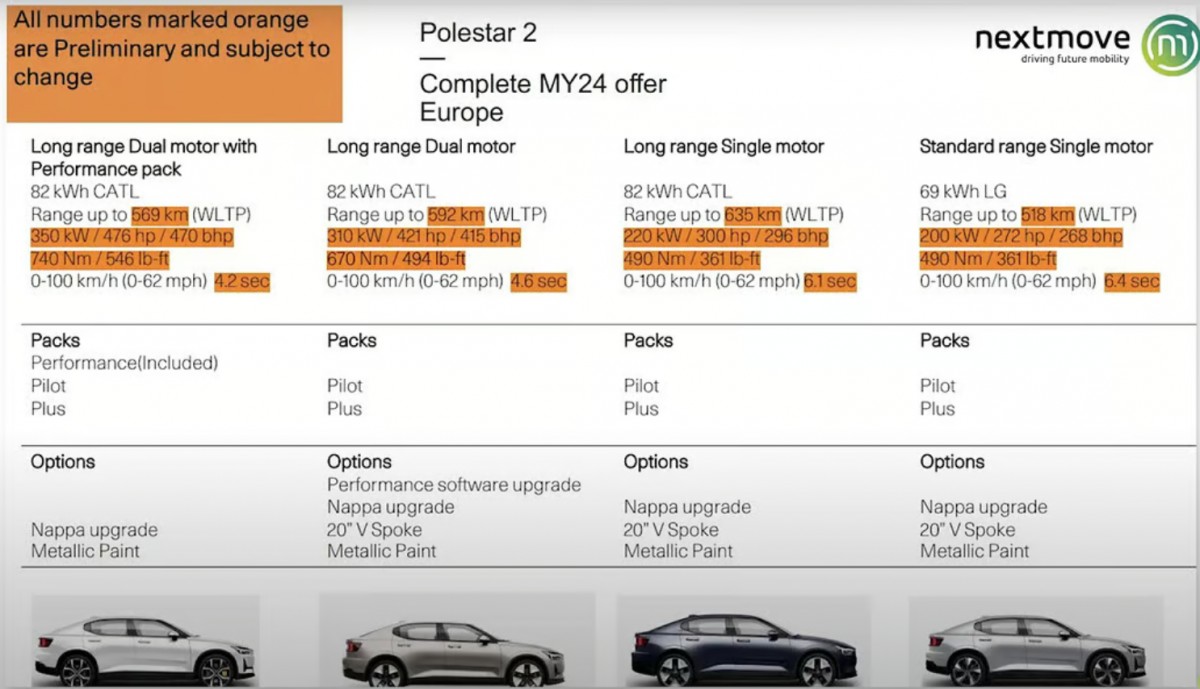 We then have the Long Range version with a single electric motor. This version gets the CATL battery with 82kWh capacity and a new, 300hp motor. That's a 69hp increase and it shows - 0 to 100 km/h now comes in a just 6.1 seconds. The range stands at 635km WLTP, that's 95km more than the outgoing model.
The Long Range AWD model gets only a slight power increase, its total output goes up to 421hp compared to the current output of 408 hp. The acceleration is improved by only 0.1 seconds, but the range goes up all the way to 592 km WLTP. That's an extra 112 km which is a huge difference, it's all thanks to the new 82kWh CATL battery pack and more efficient electric motors coupled with some software improvements.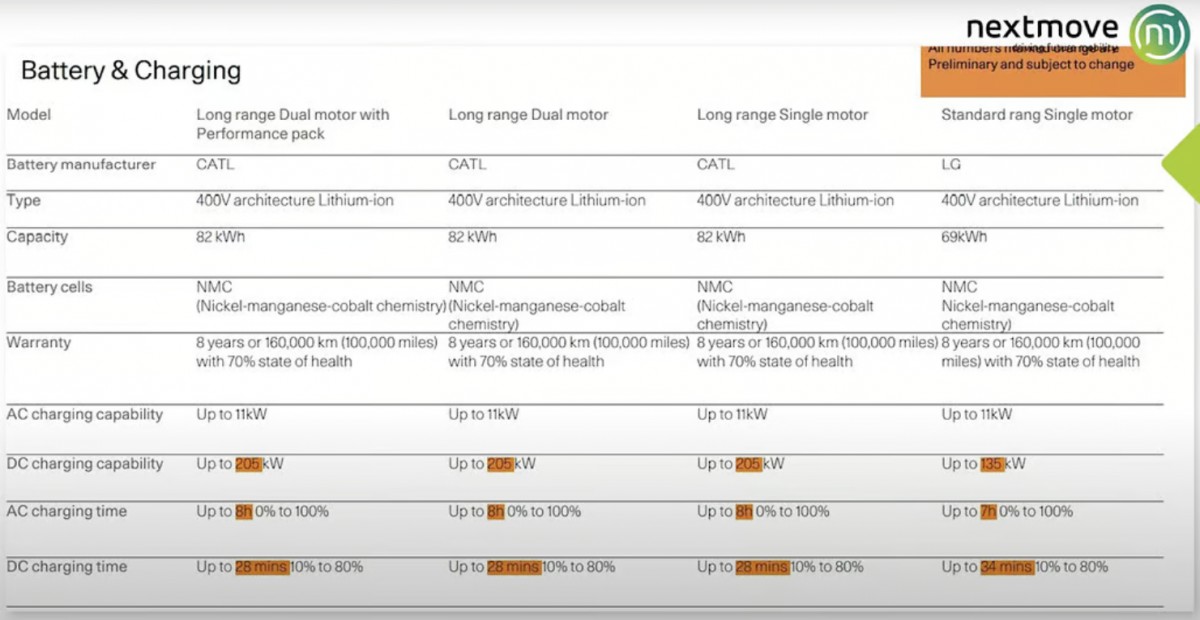 The current Polestar 2 range consists of only those 3 models. The 2024 model lineup adds a new, sporty version to the mix. Say hello to Polestar 2 Long Range AWD Performance. This Swedish pocket rocket gets a power upgrade to 476hp and 740Nm of torque channeled through the 4 wheels to the tarmac. That translates to 0 to 100 km/h time of just 4.2 seconds. The quoted WLTP range is 569 km.
All versions can make use of up to 11kW charging at home and all but the entry level model can cope with up to 205 kW DC charging. The Standard Range model, due to its smaller LG battery pack, can only charge at up to 135kW. Charging times are respectable, with AC charging taking up to 8 hours and DC hovering around half an hour.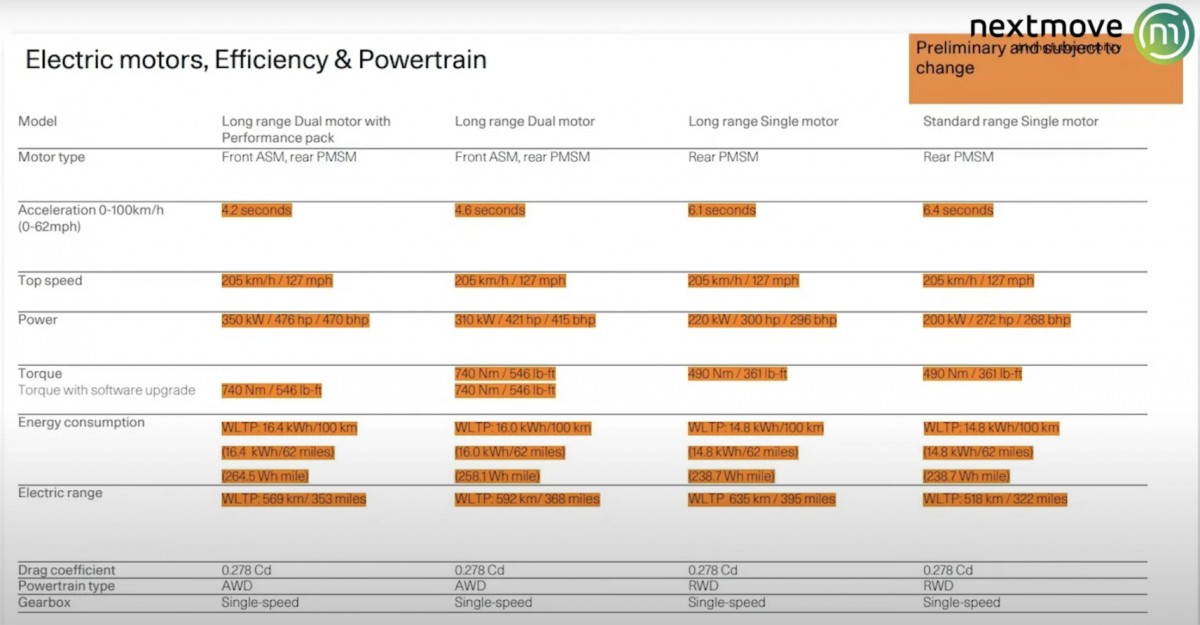 These are big changes, with those details in the open many prospective buyers will think hard before buying the Polestar 2 right now and probably will wait a few months to get their hands on the vastly improved MY2024 model. While the twin-motor AWD versions are great performers and offer plenty of range, the favorite one will most likely be the RWD Long Range version. 300hp rear-wheel-drive electric Polestar 2 that dispels with 0 to 100 km/h in around 6 seconds and goes on for 635km (395 miles) is bound to be a popular combo.
Love to see HP bump to compete with Tesla. Polestar is my second choice in terms of EV buying. Hope they design something different from Tesla, like MPV, off-road EV, compact truck, econbox