VW shows an ID. Buzz pick-up concept, thinks of expanding US plant to make it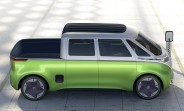 VW's ID. Buzz electric van definitely saw a lot of... excuse the pun... Buzz lately, and so in honor of World Design Day (which apparently is a thing), the company decided to showcase something really out there. We're talking about an ID. Buzz pick-up. See for yourself below.
Today is World #DesignDay🌍
On the way from an idea to production, there are a lot of unseen design drafts made – like this one:
An #IDBuzz pick-up!

What do you think about it?

😍 = Love it!
🙈 = Good that it was just an idea... pic.twitter.com/ZFFfnlPWnX

— Volkswagen Group (@VWGroup) April 27, 2022
Sure, it's just a concept render at this point, but according to a Reuters report, the German company is thinking about expanding its US plant in Chattanooga, Tennessee in order to produce the ID. Buzz itself there, for the North American market, as well as a... wait for it... electric pick-up.
Now obviously we're not saying that the electric pick-up in question will look like what you see above, but it seems clear that VW wants some feedback on the design. And who knows, if it's all positive then maybe it will go ahead with this? So if you like it maybe head over to Twitter and express your opinion. Likewise if you think it's the worst thing ever. By the looks of things, the platform used for the pick-up concept is the same as for the Buzz and the ID.4, so it can't be that hard to make it.
VW's plans for the Tennessee plant were allegedly shared by "a source close to the matter", saying the expansion would help the company grow its market share in North America, which is not exactly great. In fact, VW identified the region as the one with the greatest growth potential. The carmaker plans to invest at least $7.1 billion over the next five years in North America and offer 25 new EVs there by 2030, aiming to have half of sales be electric by then.
The ID. Buzz will initially be imported from VW's Hanover plant in Germany when it launches in the US, before the plant expansion finishes. Note that this expansion is referred to in other media outlets as a new plant, but one built right next to the current one. VW is apparently also considering the construction of a battery cell factory on the same site. Unsurprisingly, the company declined to comment.
This is vw version of a pt cruiser