XPeng switches on first S4 supercharging stations and updates G9 lineup and prices
XPeng confirmed on Weibo that the first S4 supercharger stations are up and running across the first 5 cities in China. The lucky locations are Beijing, Shanghai, Guangzhou ,Shenzhen and Wuhan. There are seven stations in total and each offers four chargers, the Beijing station comes with two additional S2 chargers - the previous generation.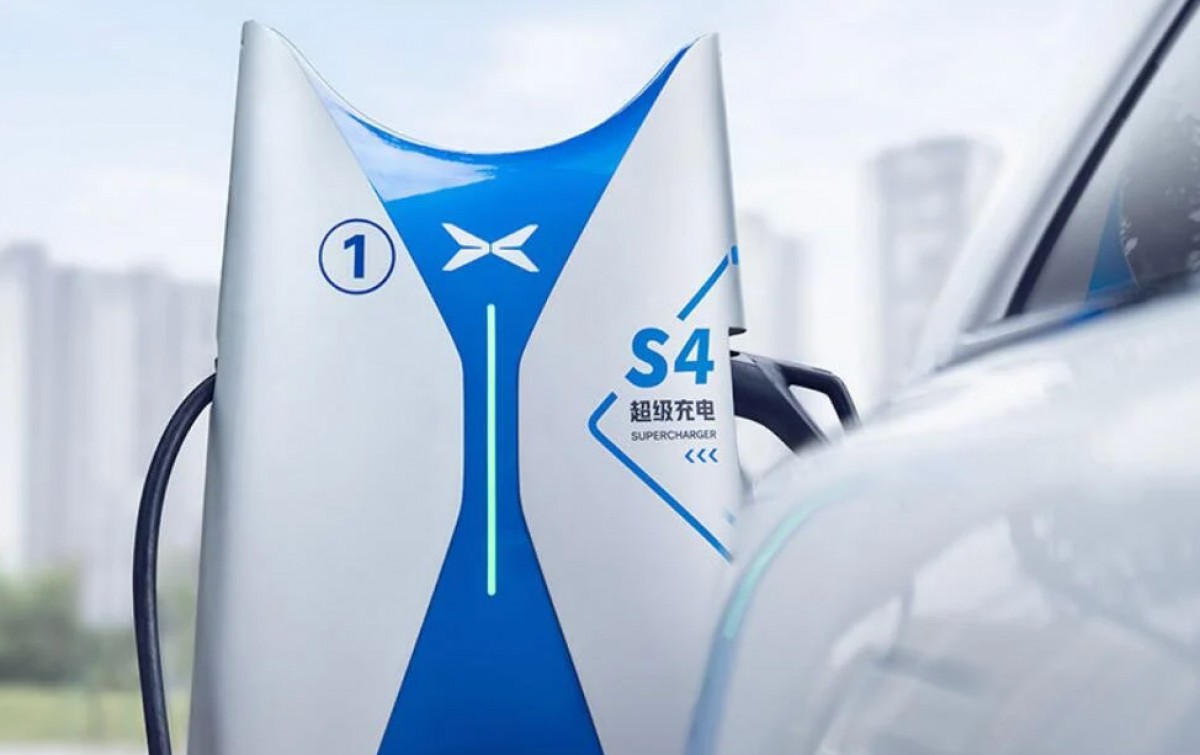 The company is planning to have another 50 stations open by the end of this year, for now XPeng is focusing on those five cities since that's where its customers apparently come from. The company has an impressive 1,011 charging stations functional already. Next year, XPeng wanted to open 20 S4 stations in each one of the five cities but Wuhan has been downgraded to 10 as the company believes this will be sufficient enough.
The S4 chargers are able to put out 480 kW of peak power with 670 Amperes of current, the maximum charging power is quoted at 400 kW and thanks to those numbers, the XPeng G9 can add 210 km of range to its battery in just 5 minutes, according to CLTC standards.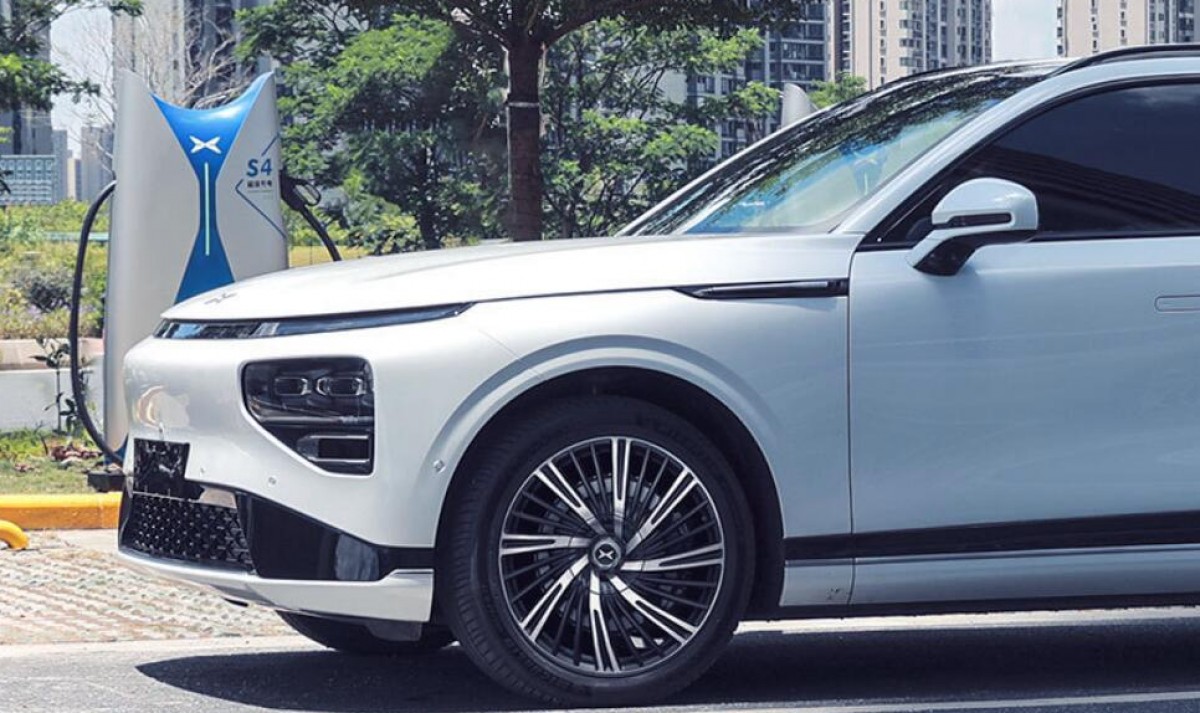 XPeng G9 can add over 200 km to its battery in just 5 minutes using the S4 charger
Speaking of the G9 - the launch apparently caused some confusion among the prospective buyers and the company went out to clarify some specifications. The car is proving very popular and XPend decided to add two new trims to the lineup, they will fill the gap between the Launch Edition and lower trims. Company gave up quickly on its single letter trim naming and added Plus, Pro and Max versions instead.
Apparently the customers were confused by the naming of some models and couldn't discern which trim would offer the best performance and best features. Now it all has been made clear, check out the new trims below:
| | | | |
| --- | --- | --- | --- |
| Previous G9 trim | Previous price | New G9 trim | New price |
| 570G | $43,962 | 570 Plus | $43,962 |
| 570E | $46,800 | 570 Pro | $46,800 |
| 702E | $49,638 | 570 Max | $49,638 |
| 650E Performance | $56,730 | 702 Pro | $49,638 |
| 650X Perfromance | $63,825 | 702 Max | $51,891 |
| 650X Launch Edition | $66,662 | 650 Perfrormance Pro | $56,730 |
| *** | *** | 650 Performance Max | $58,905 |
| *** | *** | 650 Launch Edition | $66,662 |
Please not the prices were converted from RMB at current exchange rates.
Below we have another table showing which trims offer XPeng's first generation ADAS called XPILOT and which come with the latest XNGP system which offers autonomous driving - once it is approved by the legislators.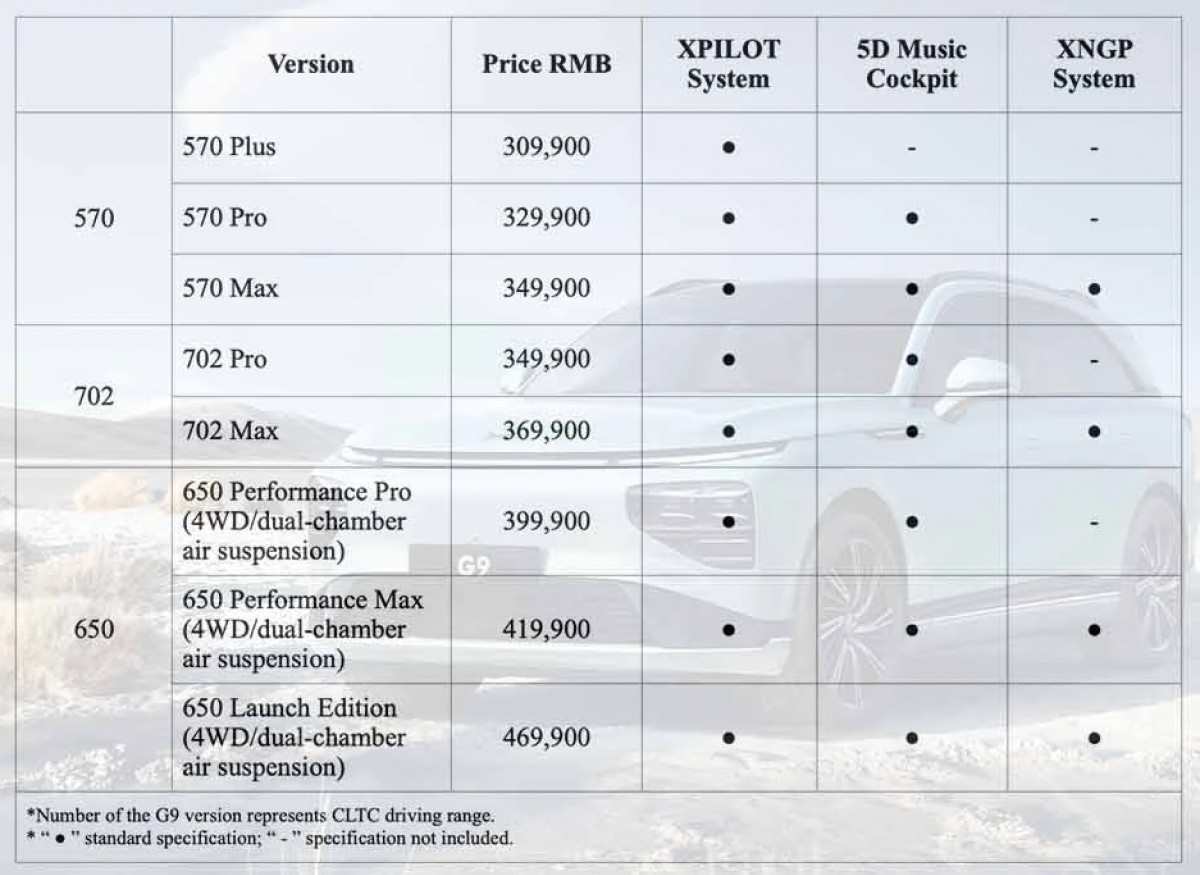 It's interesting to see a manufacturer naming its cars after CLTC results, the question is - will XPeng change the G9's names for other markets that use WLTP or EPA standards? We won't have to wait long to find out, XPeng is bringing the G9 to the rest of the world next year after its Chinese production is fully up to speed.