The wait is over - XPeng G9 is finally official and all of its details are out, including the price. The car will start at RMB 309,900 ($43,968) and will go all the way up to 469,900 ($66,669) for its most expensive version. The price is right in the middle of the range that is most popular for electric cars in China, with 20% of all electric cars sold, costing between RMB 350,000 and RMB 400,000. First deliveries begin this October.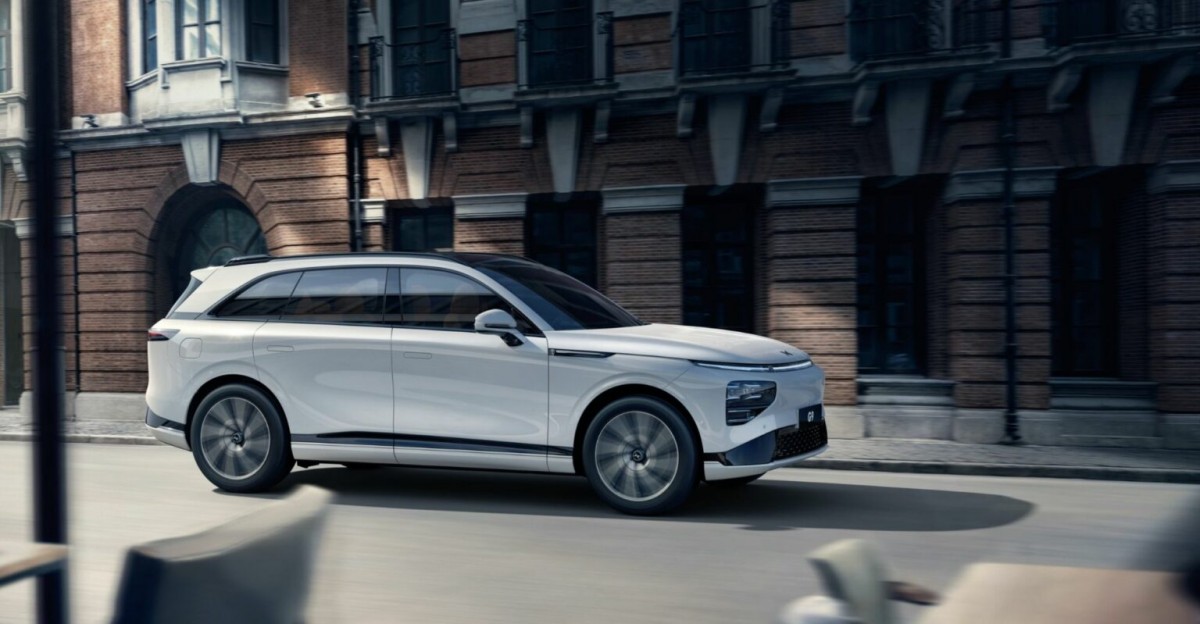 XPeng G9
There are three distinct versions of the G9 - 570, 650 and 702. Their names correspond to their CLTC range - 570km, 650 km and finally 702 km. That's quite a strange naming policy since the CLTC estimations are highly optimistic, meaning none of the cars will ever live up to its name.
Here are all the versions, their specification and prices:
| XPeng G9 | 570G | 570E | 702E | 650E | 650X | 650X Launch Edition |
| --- | --- | --- | --- | --- | --- | --- |
| Power | 230kW 430Nm | 230kW 430Nm | 230kW 430Nm | 405kW 717Nm | 405kW 717Nm | 405kW 717Nm |
| Layout | RWD | RWD | Long Range RWD | AWD twin-motor | AWD twin-motor | AWD twin-motor |
| Top speed | 200km/h (124mph) | 200km/h (124mph) | 200km/h (124mph | 200km/h (124mph) | 200km/h (124mph) | 200km/h (124mph) |
| CLTC Range | 570km (354mi) | 570km (354mi) | 702km (436mi) | 650km (404mi) | 650km (404mi) | 650km (404mi) |
| 0-100 kph | 6.4s | 6.4s | 6.4s | 3.9s | 3.9s | 3.9s |
| Price | $43,962 | $46,800 | $49,638 | $56,730 | $63,825 | $66,662 |
XPeng G9 is built on China's first 800V SiC platform (silicone-carbide) and it comes with XPeng's own 480 kW S4 supercharging system. The company claims this new charging technology makes the G9 the fastest charging car in the world. There will be two types of batteries available - older 3C supplied by CATL and CALB, and newer 4C supplied by Sunwoda.
The 3C battery charges in 20 minutes from 10 to 80% of the battery capacity which is rather good, but it is the 4C battery pack that brings some serious numbers. The company claims that this technology allows the battery to charge from 10% to 80% in less than 15 minutes and add 200 km of range in just five minutes.
XNGP is a second generation of XPeng's own ADAS system and features the very first full-scenario driver assistance. It will be fully functional in all cities across China by 2023, when it receives all necessary approvals. All versions of G9 use a single Nvidia DRIVE Orin chip for the ADAS but X editions come with dual chip setup and offer 508 TOPS of performance, just like the QCraft robotaxi.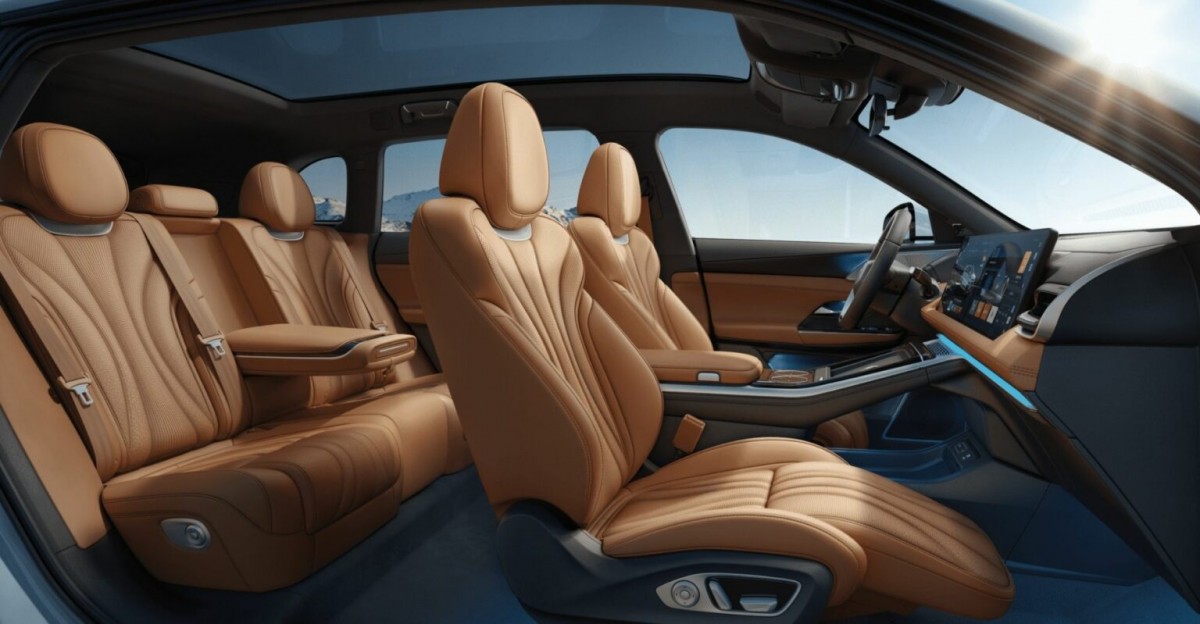 The cheaper E versions of the XPeng G9 will use the first generation ADAS - the PILOT. It has been heavily updated to offer all standard assisted driving functions plus valet parking and highway navigation.
Let's talk about the interior - XPeng spent a considerable amount of time on development and it clearly pays off. The dual screen display is powered by Unity3D graphic engine with realistic 3D rendering live - it means that while driving, the screen displays accurate surroundings in real-time.
There is an always-on voice assistant and XPeng's own audio system with 18 speakers and Dolby Atmos technology. The company took the design as far as combining a video and audio systems with vibrating seats, air-con, ambient lighting and customized fragrances to create a true 5D cinema experience on wheels. The interior lights change colors and intensity, seats vibrate, temperature changes and fragrances are sprayed in sync with the movie being watched.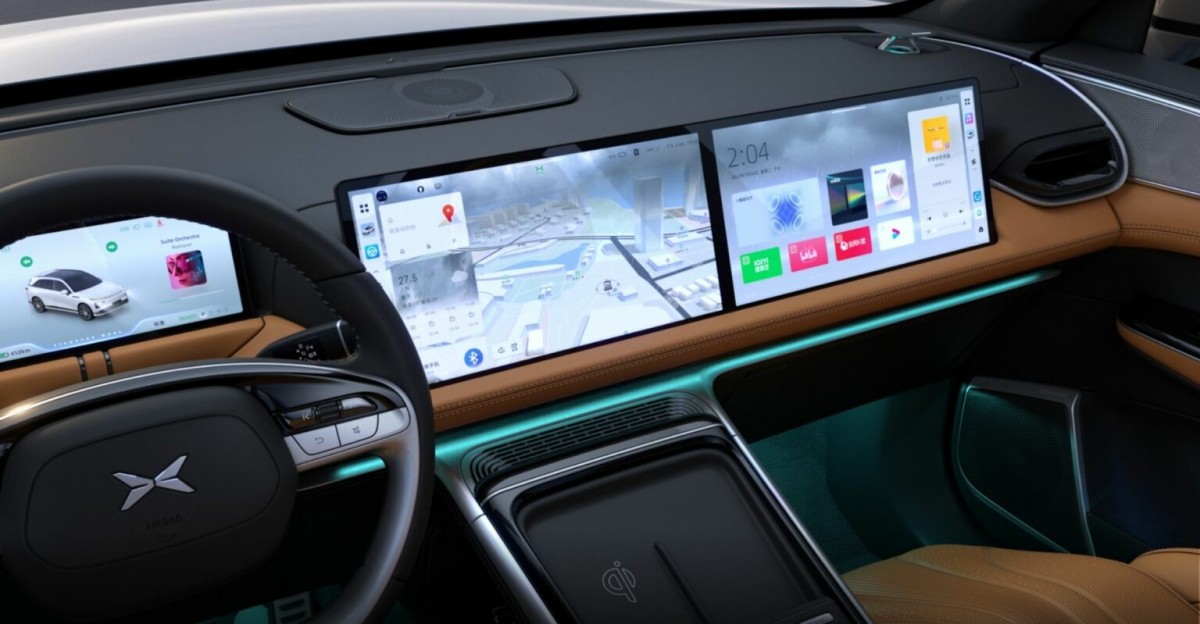 The trunk has 660 L capacity with the rear seats up, with the seats down the volume goes up to 1,576 L. The front seats can fold flat as well and make room for a materace for a spot of camping with the best cinema setup in automotive history. There is even a 220V socket that can power up 2,200 W load - perfect for laptop, induction oven or a coffee maker.
It seems XPeng G9 is the first, truly complete electric car on the market. It has absolutely everything we would want from a car and nothing of what we don't need. We will have to wait our turn though, for now XPeng is focusing on its domestic market. Once the production reaches 10,000 units a month, the company will look into bringing the G9 to Europe.