Citroen just unveiled its latest electric car but unless you live in India, you won't find it in your nearest showroom. The eC3 is proudly called SUV by Citroen , but in reality it is just a small hatchback with slightly raised suspension and some extra cladding to beef up its looks.
The car looks identical to its gasoline-powered siblings and the only way to tell it apart is the missing tailpipe. There are some small, blue "e" badges here and there but that's the extent the company went to in order to make the new eC3 stand out. Either the budget was really tight or Citroen doesn't want to advertise the fact the new eC3 is electric. Or maybe - that's how it should be? No fuss required, it's just another car.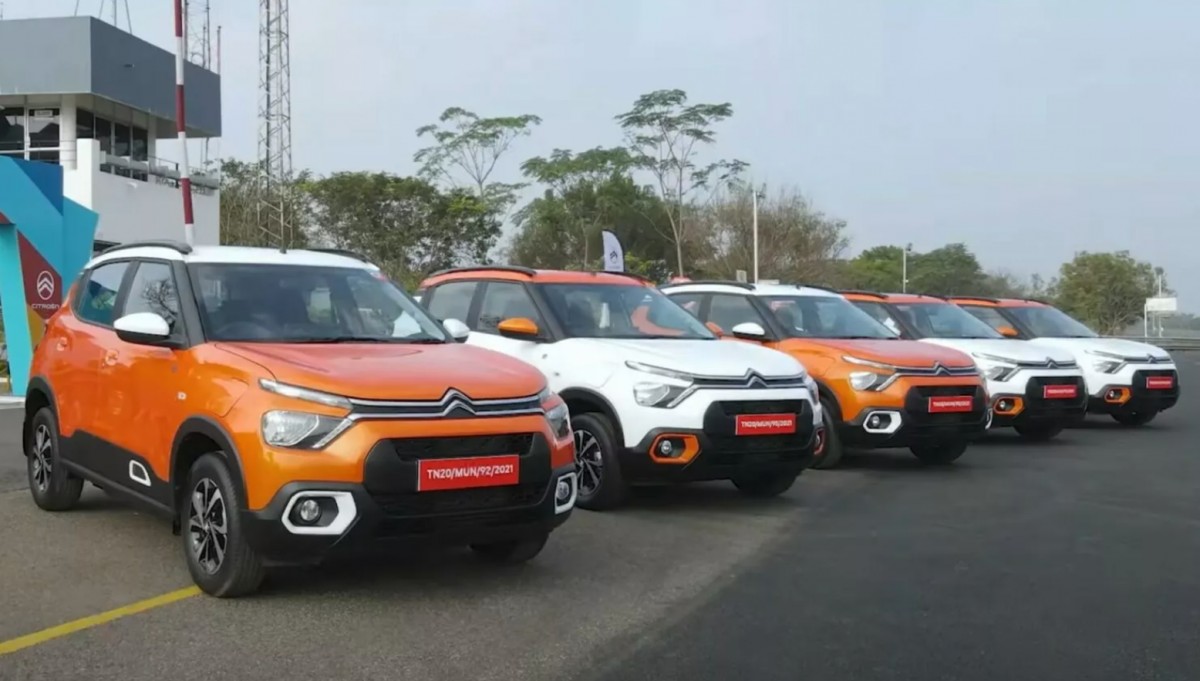 Press vehicles lined up for test drives
The similarities continue on the inside - same interior apart from the new drive selector, same two trims available as well. Live is the entry trim with 4 body colors on offer, high-efficiency air-con and roof antenna to take care of infotainment. Seriously. The Feel trim adds 2 roof colors and 2 dashboard colors as well as 12" infotainment screen with Android Auto and Apple Carplay support. And of course the roof antenna.
On the safety side Citroen is bringing just two airbags to the eC3. Rest of the safety and protection is in the hands of the driver and local wildlife. As we know, India is quite an interesting place to drive and demands a lot of attention from the driver, hence the lack of even the simplest radio in the entry Live trim can be considered a safety feature.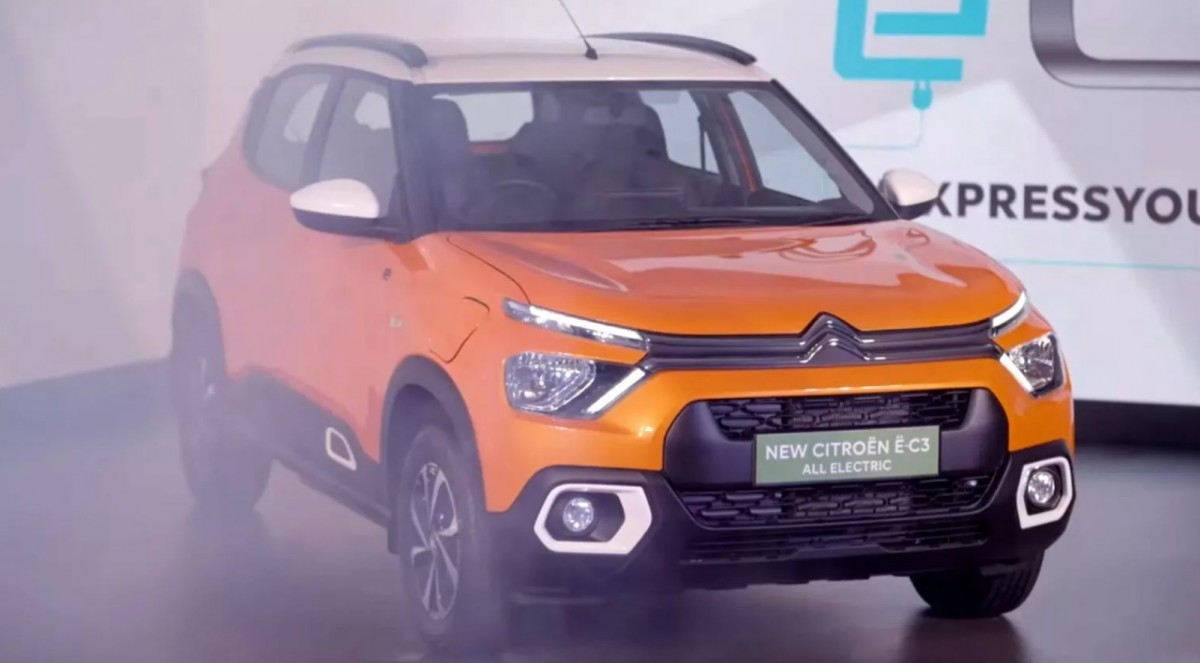 Citroen eC3
Onto the important stuff - the new Citroen eC3 is fitted with a single electric motor that puts out 57hp (43kW) and 143Nm of torque. All that power goes to the road through the front wheels only and it is enough to catapult the car from standstill to 60 km/h (37 mph) in 6.8 seconds. The eC3 has a top speed of 107 km/h or 67 mph and probably that's yet another safety feature.
All jokes aside, Citroen eC3 is small and affordable. It is designed specifically for the Indian market and the company knows what it is doing. The range of 320km (according to Indian ARAI cycle) is far more important than top speed. And so is the battery charging. The car can be recharged at home thanks to its 3.3 kW built-in charger in just over 10 hours. Its 29.2 kWh battery can be charged up to 80% at a DC fast-charging station in less than an hour.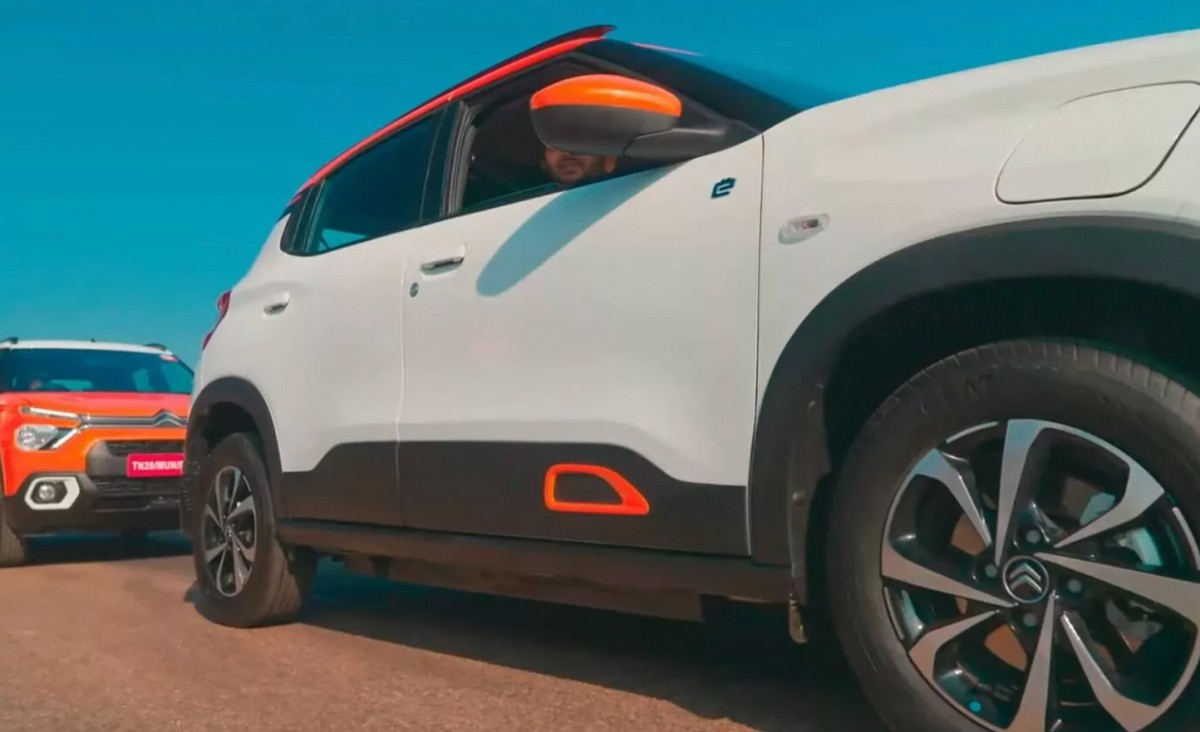 The "e" and charging port is the only visual between eC3 and C3
The first units are scheduled to show up at showrooms across India next month and customers who previously were looking at buying Tata Tiago.ev will have a choice to make. Apparently the new eC3 is priced keenly to sway buyers away from Tata's first electric car.
Great little electric car from Citroen, sure it's basic, but it makes so much sense as a city car or even a little run-around. With a little less power it could be used in few European countries without the need for a driving license and it could compete easily with Dacia Spring - in fact, it might be the vehicle to make Dacia look posh.
TATA EVs are the best for Indians.
Tiago is not Tatas first ev, it's the Nexon ev launched 3 years ago, that's embarassing. Coming to the C3, the ice version is a flop, and so will this ev version. It is too cheap in terms of features, doesn't even have electricity fold...
It means that the traffic conditions are unpredictable and driver must be extra careful on the road. Indian roads are crazy, because anything goes there. Any feature or the lack of it, can be attributed as a safety feature