Ford announced it is investing $3.5 billion into its new factory in Michigan, which will focus on manufacturing lithium-iron-phosphate batteries, making future electric Fords more affordable.
Ford, with a little help from CATL, will focus on the LFP batteries as the company claims they are not only cheaper, but are more durable and offer faster charging than current lithium-ion chemistry widely used in EV batteries.
Ford was quick to stress that CATL is only involved in providing "knowledge and services" while the factory is fully owned and operated by Ford's subsidiary dedicated to EV battery manufacturing. The company also pointed out that the construction phase will provide at least 2,500 jobs to the local area.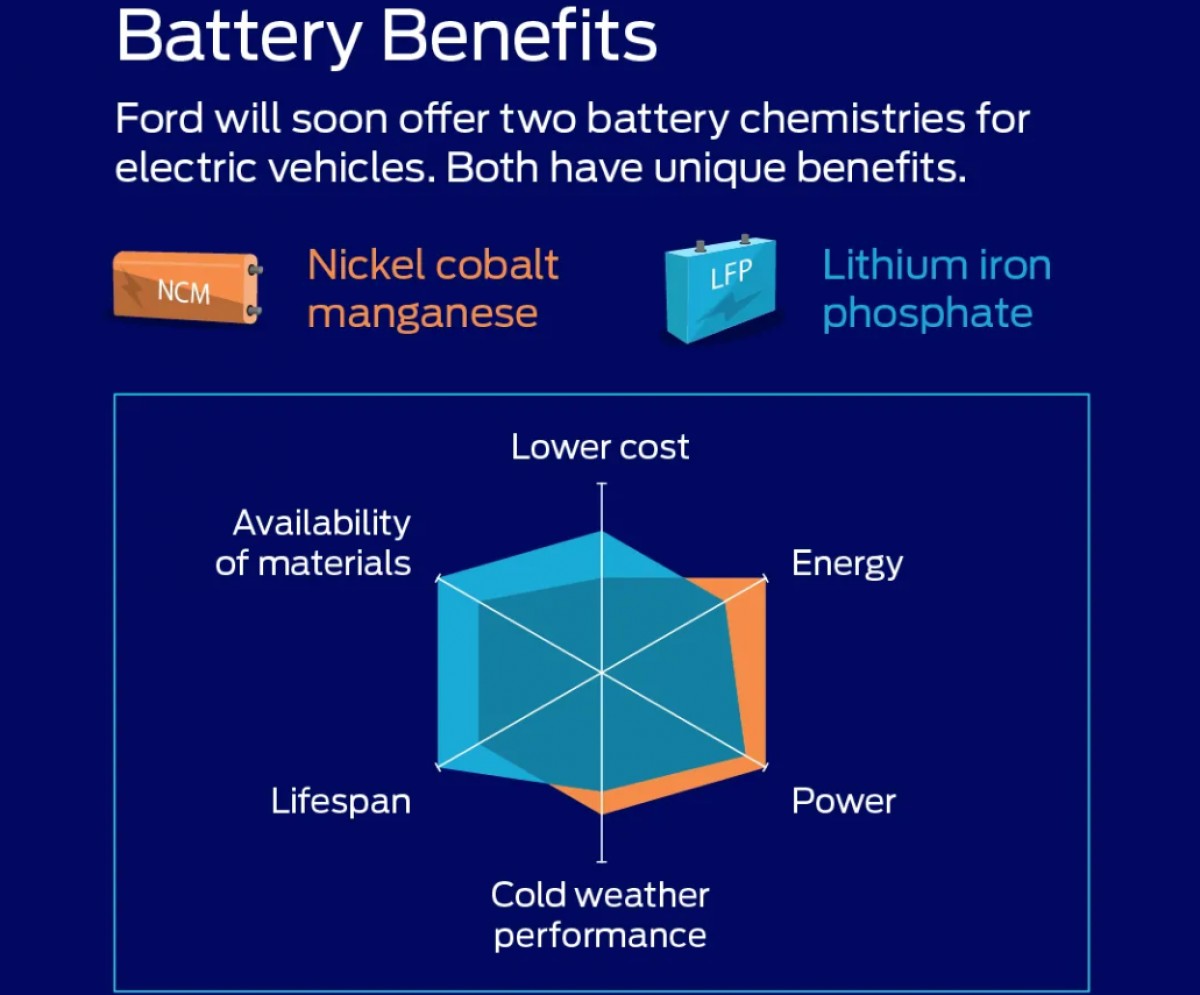 Ford is not switching completely to the LFP chemistry though, the company will stay committed to development of the NCM batteries at the same time and claims it is the only EV company to be doing that at the moment.
This statement is technically true only because Ford will "develop" its own LFP batteries - under the watchful eye of CATL engineers. Or it will be CATL engineers and scientists but wearing Ford overalls - the company is quite coy about details of the arrangement. Tesla is using both the NCM and LFP battery packs but the LFP ones are provided by a third party, at least for now.
LFP batteries are cheaper to produce, their manufacturing is less complex, but the trade off is their lower energy density. They compensate that with faster charging and possibility of complete discharge without damaging the battery cells. That means cheaper batteries (hopefully) that can be charged faster making the range a bit less of an issue - as long as there is reliable charging infrastructure. Here's a simple explanation of LFP and NCM battery chemistries:
There is no doubt the LFP batteries are more durable, according to Ford they actually perform best when fully discharged and charged back up all the way to 100 percent. Although the company is claiming the new batteries are going to be more affordable, there is no indication how much of a difference they will make to prices of electric cars from Ford.
First LFP batteries will make their way to Ford Mustang Mach-E later this year, Ford F-150 Lightning will follow the next year. The new factory in Michigan will begin manufacturing in 2026 and that's when we are likely to begin to notice the impact - if any.
Ford desperately needs to cut its costs and LFP batteries are seen as an important part of that plan. The company wants to deliver 600,000 electric cars to its customers by the end of this year which sounds almost impossible. Ford wants to be manufacturing 2 million EVs by 2026 and while it has the manufacturing base to achieve those numbers, it needs reliable battery supplies. Reliable and affordable.