Fisker's new 2023 Fisker Ocean Extreme, has just cruised into the USA, post its European vacay.
The Ocean Extreme boasts a hearty 113 kWh battery and it helped it achieve an EPA Combined range of 360 miles. That's if you keep things reasonable with the 20-inch wheels. Should you wish for the snazzier 22-inch ones you will have to compromise on that range.
Performance-wise, the Ocean Extreme is, well, extremely competent. It's got two motors, one up front and one in the back, offering all-wheel drive. Add the 'boost mode' to the mix, and it can zip from 0 to 60 mph in 3.7 seconds. The Fisker Ocean One/Extreme's energy consumption, including those pesky charging losses, is about 92 MPGe, or 366 watt-hours per mile. Not the best efficiency around, but that was to be expected given the height of the vehicle and its weight.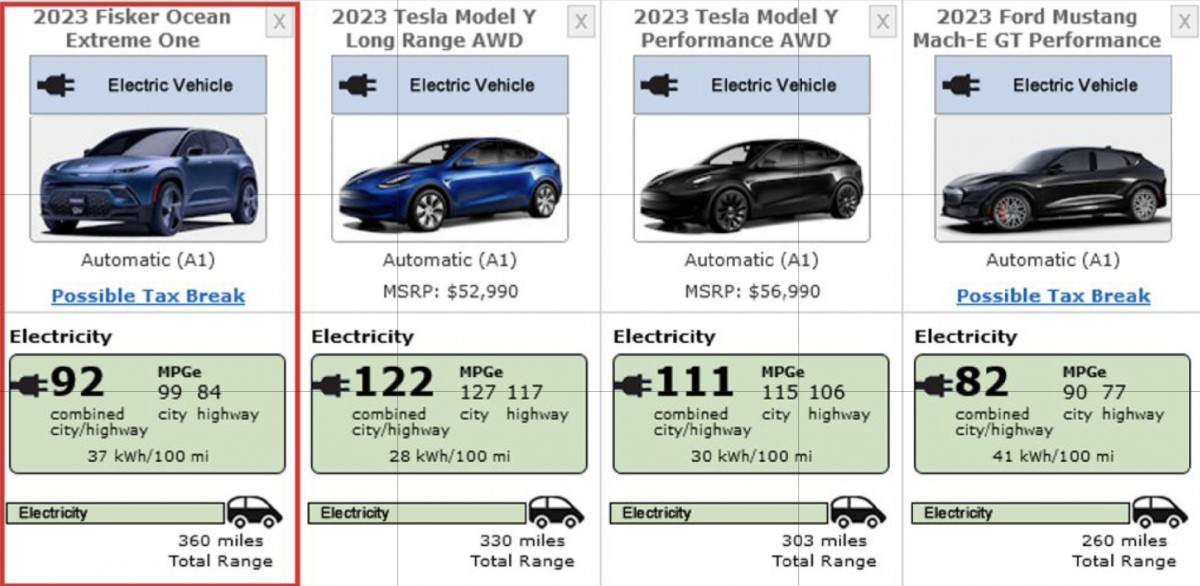 The Fisker Ocean seems to have indulged in a bit too much during its European tour. It weighs a whopping 5,369 lb! Compare this to Tesla's Model Y Performance, which weighs in at a svelte 4,398 lb, and you get where the difference is coming from. But let's cut Fisker some slack; the heavyweight battery is certainly contributing quite a bit to the total weight.
So, the million-dollar (or more accurately, $68,999) question: How does the Fisker Ocean Extreme fare when pitted against the Tesla Model Y Performance?
Both cars are sprightly, boasting impressive acceleration. The top speed, however, tips in Tesla's favor at 155 mph. The Ocean's beefier battery helps beat the Model Y's range even in the Long Range trim by just over 8%. The Model Y Performance get beaten by 16%. A slight caveat here: the ranges for these cars are based on different wheel sizes, which means Fisker's lead would be marginally bigger if we were to even them out.
Fisker Ocean Extreme v Tesla Model Y Perfromance
| | 2023 Fisker Ocean Extreme | 2023 Tesla Model Y Perfromance |
| --- | --- | --- |
| Price | $68,999 | $54,490 |
| Tax credit | NA | $7,500 |
| Effective price | $68,999 | $48,640 |
| Battery capacity | 113 kWh | 82 kWh |
| Combined EPA rating | 360 miles | 303 miles |
| Top speed | 128 mph | 155 mph |
| 0 to 60 mph (0 to 100 km/h) | 3.7 s (3.9 s) | 3.5 s (3.7 s) |
| Power output | 420 kW (571 PS) | 393 kW (534 PS) |
| AC charging | 0-100% in 18.4 hrs | 0-100% in 18.25 hrs |
| DC charging | 10-80% in 35 minutes | 10-80% in 27 minutes |
| Curb weight | 5,369 lb | 4,398 lb |
Where Tesla has an edge is pricing - at $54,490 including the extra fees the Model Y is significantly easier on the wallet. And if you're buying local with the Tesla, you might just qualify for a $7,500 federal tax credit. Fisker? Only if you opt for the lease instead of the outright purchase.
For those of you eagerly anticipating more from Fisker, two other versions, Ultra and Sport, are said to be in the works. But don't start lining up just yet, as they won't be around in large numbers until 2024. While Fisker's Ocean Extreme has certainly made waves with its debut, whether it's a tidal wave or just a ripple remains to be seen. It's easy to compare EVs on paper, in real life that's a completely different story.