Peugeot E-308 and E-308 SW EVs are all about efficiency, launching next year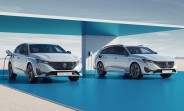 Peugeot has been teasing the fully-electric versions of the its 308 for some time now and today the company released some specs for us to go through. The E-308 and E-308 SW models primarily focus on efficiency and promise a consumption of just 12.7 kWh per 100 km.
No matter if you go for the station wagon or the hatch version, the E-308 comes with a 54 kWh battery with a 400-volt system capable of at least 400 km of autonomy. That's because the front of the cars is optimized for the best aerodynamics, features an underbody and a newly designed set of 18-inch wheels. Some low-friction tires are at hand as a standard.
The electric motor fitted inside both options is capable of 156 hp (260Nm) maximum output, but no additional specs have been disclosed.
A three-phase charger with 11kW output can charge the vehicle from 20 to 80% in just 25 minutes.
Inside, the Peugeot E-308 is almost identical to ICE-powered 308 sibling with the company's i-Cockpit and 3D heads-up display. The infotainment system consists of a big 10-inch touch screen in the middle of the dashboard.
As of now, the pricing and exact availability are unknown but Peugeot promises that the two EVs will be available around mid-2023.
There is a difference on what you consider as consumption if it is real or standardized like WLTP. I managed to get 7,9 kW/h on a 46 km trip ... that does not mean my EV is suddenly exceptional. If you are interested, check Ecodriver on YouTube -...
I think you've done a mistake on the charging times. The car would need around 2h20m to recharge 20-80% on 11kw.
12,7kwh/100km is nothing exceptional? At the time of this article, there is exactly one car that has a lower consumption - which is the lightyear 0 @300.000Euro... Even a Dacia Spring & a Renault Twingo have a consumption of above 16kWh/100km....