This story has a lot going on so we'll try to break it all down bit by bit. GM has a driverless car service which is operated in San Francisco at limited capacity, only in a few specific areas and only at night - between 11pm and 5am. The service is called Cruise and it opened to the public back in February this year and the cars used are Chevrolet Bolt. So far so good.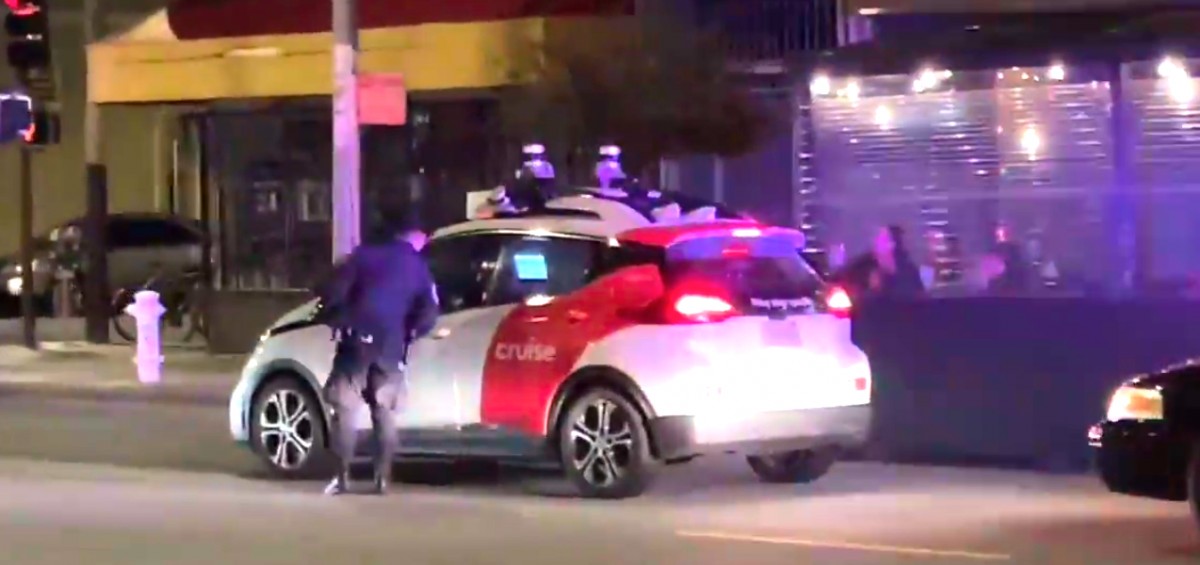 Things got quite interesting last week, when one of the vehicles got pulled over by San Francisco police patrol. Thankfully there were people around at that moment and the whole situation was filmed and posted to Twitter.
Welcome to the future. Cop pulls over driverless car (because no lights?) Then Cruise goes on the lamb. (via https://t.co/mtmsIeOAUP) pic.twitter.com/ecQ5xXuSnS

— Seth Weintraub (@llsethj) April 10, 2022
The traffic stop happened at a junction and it looks like the Chevy Bolt was driving without any lights. In the video we can clearly see confused police walking up to the car, which by the way pulled over as required. When the police officer realizes there's no driver inside, he walks back towards the patrol car. At that point Chevy Bolt appears to take off, it drives across the junction and then pulls over and puts the hazard lights on. Police follows and then they are seen reaching into the vehicle, most likely trying to switch the lights on but without much success. Unfortunately here the video ends so we don't really know how the whole story ended. What we do know is that the GM Curve replied to the original tweet:
Chiming in with more details: our AV yielded to the police vehicle, then pulled over to the nearest safe location for the traffic stop, as intended. An officer contacted Cruise personnel and no citation was issued.

— cruise (@Cruise) April 10, 2022
It's quite amazing really, according to Cruise the vehicle performed as it should, it stopped, made a decision the place wasn't safe enough and carried on across the junction to pull over in a much safer spot. Lucky for Cruise and GM there was no ticket issued, they got away scot-free.
Progress is relentless, seeing driverless cars on the road is special on its own, seeing them pulled over by police - that's quite another level. We are living in amazing times and despite many things going wrong around, the progress never stops. Unless the progress drives without lights - then we count on the Police Department to step in. Watching that Chevy bolting away from cops… it does what it says on the tin, right?
When it accelerated to reposition it looked like it was taking off from the scene haha.