Skoda expands Enyaq Coupe iV range in the United Kingdom with three new models
There are currently four models in the Enyaq Coupé iV range. Beginning January 17, customers will be able to order the new 80, 80 SportLine Plus, and 80x SportLine Plus models, in addition to the existing vRS flagship model, which was released earlier this year. All models come equipped with an 80 kWh (net: 77 kWh) battery pack that offers a WLTP combined range of 320 to 345 miles.
All models of the Enyaq Coupé iV are capable of taking a DC quick charge at up to 135 kW when connected to a compatible charger, and can reach an 80% charge in as little as 29 minutes. It takes 13 hours to fully charge the vehicle using a 7 kW household wall box. Each Enyaq iV model, including the Coupé iV, comes with a standard eight-year/100,000 mile battery warranty.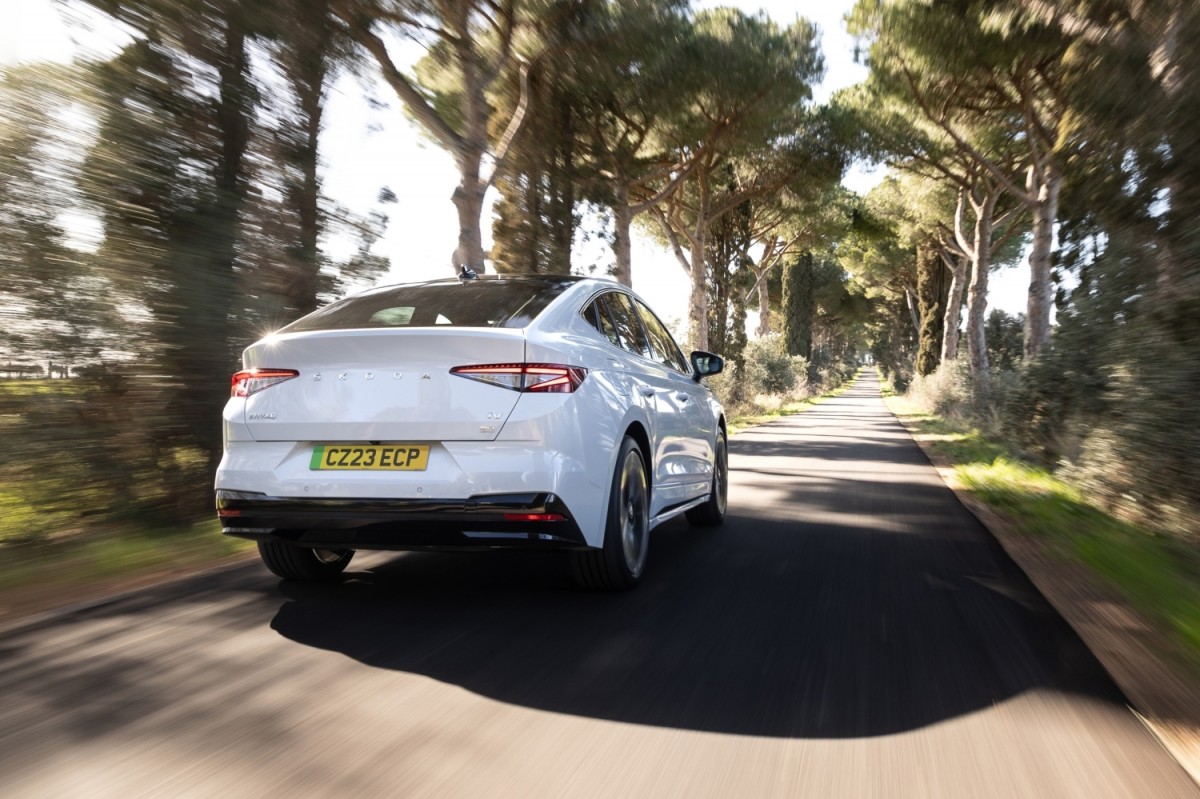 The new Enyaq Coupé iV models come with a high level of standard features, with the base-level 80 model being particularly well-equipped for its price point of £44,825 OTR. Standard features include a full-length fixed panoramic sunroof, 19-inch alloy wheels, front and rear LED lights, ambient lighting, a satellite navigation system, a rearview camera, and a virtual cockpit.
Customers will also receive Skoda Connect Infotainment Online for three years and remote access for one year, in addition to the standard Wireless Smartlink and full-size 13-inch display system. The ENYAQ iV Coupé 80 models come with the Loft Design Selection interior as standard, but customers can choose to upgrade to the Lounge, Suite, or Eco Suite interiors.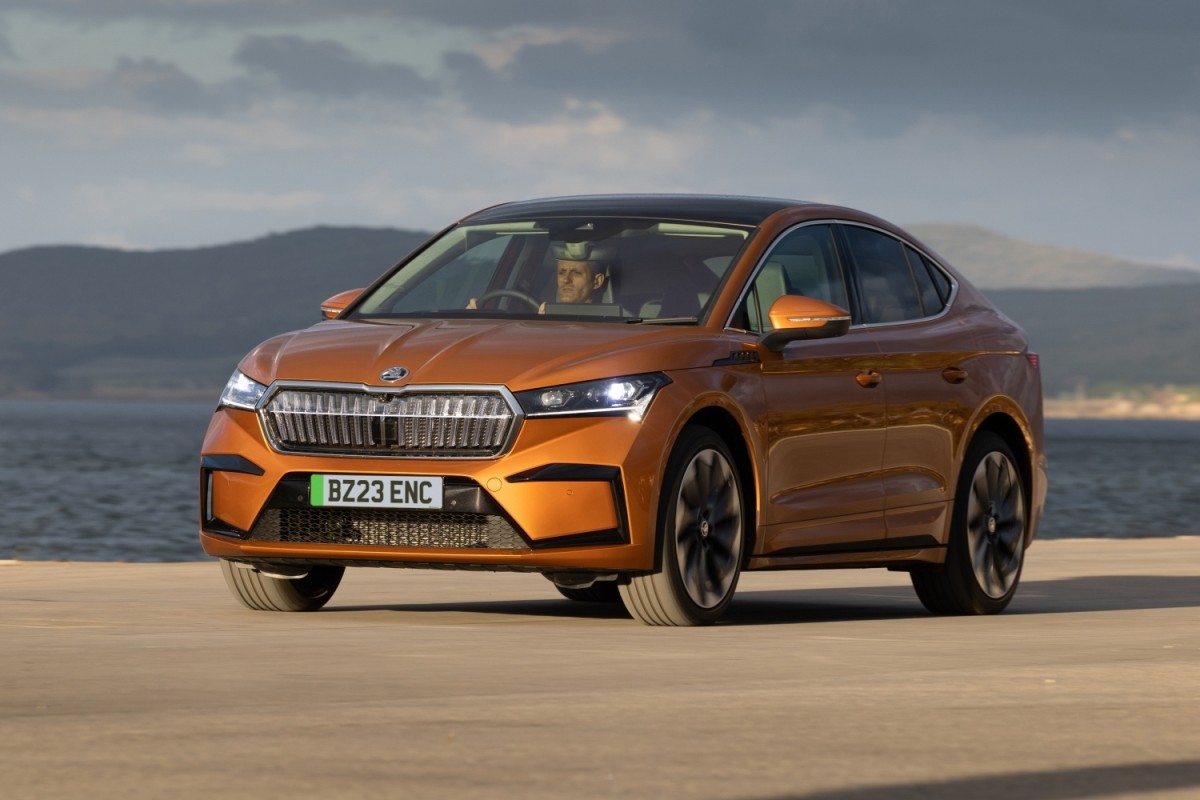 The Enyaq Coupé iV SportLine Plus variant (£50,405 OTR) adds a sporty appearance to the vehicle, including a unique Sports Design Selection interior with Microsuede and leather upholstery, heated sports seats, and carbon fiber-look decorative elements.
Models with the SportLine Plus package also come with additional features such as full LED Matrix beam headlights, 20-inch Vega Anthracite metallic alloy wheels, and black trim on the grille and window surrounds. Standard features also include sports suspension, progressive steering, tri-zone temperature control, adaptive cruise control, and a virtual pedal.
The Enyaq Coupe iV 80x SportLine Plus (£52,505 OTR) has the same features as the Enyaq Coupe iV 80 SportLine Plus, but also includes all-wheel drive provided by an additional front-axle engine, as well as a power output of 265 horsepower.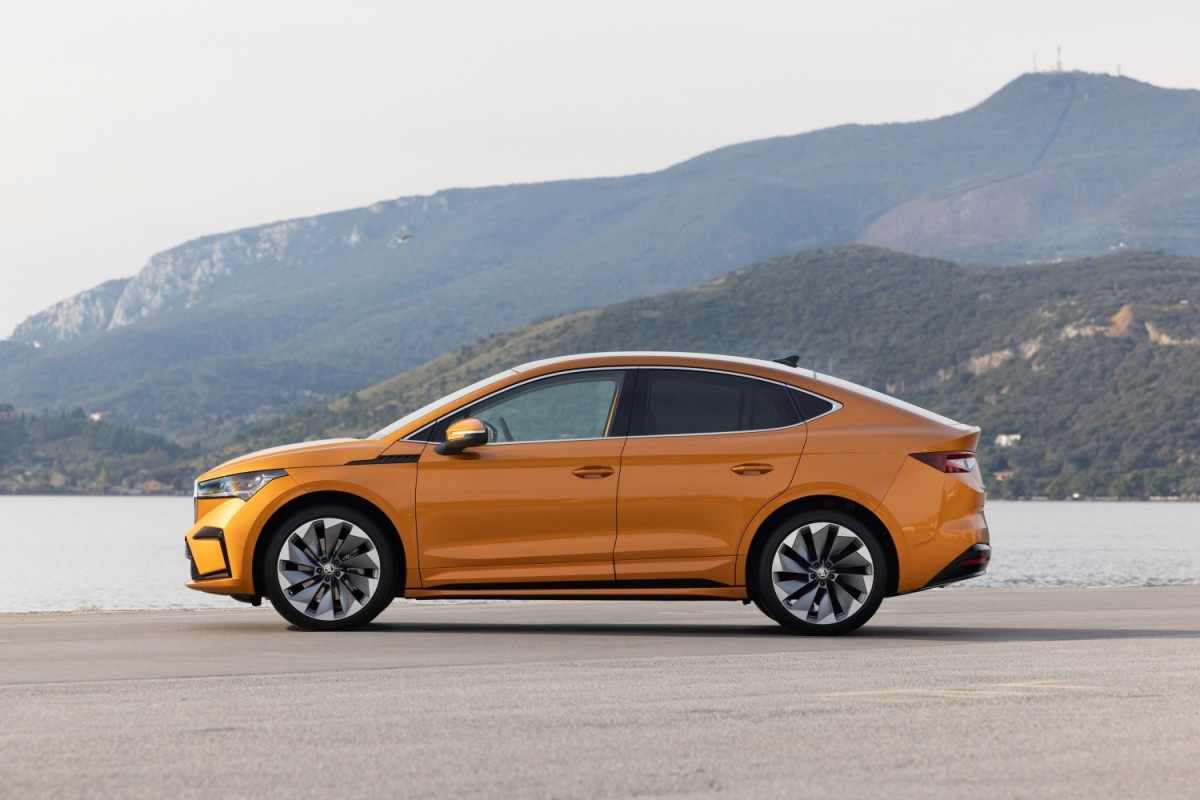 The Enyaq iV vRS is the first all-electric vehicle to receive the vRS designation and was introduced earlier this year as the sports flagship of the Enyaq iV line. The vRS (£54,370 OTR) has the most athletic reflexes of any Enyaq iV, thanks to its two engines' combined output of 299 horsepower and its sports chassis with a lowered suspension.
It also features a unique vRS-exclusive Design Selection interior with gray contrast stitching and black leather accents. In addition to the features of the SportLine Plus model, the vRS includes vRS bumpers, 20-inch Taurus alloy wheels, and a Crystal Face grille.
The Enyaq Coupé iV features a sleek roofline that slopes towards the rear of the vehicle from the B-pillar, contributing to its striking appearance. The exterior lines are further enhanced by a full-length panoramic glass panel covering the entire roof, the largest in Skoda's current lineup and exclusive to the Coupé.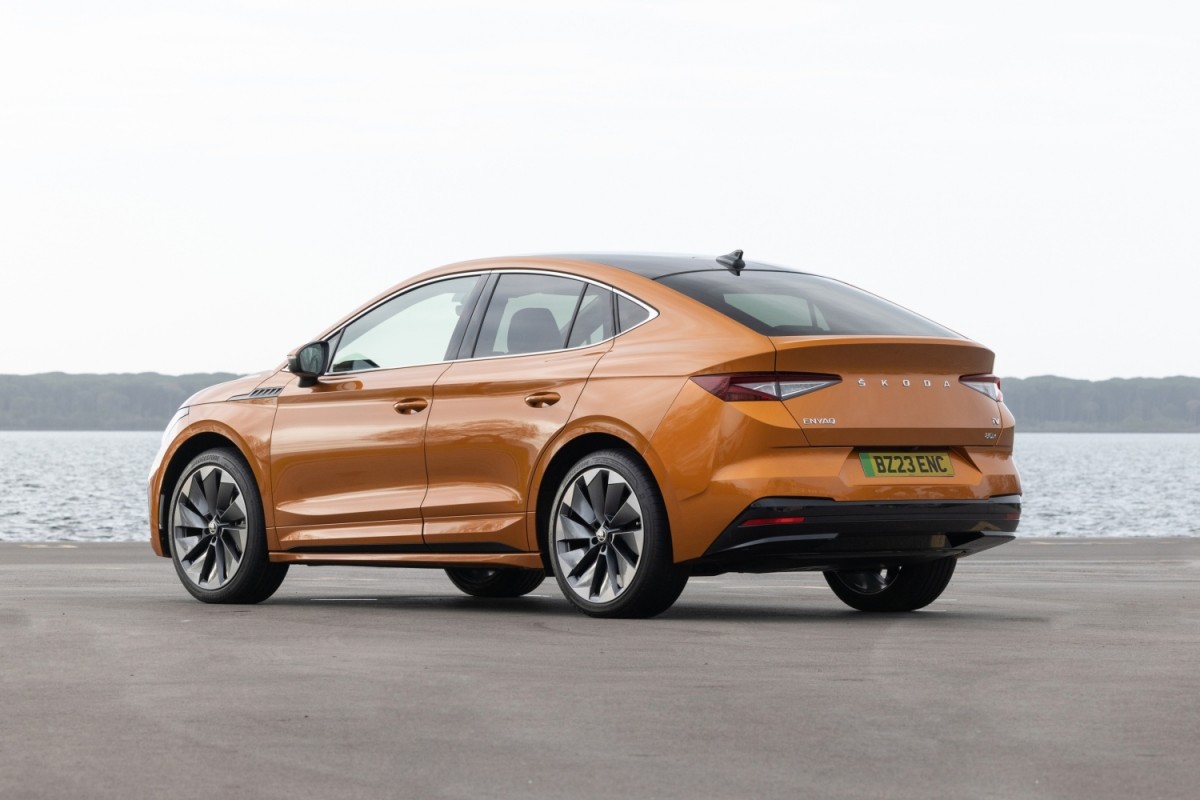 The Enyaq Coupé iV is even more aerodynamically efficient than other Enyaq iV models, with a maximum speed of 111 mph, 12 mph faster than any other Enyaq iV model, thanks to its low drag coefficient (cd) of 0.234.
The Enyaq Coupé iV has a generous trunk space of 570 liters with the rear seats up, only 15 liters less than the SUV variant, and it can expand to a maximum of 1,610 liters when the seats are folded down. The various interior Design Selection options are inspired by modern living spaces and utilize natural, environmentally-conscious, and recycled materials.
All Enyaq Coupé iV models are equipped with a 13-inch central infotainment screen for controlling various aspects of the car. The driver can keep track of important driving stats and vehicle information on the 5.3-inch Digital Cockpit, which can be supplemented by an optional head-up display (as part of the Advance package).
The new Enyaq Coupé iV is produced at Skoda's main facility in Mladá Boleslav. The Volkswagen Enyaq iV, based on the MEB platform, is the only Volkswagen Group vehicle produced in Europe outside of Germany.