Tesla investors got a little respite last night with the company announcing its final 2022 financial results. The numbers show solid revenue growth and decent profit even with the margins sliding as expected. Tesla is maturing and the slower but steady progress should provide security for the investors. Let's have a closer look at Tesla's Q4 numbers.
The $24.32 billion revenue is the highest ever recorded by Tesla. With the production growing and no shortage of demand it can only go one way from here too. The number exceeded analysts' expectations that put it between $24.07 billion and $24.16 billion and is markedly higher than the $17.72 billion recorded in Q4 2021.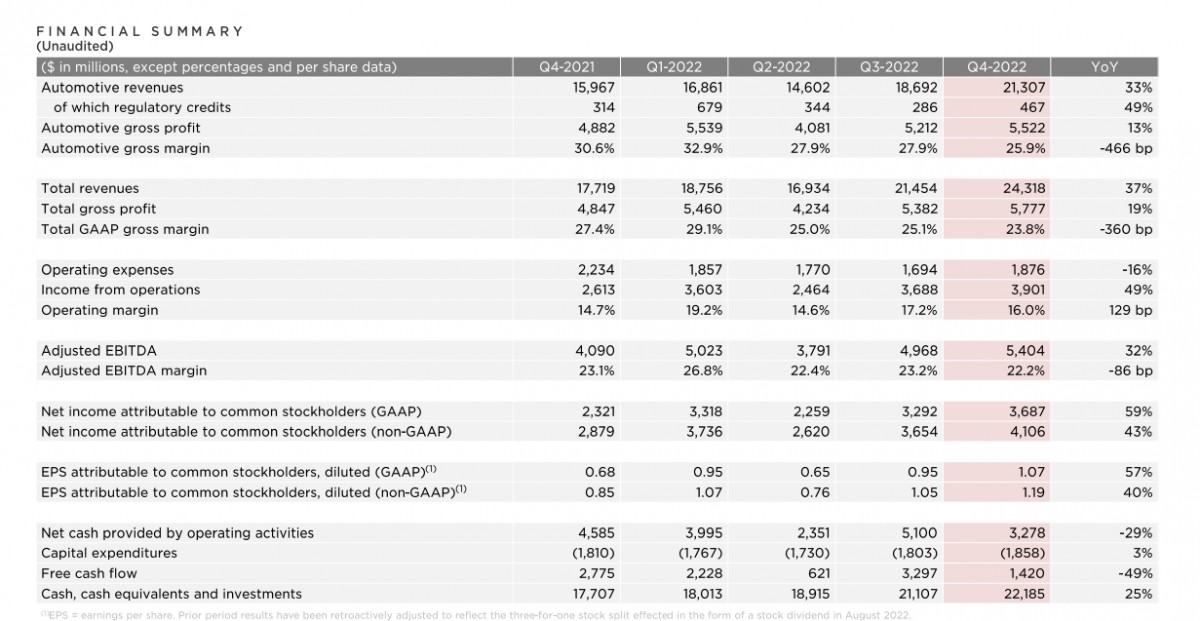 Earnings per share dropped to $1.19 compared to the Q4 2021 when that number stood at $2.52. However that old number is before the August 2022 stock split, and is adjusted down to $0.85. So - good news on that front as well.
The automotive revenue (Tesla is an energy company as well) stood at $21.3 billion which is a rather staggering growth of 33% year-on-year. The company still benefits from CO2 credit sales to the tune of $467 million which again is a nearly 50% increase compared to Q4 2021.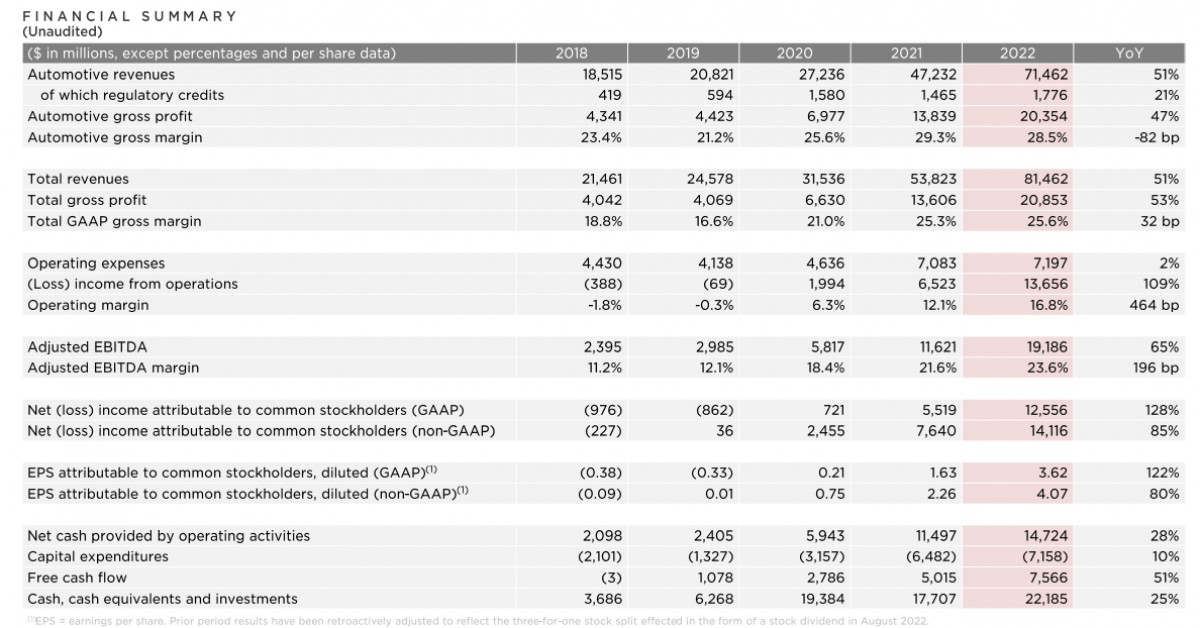 Gross margins have been sliding for a while now and in Q4 it stood at 25.9% - the lowest since 2021. Cash flow is down as well - 36% less than in Q3 but still a rather healthy $3.28 billion.
Tesla is in good financial health and although the profit margins are coming down, the company is self financing its huge growth. The bigger Tesla gets, the lower the profit margins will become. The company is sitting on a $22.18 billion pile of cash which keeps on growing, in 2018 it had just $3.69 billion and despite spending billions on developing new factories, it still has 6 times more cash than it had 4 years ago.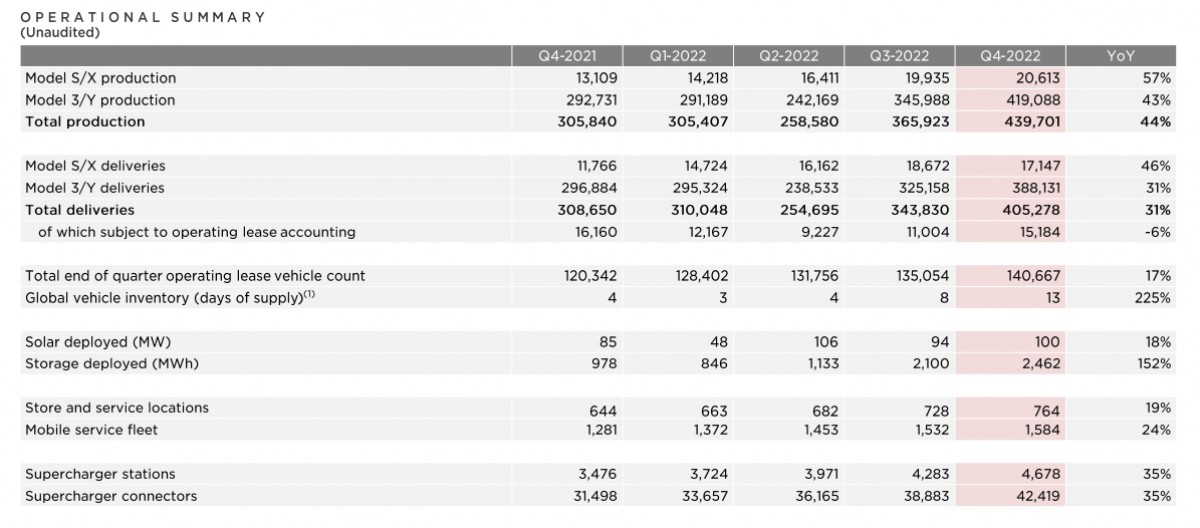 Tesla's production capacity has grown significantly, 750,000 at Giga Shanghai, 100,000 of Model S and Model X plus 550,000 of Model 3 and Model Y at Fremont, Austin and Berlin both have the capacity of 250,000 cars a year. That's 2.5 million vehicles if every factory was running at full speed all of the time.
Obviously that's not the case and the company predicts its production to reach 1.8 million cars this year. CEO Elon Musk even recons Tesla can reach close to 2 million vehicles production this year if there isn't another major cataclysm.
The total production in 2022 stood at 1,369,611 vehicles, which represents a 47% increase year-on-year. The sales concluded at 1,313,851 vehicles with the company having 16 days of global production in actual inventory.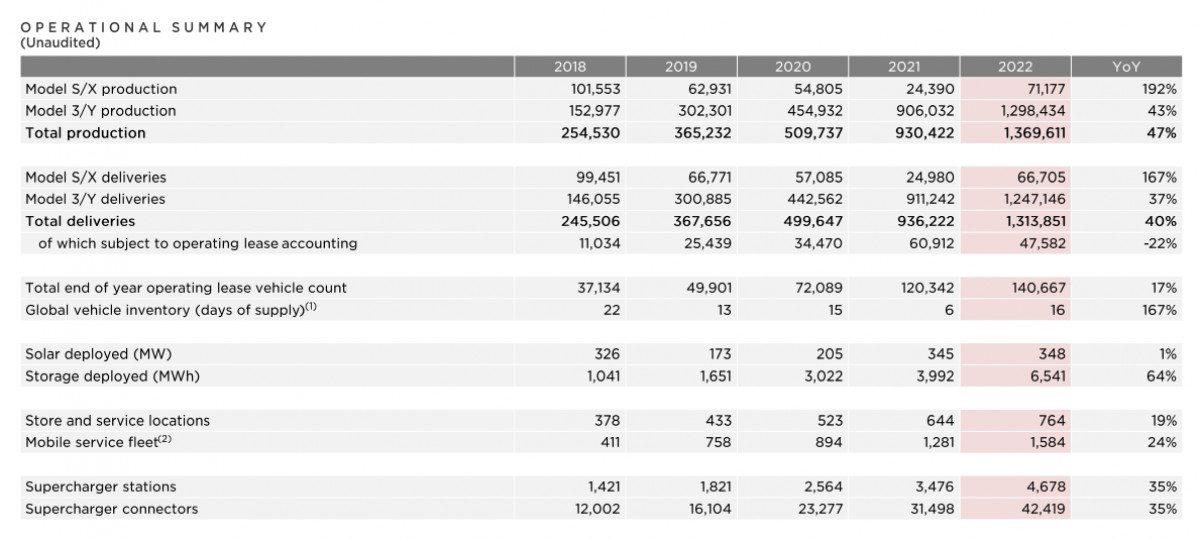 During the Q4 earnings call Elon Musk was asked a few questions and as expected some were about Twitter. Rather than actually answering them, he promoted Twitter as a great marketing tool but despite his usual upbeat attitude, there is no denying that Tesla's investors suffered serious losses due to the entire Twitter saga.
Tesla will go on to grow, with the recent price cuts around the world, the company will eat into its profit margins but significantly expand its market share. With the higher production numbers coming this year, demand has to grow and affordability is a serious obstacle. Tesla still has plenty of room and it can stay profitable in this price race to the bottom. It remains to be seen if its competitors will manage to stay in the black if Tesla forces them to go even lower.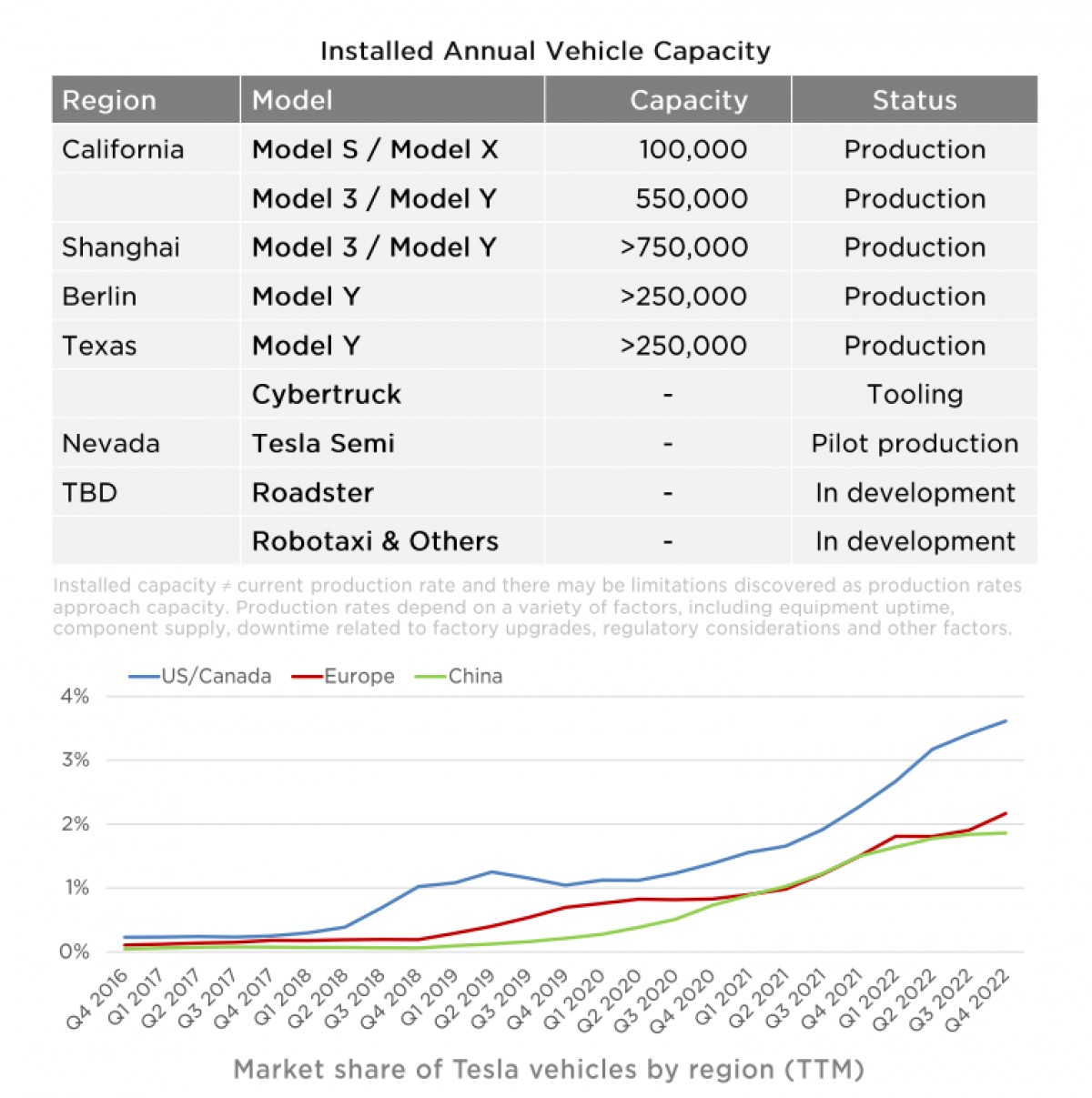 Yesterday, the company announced it is expanding its production base in Reno with two new facilities and another $3.6 billion investment.
Then there is the Cybertruck. Although it will go into production later this year, the full volume manufacturing should be reached in 2024, so its impact on the company's bottom line is yet to be felt.