Somebody, please sound the alarm bells because there is trouble in Tesla's house. The company is currently sitting on a new vehicle inventory of 9,671 vehicles across all of its markets. That is by far the highest number of unsold vehicles Tesla has ever had to deal with. It seems the price cuts are not doing the company any favors.
According to Tesla-Info and Tesladata (Matt Jung), the numbers have been growing steadily. While globally the company had a backlog of just over 1,000 vehicles in January, thanks to increased production rate across the Giga factories, this number now sits at 9,671. Those aren't vehicles in transfer either - simply these cars have no owners yet.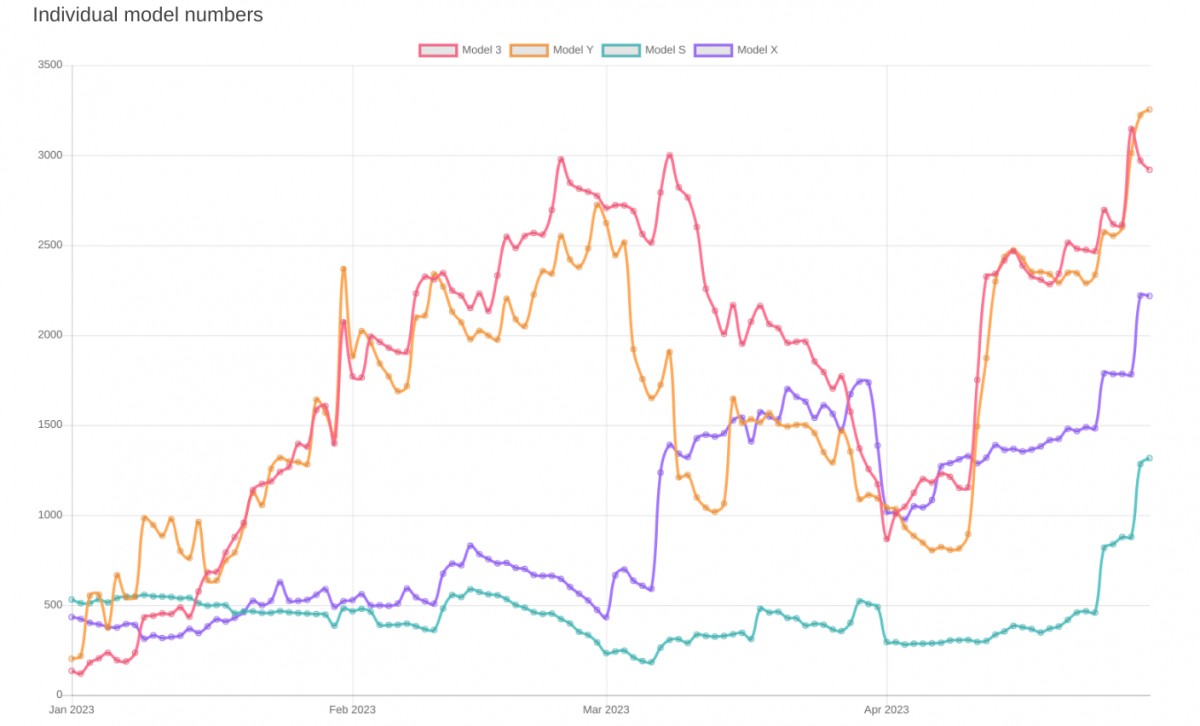 Tesla's global unsold inventory is growing
As of the last day of April, there are 3,254 Model Y unsold, 2,919 Model 3 units, 2,218 Model X units and 1,317 units of Model S still lingering in inventory. Out of the total, 6,363 vehicles are unsold in Europe, 2,942 in North America with 2,589 in the US alone. Interestingly, the right-hand-drive markets have a glut of 1,570 vehicles with Model Y leading the table at 956 unsold units.
While the number of unsold cars is an unpleasant situation on its own, the really worrying part of it is the growing trend. During January, right after Tesla announced its first price cuts, the inventory remained flat and hovered around 1,000 vehicles across the world. After Tesla started adding new price reductions, customers' interest seems to have slowed down.
Source: Tesla-Info
This was always the risk and Tesla should have considered that introducing aggressive price cuts one after another may force buyers to hold off the purchases. People are simply not sure what will happen next and waiting for possibly even more cuts. It's a never-ending slope - to keep the sales going Tesla may have to lower the prices even more but that still may not be enough to convince people to buy the cars.
The other approach would be to put the prices up - customers would either panic that more increases are on the way and start buying or they would completely abandon the company. Everybody is playing the waiting game now. Although nearly 10,000 vehicles in inventory is not a good thing, Tesla shouldn't have a problem selling any of them once it stops playing with the prices.
I would throw in....... People are not buying because fed interest rates are up 5.25% in nearly 6 months, making a 9-11% loan rates the new norm. I would not remove that much from savings for a depreciating asset that requires higher insurance nor ...
They sit on 9,500 because there are better EV's out there to buy.
With higher interest rates and federal tax incentives difficult to obtain, it's not hard to believe the demand is slowing down. There's also more competition now. Rivian has a large SUV that can hold a family, so the Model X isn't...