There is no doubt even for a minute that Tesla remains a name synonymous with innovation. Regardless of delays and broken promises - credit where credit is due. On occasion though, we all run short on patience. The electric car giant has yet again sparked interest with the announcement of its Full Self-Driving (FSD) Version 12, touted as the most advanced version yet. As Elon Musk, Tesla's enigmatic CEO, hints at its release "in about two weeks," the automotive world buzzes with speculation and a fair dose of skepticism.
The anticipation aligns intriguingly with the scheduled delivery event of the Tesla Cybertruck at the Gigafactory Texas, stirring discussions about whether this electric pickup will debut with FSD V12. This integration would mark a significant milestone, considering the promises and performance Tesla has attached to this version. Yet, the question lingers: Will it deliver on its lofty expectations?
About 2 weeks

— Elon Musk (@elonmusk) November 12, 2023
Musk's track record with timelines often falls into the realm of optimistic forecasts rather than concrete deadlines. His "two weeks" may well be an indefinite future point, but the timing here seems more than coincidental. However, historical patterns suggest a cautious approach to such predictions.
The transition from "beta" to a full-fledged version in FSD V12 raises eyebrows. Since its inception in late 2020, Tesla has labeled the FSD as a beta product, a strategic move to mitigate criticisms and legal challenges related to its performance. This beta tag implied a system under constant testing and development, necessitating driver vigilance. Musk's vision of a system out of beta, as he once noted, requires extensive real-world driving experience, a threshold he suggested is over one billion miles.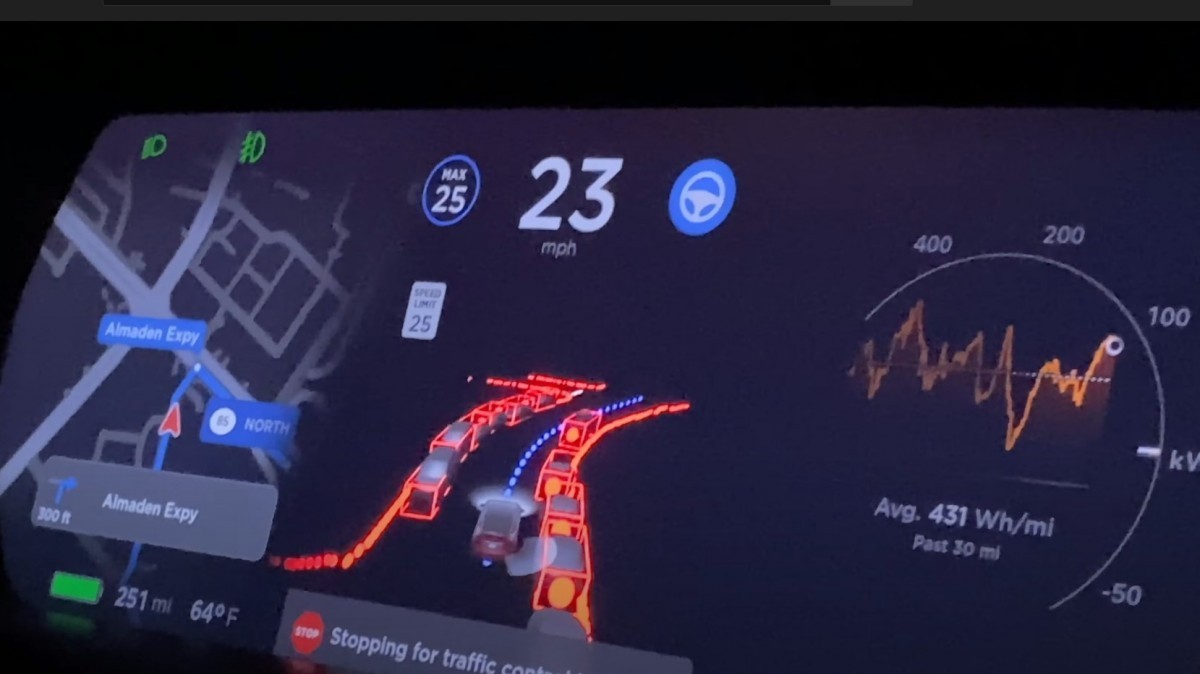 The path to achieving true self-driving capabilities has been a rocky one for Tesla. Musk has admitted past over-optimism but remains steadfast in his belief that the goal is closer than ever. The World Artificial Intelligence Conference in Shanghai witnessed Musk reiterating this confidence. Yet, this confidence has to be fully realized in practice.
FSD V12, demonstrated in a live-streamed drive, presents a paradigm shift in Tesla's approach to self-driving technology. Eschewing traditional sensors like radar and Lidar, the system now relies solely on cameras and artificial intelligence. This shift towards an AI and camera-based system, as Musk claims, mimics human driving behaviors more closely than ever. However, this claim was somewhat undermined during the demonstration when Musk had to intervene to prevent the vehicle from running a red light – a significant hiccup in an otherwise smooth presentation. If you haven't seen it - here it is:
August 26, 2023
Musk's actions during this test drive also drew criticism. Holding a smartphone while driving, a violation of California's hands-free law, contradicted Tesla's own safety recommendations and raised questions about the seriousness with which Tesla takes the real-world application of its technology.
The leap from FSD Beta v11 to v12 is noteworthy. The latter, according to Musk, doesn't rely on pre-defined code for routine driving decisions like stopping at signs or slowing down for speed bumps. Instead, it uses vast amounts of video data from Tesla vehicles worldwide to learn and adapt, a stark contrast to the 300,000 lines of C++ code in its predecessor.
As the electric car industry continues its rapid expansion, Tesla's FSD V12 stands at a crossroads of potential and proven technology. While it symbolizes a significant stride in EV innovation, its real-world application and reliability remain to be seen. The upcoming Cybertruck event may provide more clarity on whether FSD V12 is a groundbreaking advance in self-driving technology or another step in an ongoing journey fraught with challenges and unmet expectations.