Adams Intelligence put a report together looking closely at the total capacity of electric car batteries deployed globally in the first half of this year. It's a pretty good indicator of the market growth as it gives us a better look of the actual use in terms of miles driven.
The report looked only at passenger cars, no commercial or storage systems were included which makes the 79% increase in capacity even more telling. The report put together battery use by types of vehicles sold, by geographical spread as well as by manufacturers.

In the first half of this year the total capacity of batteries from new electric cars reached 195.5 GWh. To put that in perspective, in the whole of 2021 that capacity reached 286 GWh and in 2020 it was just 134.5 GWh. 2022 will exceed 400 GWh at this pace without a sweat.
Looking closely at the vehicles, the battery use tells a story that we have already seen - BEVs are responsible for the majority of sales with 89% market share and 2 points increase over the same period last year. The PHEVs recorded 10% share which is down 1 point from last year and HEVs halved its market share - from 2% down to just one. In total in the first six months of 2022 the battery capacity of new EVs sold grew from 109 GWh last year to 195.5 GWh this year.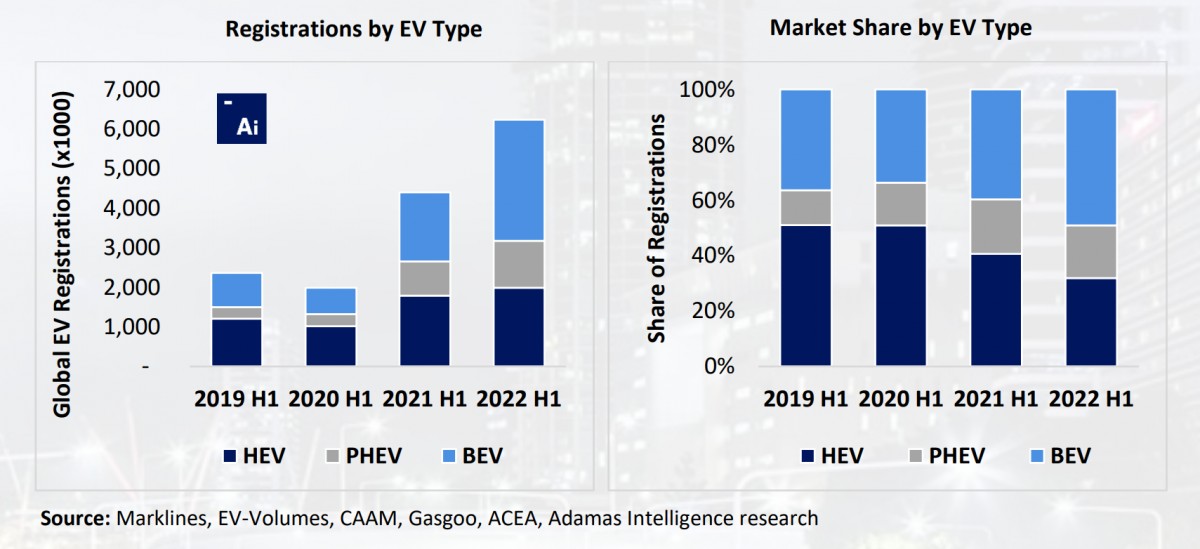 Looking at the geographical growth it is Asia that's leading the race by some margin. 113 GWh of batteries were sold there with Europe accounting for 48.1 GWh or 25% of all sales. North America ended up with 33.4 GWh which is just over 17% and actually down 1 point from the year before. Europe's share in the market has dropped by 12 points, unable to match the Asian EV market rapid increase.
Top 3 battery manufacturers are not a surprise - CATL supplies many manufacturers and because of that its batteries accounted for 33% of the capacity sold in the first half of this year which is a 5 point increase compared to the year before. LG Energy Solutions ended up in second place and BYD was in close third position. The top seven manufacturers provided 82% of battery capacity for the electric cars sold in the first six months of the year.

The interesting statistic that shows how the market is moving from one technology to another - and how quickly - is the market segregation by battery type. The LFP is a clear winner - 27% of market share with a whopping 237% increase from the last year. Not surprisingly though, the biggest consumer of EV batteries is good old Tesla with 21.3% market share. The next 4 car manufacturers combined, installed less battery capacity than Tesla alone.

Finally the report had a look at the actual electric car registration numbers with the BEVs clearly showing a growing trend with PHEVs and HEVs slowly falling away. Combining the EV sales and battery capacity gives an interesting insight as to how the battery capacity per car is growing. The weighted average comes at 31.4 kWh per electric car, which is an increase of 27% from last year. It simply means that not only more battery-electric cars are sold but they are getting bigger battery packs at the same time.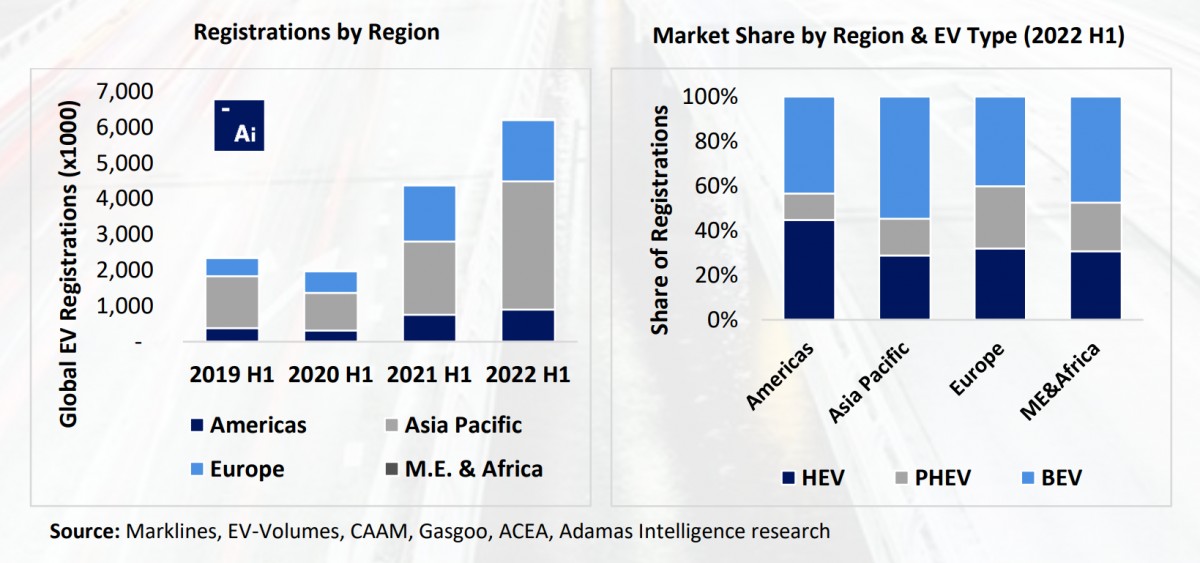 The Adams Intelligence report is a 20 page document full of great insights and if you want to discover details about the EV market, how it is changing, how it is affecting economies and what possible stumbling blocks are ahead of it - it is well worth looking into, just follow the Source link below.