Fast charging won't degrade your EV battery faster, extensive study finds
Recurrent Auto just published research on fast charging and how it affects battery health in the long run. And the short version is this - fast charging doesn't seem to impact battery health at all.
Admittedly, the research only involves Tesla cars - Model 3 and Model Y. However, the data is collected from 12,500 vehicles, so we can have a lot of confidence in the conclusions.
Recurrent compared the battery health of vehicles that used fast charging at least 90% of the time and vehicles that used it in less than 10% of the time. And as it turns out, the two groups have no statistical difference.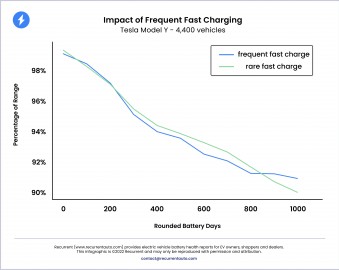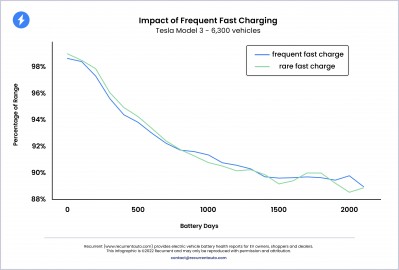 Battery degradation: Model Y • Model 3
The article outlines certain scenarios in which fast charging would be detrimental to the battery, like charging in extreme temperatures (either low or high) and in a low or high battery charge state. Luckily, all EV makers have invested in mitigating those scenarios with software and hardware solutions.
For instance, pre-conditioning of the battery is extremely important as it brings the battery cells to optimal temperature for charging. Additionally, the software regulates the charging speed when the battery reaches 80% and slows it down to reduce degradation. In fact, Recurrent suggests using a slower tier 2 public charger as it may actually be faster and cheaper for those final few KWs.