Samsung announced it is joining the autonomous vehicle business, but rather than following Xiaomi's example, the company will supply chips used by AI that controls the self-driving systems. A US-based semiconductor company Ambarella will be the customer and the two companies are promising to transform the next generation of autonomous vehicles.
Ambarella is a Tier-1 automotive supplier, but the company started in 2004 with the aim of developing H.264 video encoders for professional broadcast services. The company quickly expanded its technology into consumer video and transitioned to developing low-power video compression chips. If not for Ambarella, we wouldn't have GoPro, there would be no Dropcam from Nest, we wouldn't have Garmin dashcams and DJI Phantom drones would have never happened.
Over the last few years, Ambarella acquired a series of companies from the automotive field. In 2015 it took over VisLab responsible for computer vision and incorporated its own SoC into its solutions to provide ADAS for autonomous vehicles. In 2021 Oculii was purchased as well with its entire portfolio of technology focused on improved resolution of radars for self-driving cars.
Last year Ambarella and Incepto Technology announced a partnership to provide a solution for an automotive-grade central computing platform. Ambarella provides its CVflow SoCs that can simultaneously process seven 8MP cameras, surround camera perception and front ADAS safety features.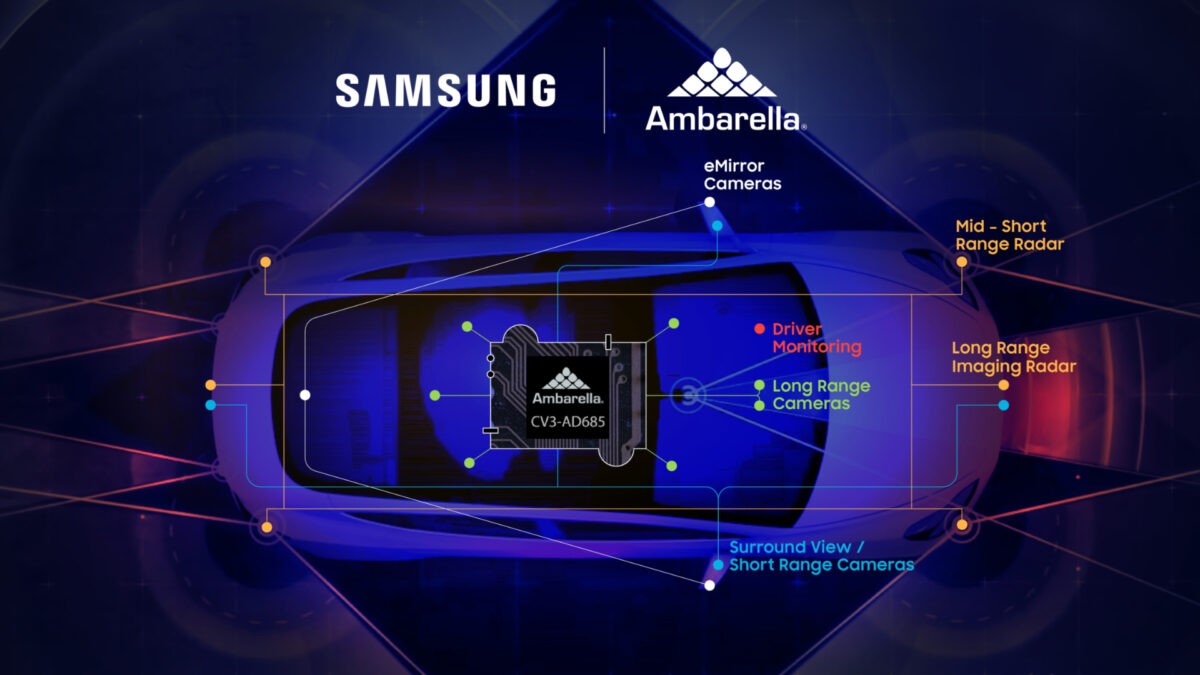 This year the company signed a partnership with Continental to focus on the field of AI-based software and hardware systems for advanced ADAS and fully automated driving. PArtnership with Samsung will focus on delivering the latest semiconductors for this technology.
The 5nm chip that Samsung will manufacture for Ambarella is the CV3-AD685 and it's the first one based on the CV3-AD family of central controllers. The CV3 is based on the CVflow AI engine in its already third generation, the previous CV2 processors were about 20 times slower than the latest CV3.
The chip comes with ARM Cortex A78AE, there are R52 CPU cores and automotive-grade GPU. It has a dedicated security module and advanced ISP for processing multiple camera inputs. The algorithm-first architecture supports a complete software stack for Level 2+ all the way to Level 4 autonomous driving.
Ambarella chose Samsung 5nm process due to its optimization for automotive-grade semiconductors. Samsung is known for its tight process controls and advanced IP that helps with traceability and reliability.
The new chip can handle neural network processing for 4D imaging radars, it can handle computer vision and deep sensor fusion combined with path planning in ADAS. This really is the future and both companies - Samsung and Ambarella - have expertise to give us safe autonomous cars by providing the best components.
Well man i thonk opposite since i had Huawei phone in past and many of mine friends too. Rather will trust Huawei than Samsung. When comes to cameras Huawei was always ahead of any and all competition when comes to AI accounting it was litterar...