There were rumors swirling around that Skoda is planning some big moves and the official announcement did not disappoint. Skoda will differentiate from the VW group by making its designs to stand out completely and not just sell re-branded cars SKoda's CEO, Klaus Zellmer, was very upbeat about the company's future and new direction.
There will be 3 new all-electric models introduced by 2026 - a compact SUV, a small city car and a seven-seater family car based on the just unveiled Vision 7S. By 2030 Skoda wants at least 70% of manufactured cars to be all-electric. For now the company is not going to stop manufacturing combustion engines, but rather will focus on making them more efficient.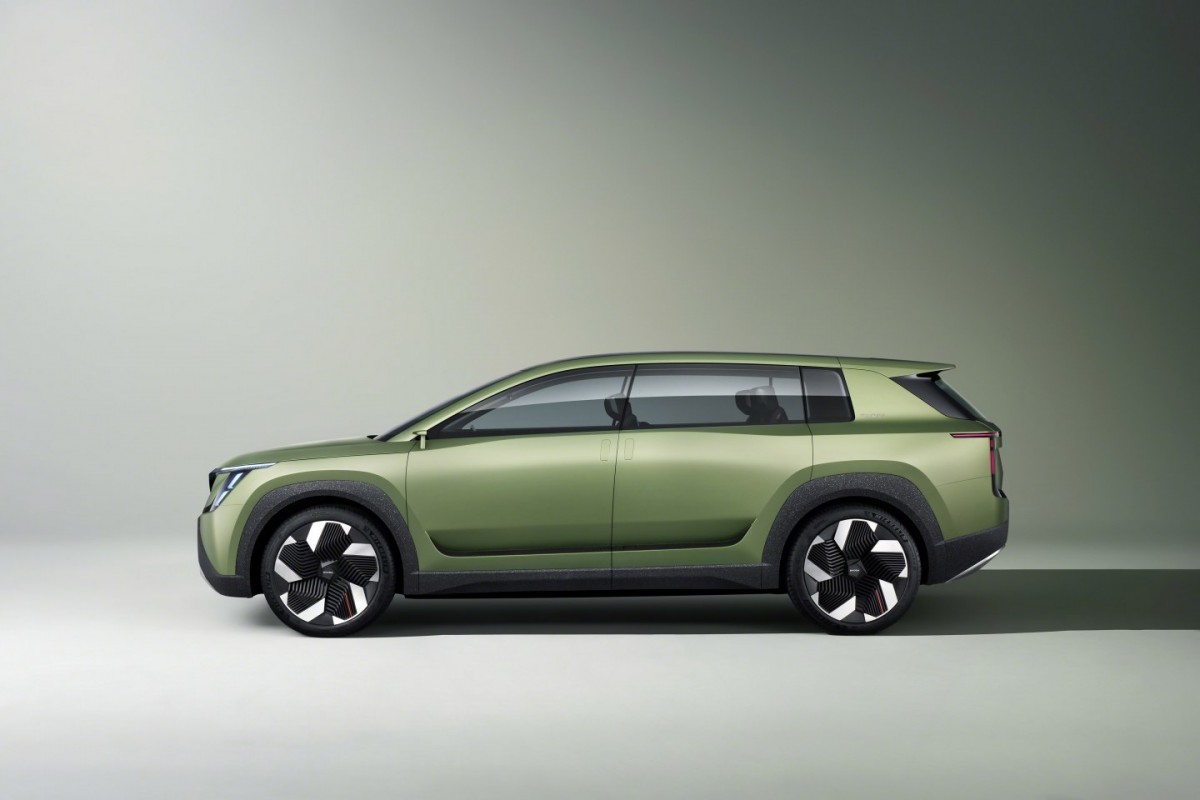 Skoda Vision 7S
Skoda is dropping its worldwide known logo and replacing it with a new lettering instead, the brand will use mainly green colors for its corporate identity with names such as Electric Green and Emerald Green. Skoda will no longer pursue the image of the cheapest brand within the group and it will adapt a new approach - most value.
Throughout the whole presentation "human centricity" was used many times, Skoda wants to make sure its customers are happy and wants to offer more than just selling cars. It sounds a lot like marketing from NIO and since it seems to be working rather well for this Chinese competitor, Skoda wants to try it as well.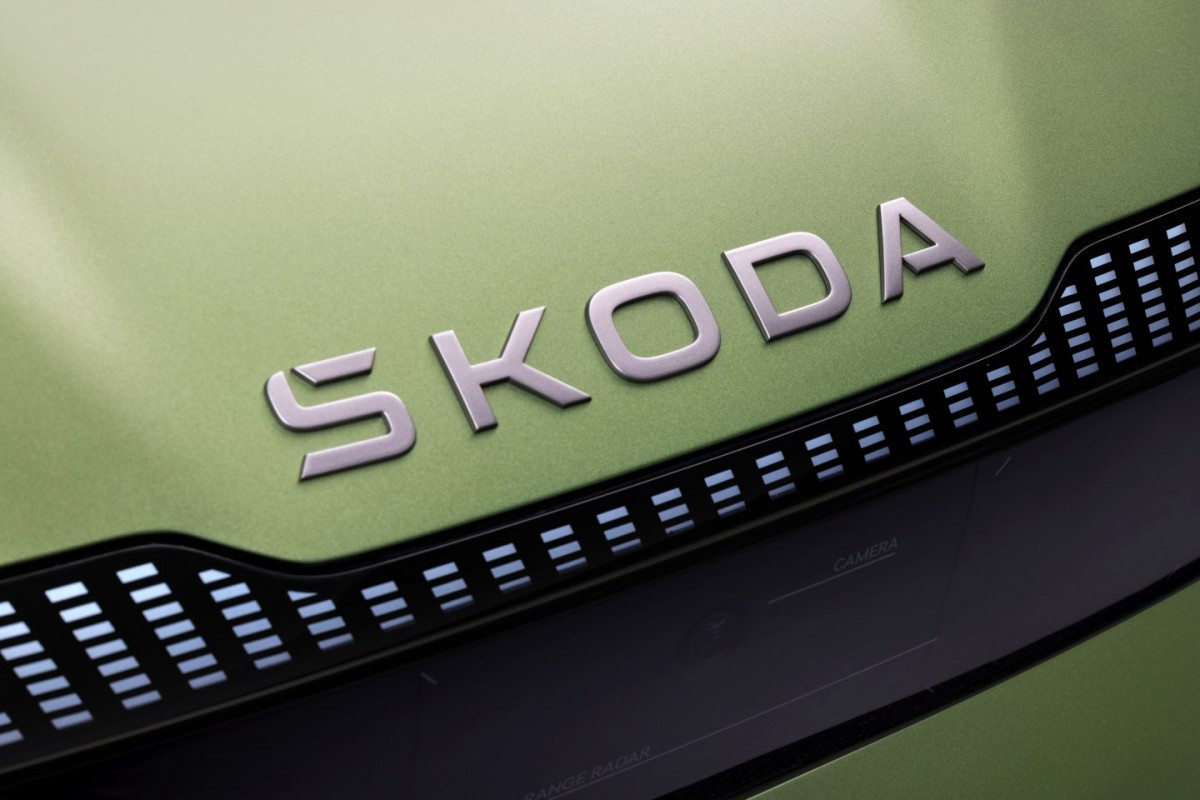 Skoda introduced new new logo
To finish off Skoda's bold plans, the company wants to reduce the CO2 emissions of its entire fleet of manufactured cars by 50% no later than 2030, it even is taking on independent consultants to help it to achieve that goal. The company will use new materials and new manufacturing processes and interestingly it will increase its foothold in India - that was a surprise announcement.
A lot of big changes for Skoda and what a better way to mark them than with a new car? The Vision 7S is a preview of the upcoming seven seat family car. The vehicle is based on the MEB platform and it shares many components within the VW group, but the styling will be completely different, with no other brand offering a similar car.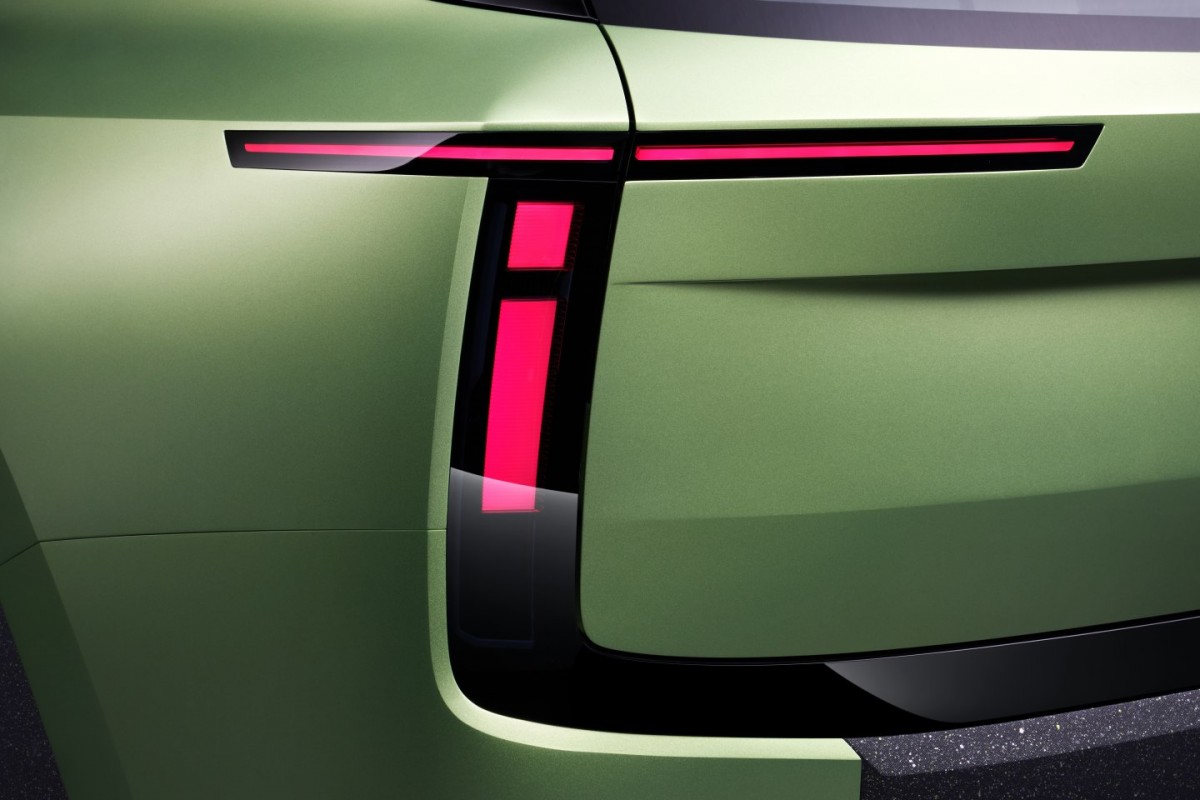 New T-shaped rear lights
Vision 7S is a light off-road family transporter, with 6 individual seats and 1 dedicated and centrally mounted baby seat. Company claims this is the safest place in the car and it's kinda hard to argue with them about it. Vision 7S rides on 22" rims which most likely won't make it to the production model but make the concept look really cool.
Let's talk about the front - this is the new face of all Skoda cars to come. It's flatter, the grille is now completely gone and replaced with what the designers call Tech-Deck Face. It's a much narrower strip that runs almost the whole width of the car and hides all the sensors behind it.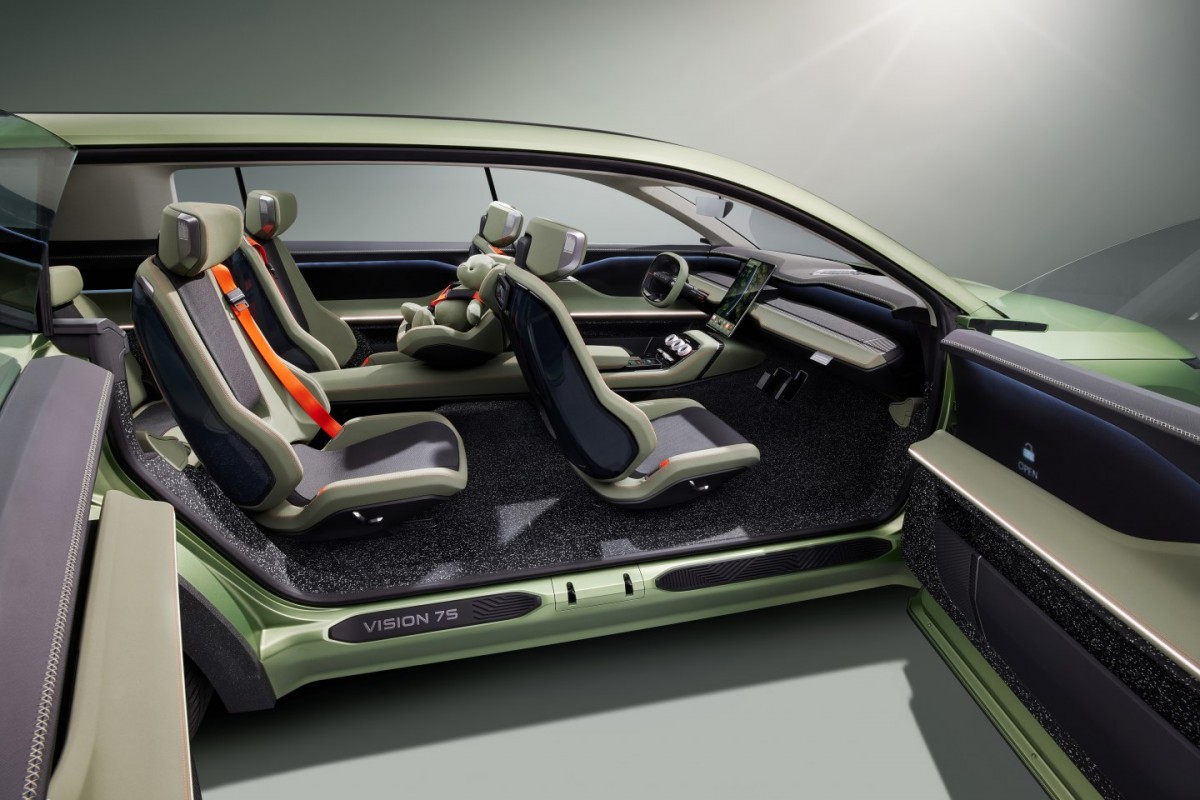 This has to be one of the best interiors of 2022 - if it only wasn't a concept car
Atop is a multi LED strip that will illuminate in many different ways to communicate with the outside world. Things like charge status and charging progress can be easily displayed. It's future-proofing at its best, since the legislators around the world are looking for ways for autonomous cars to display their driving mode to other road users, making them aware of when the car is driving on its own.
Skoda's new design language means simplicity but no sparsity, it means new sustainable materials and where possible recycled materials as well. That's nothing new, the majority of car manufacturers are trying this approach.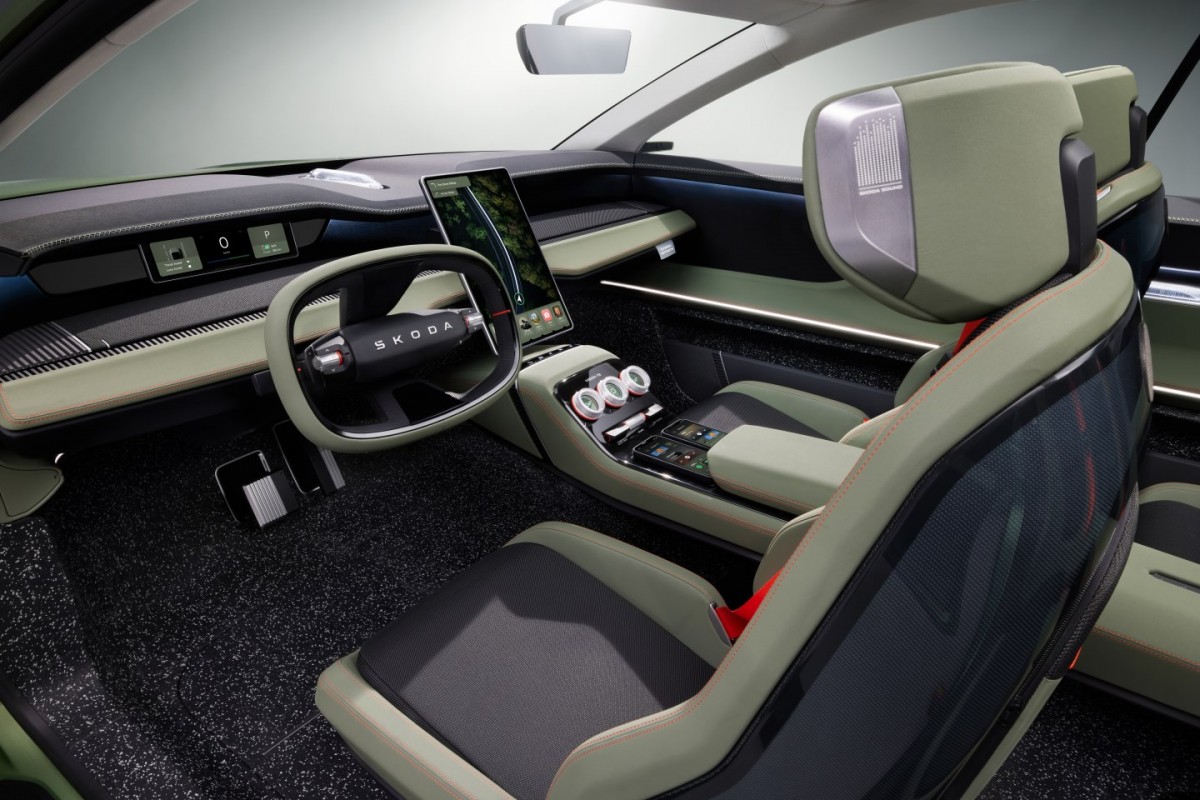 The center screen in drive mode
New lights at the front, new T-shaped lights at the rear and new logo - on the bonnet and much bigger on the rear of the car. The Skoda birdie is gone forever.
Stepping away from the Vision 7S we realize its size and a massive wheelbase. That's how the company managed to squeeze in 3 rows of seats and give every passenger plenty of legroom.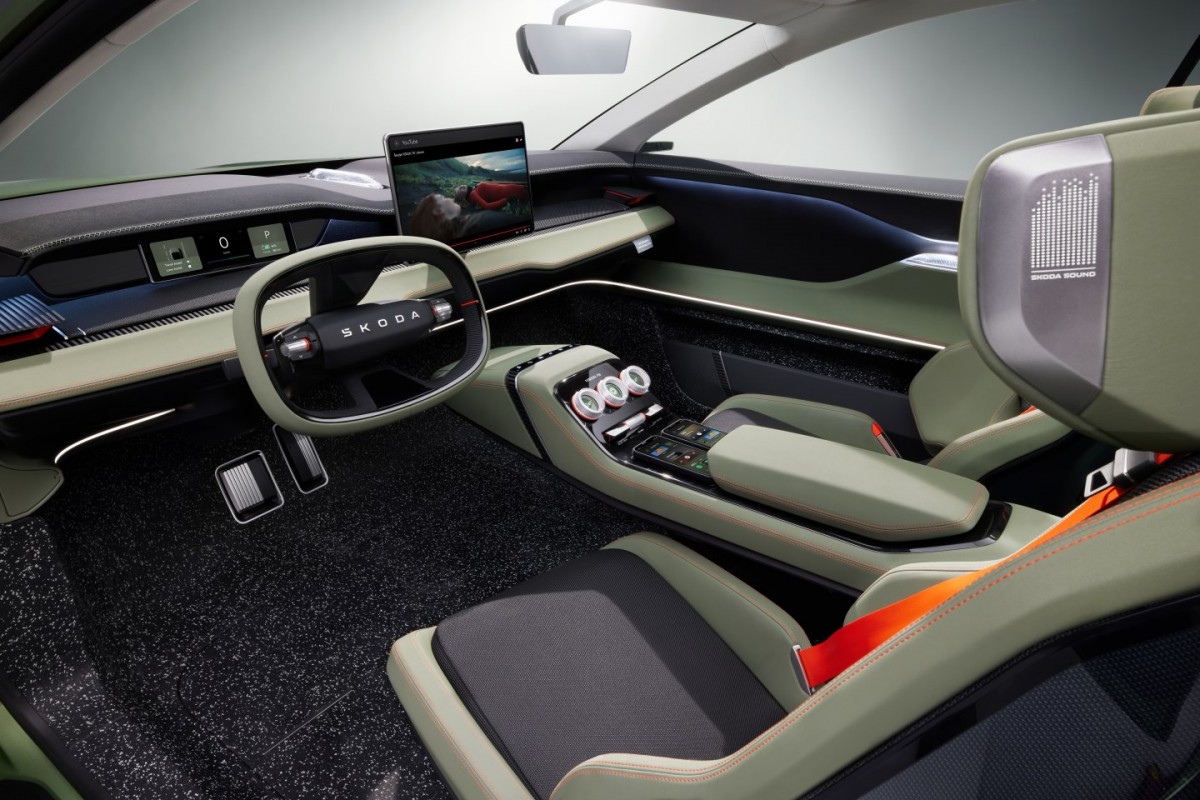 Relax mode flips the screen horizontally and moves the dashboard away
At the front of the cabin we have the ubiquitous center screen taking care of the infotainment. To combat the charging boredom, the 14.6" screen swivels from its vertical driving mode to horizontal "relax" mode. Driver gets an 8.8" display and HUD as well.
The steering wheel is just another example of designers getting lost in their search for solutions to problems that don't really exist. This steering device has a quite uncomfortable shape - imagine doing a 3-point turn with that - and it has spokes at 12 and 6 o'clock. The bottom one acts as a touchpad and there are haptic scroll wheels incorporated into the wheel itself and only marked by the orange accents. Yikes.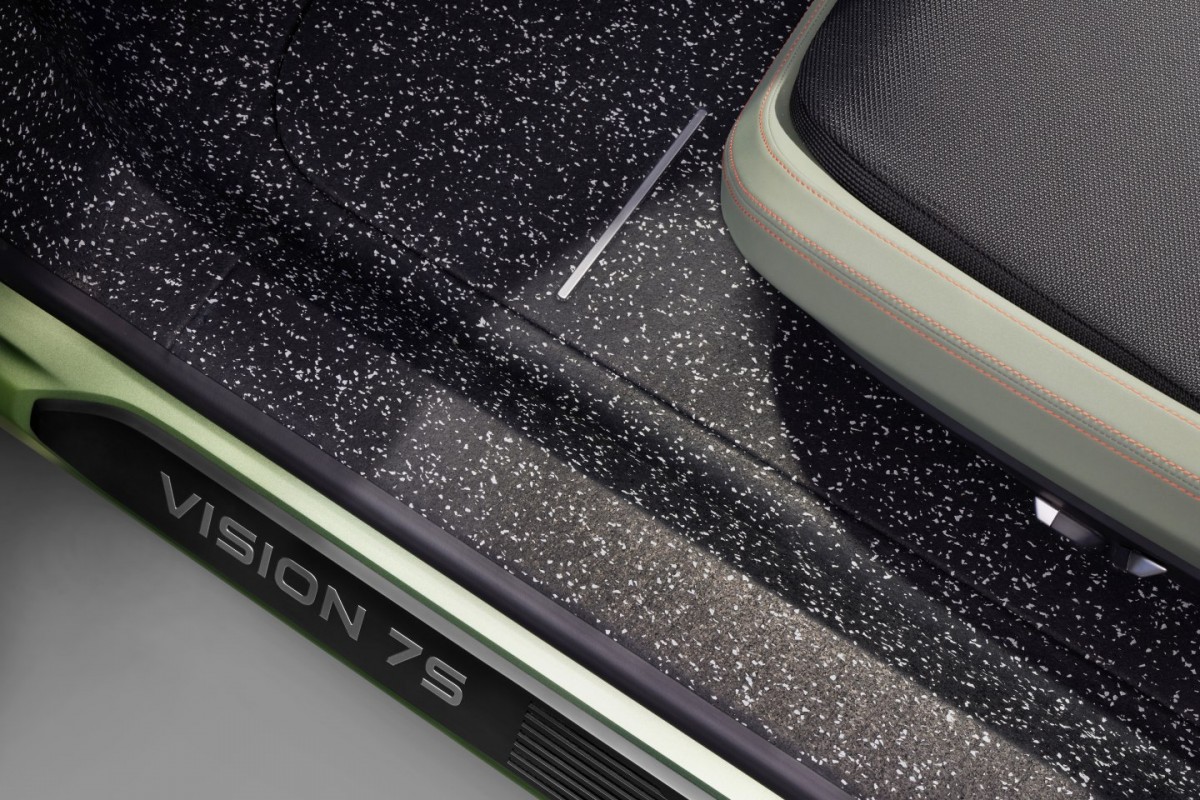 Recycled materials used for "stay clean" floor with no edge to step over
Moving on swiftly to three giant rotary controllers - marvelous solution in the world of touch screens. The outer two control the climate but the middle one can be used for the screen navigation. There are 6 additional buttons under the screen as well and one of them can be individually configured.
There are so many clever solutions in this concept car that won't make it to the production model and it's really sad. Some of them are just gimmicks - like the dashboard moving a few centimeters away for the "relax" mode - it doesn't really make much more room.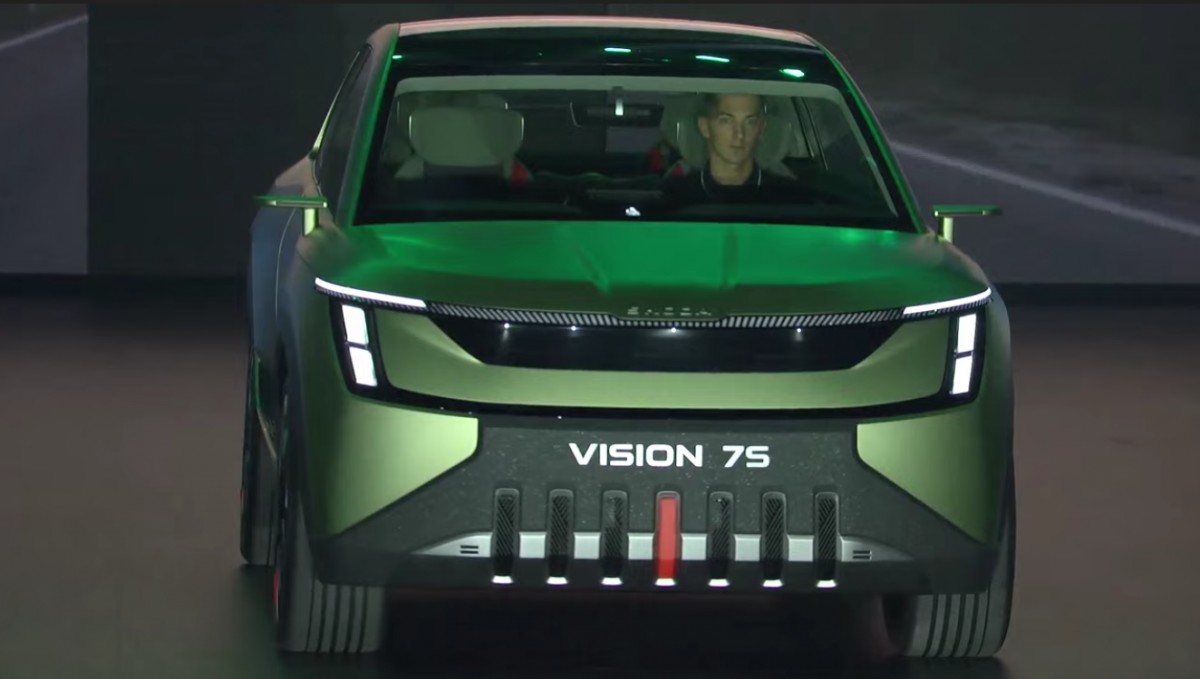 Vision 7S in the flesh
There are magnets holding phones in their designated places in the center console and we can only hope this becomes a real thing. There are magnets at the back that can hold up tablets for kids to watch movies on - simple and effective.
The surfaces in the Vision 7S are interactive - incorporating blue and red lights that indicate interior temperature and allow for changing it simply by drawing with your finger on the fabric. The system even allows for drawing and writing of short notes and then sending them from one door to another.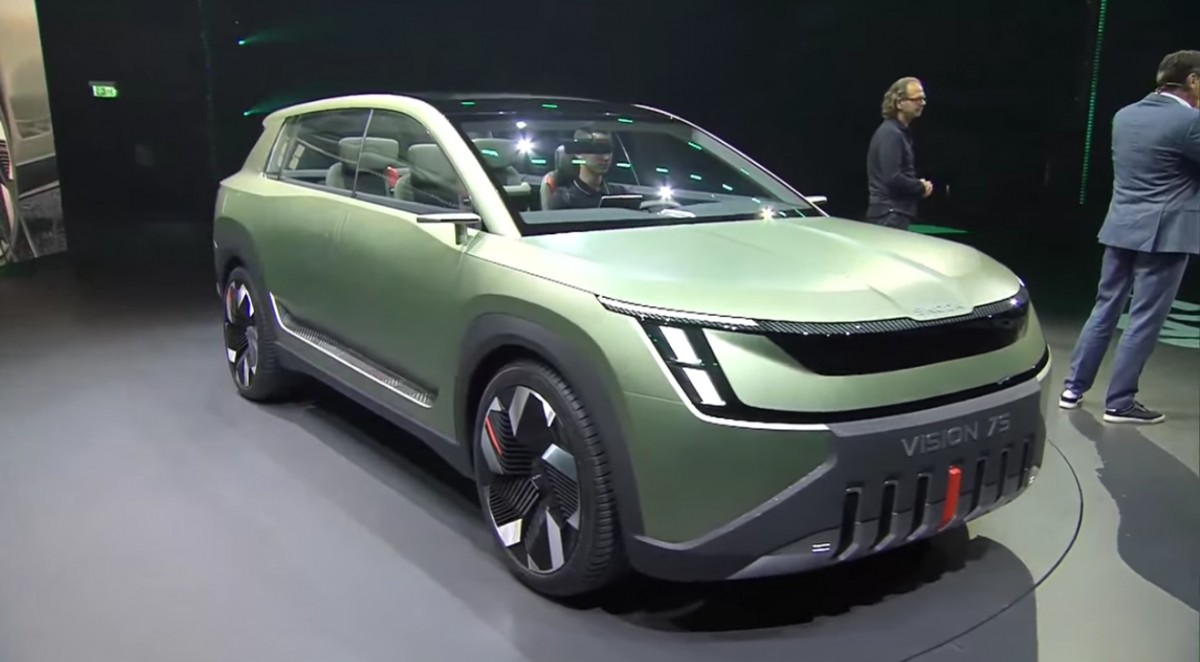 Skoda Vision 7S is a large family electric car
The scissor doors are impressive but are very unlikely to make it to production. The entire floor structure is flat as it takes advantage of the battery pack sitting underneath. There are vents on the side used to draw hot air away from the battery and use it to heat the cabin or vent it outside.
The whole car is designed with an outdoors active lifestyle, having the interior finished in easy clean material with no carpets on the floor means even the muddiest adventure will leave no marks on the car.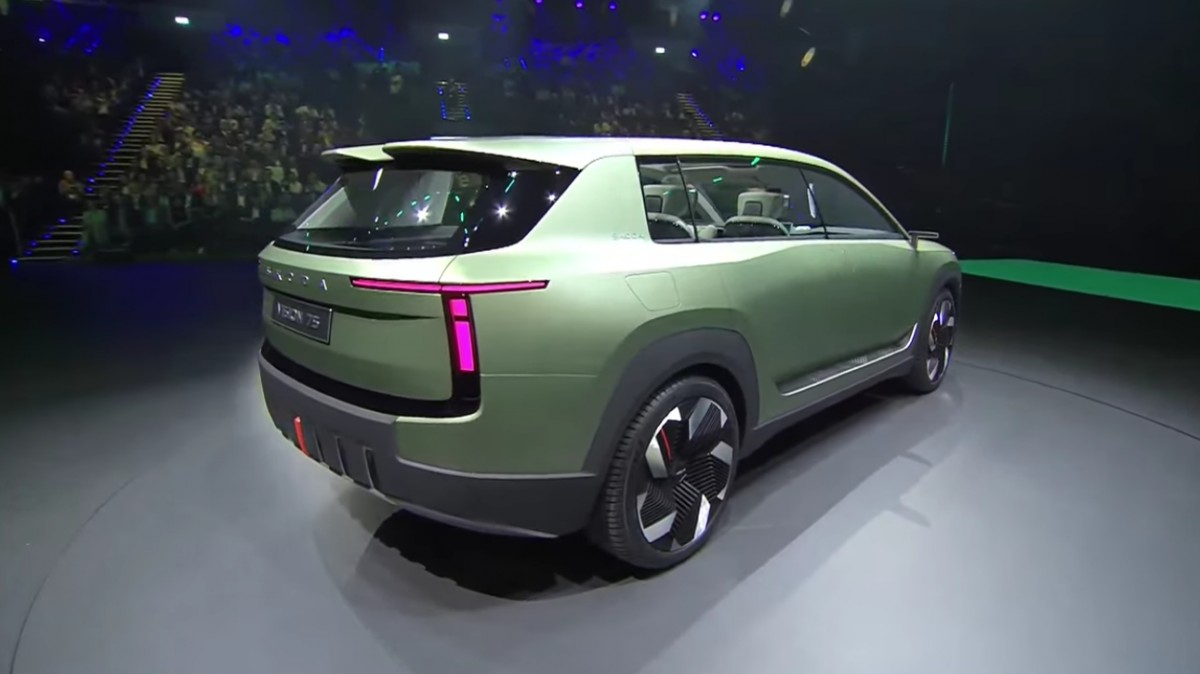 Attractive from every angle
Vision 7S is an amazing concept car, it's simple and efficient, it's effective in its design and with its features. It's everything that Skoda has always been - a good value brand. It's no longer the cheapest brand and Skoda wants to emphasize that this chapter is over. So expect the Vision 7S based production car to no longer be the bargain of the VW Group.
Very attractive design, plenty of new ideas and we just wish it wasn't a concept car. We will see the production version some time towards the end of 2023. Although Vision 7S is only a concept it is built on a working MEB platform and the production car will have the same specs, meaning a 89 kWh battery pack with a claimed 600 km range and 200 kW fast charging capability.
Skoda is ditching its bargain image, with 70,000 Enyaq iV and Enyaq Coupe iV models already delivered globally and order books full for next year - it's an obvious choice. Let's just hope the new image remains a good value and it doesn't turn into opportunistic market milking.
Enjoy a full video walk around of the Vision 7S by Dave Humphreys from Complete Car: