If you feel like it's a deja-vu then you wouldn't be wrong. Skoda just unveiled the Enyaq RS iV - again. It's tricky this one because the car was technically unveiled last year, together with the Enyaq Coupe RS iV, but it never made it to the showrooms. It was never available for order officially and this is why Skoda is reintroducing it now. Then again there's still no mention of when it will be available, so we aren't sure what changes.
We get the same powertrain as in the Coupe version - 220kW dual-motor AWD system supported by 82kWh battery. The WLTP range is 500km, this sizable SUV makes the 0 to 100 km/h sprint in a short experience taking only 6.5 seconds and runs out of puff at 180 km/h. That's 20 km/h more and 0.4 seconds quicker than Enyaq iV 80x.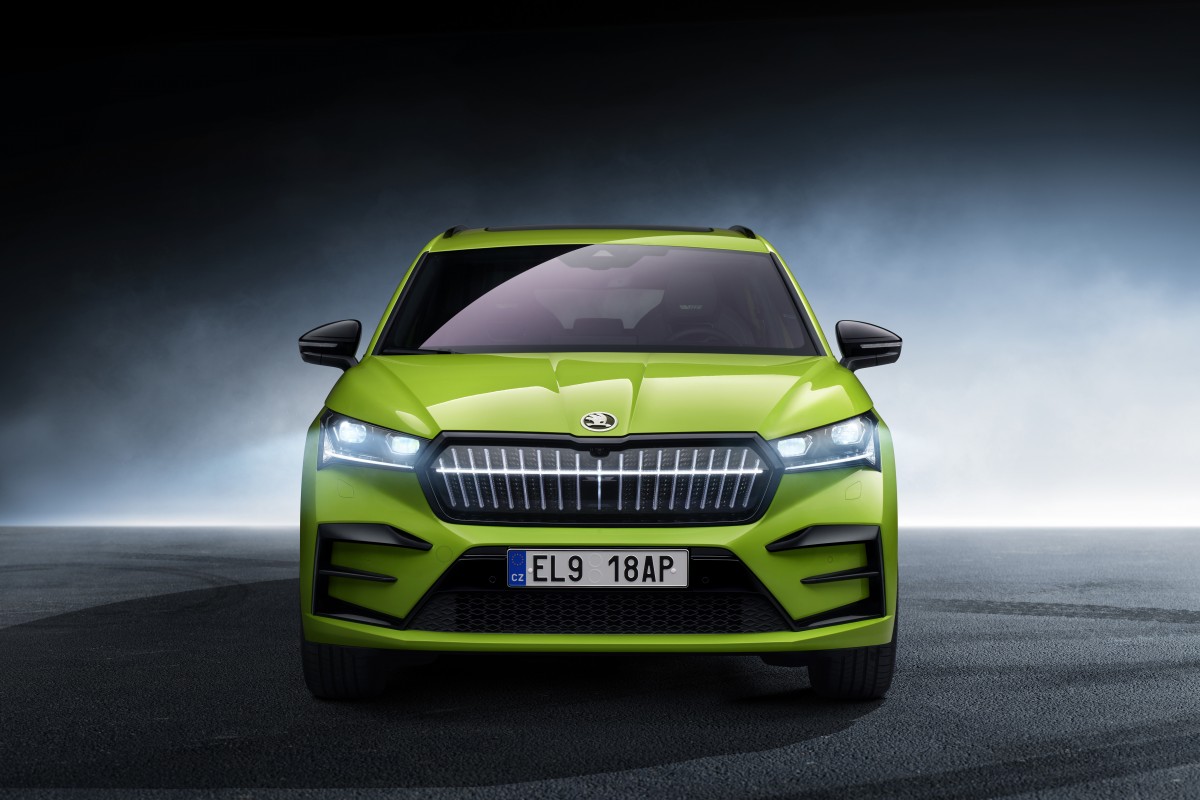 The battery allows for up to 135kW DC charging and will take 11 kW from the domestic AC socket. The car offers the new Plug & Charge solution at participating public stations - you don't need a payment card, plug the charger in and the car takes care of everything. The payment details such as supply contracts and payment methods are safely stored by the car and data are communicated directly to the charger the moment it is connected.
At 4.6 meters long Enyaq RS iV is not the largest SUV out there but thanks to its clever cab-forward design it offers plenty of room for five adults and 585 liters of cargo space for their luggage. The interior comes in the RS signature color scheme - plenty of black Suedia and lime-green accents with lime-green ambient lighting. The RS seats have green accents as well as contrasting stitching, the same goes for the dashboard. Carbon-effect inserts complete the look.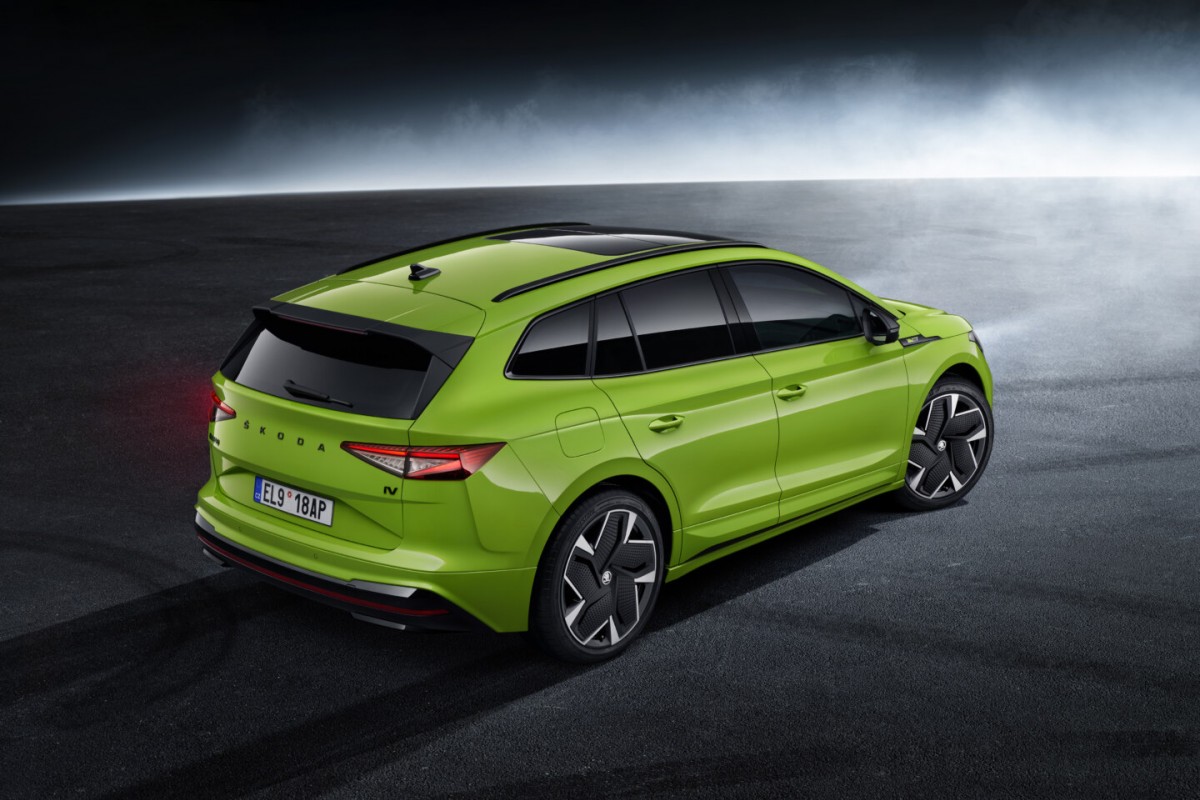 The infotainment comes courtesy of 13-inch horizontal screen, it can be customized and responds to multi-touch gestures. Skoda's own voice assistant, Laura, speaks 15 languages which should make life a little bit easier - unless you're Scottish. In that case you'll be better off with just using buttons. I haven't yet encountered a voice assistant that would understand me, not even Alexa or Siri can answer any of my questions. I wouldn't have high hopes for a VW designed software to be any better.
There is a head-up display with augmented reality support, CANTON sound system comes with 12 speakers and digital equalizer. The digital instrument cluster can be controlled via the steering wheel and offers four different layouts. Skoda offers an always-connected Internet to help with navigation - it can avoid traffic or look for free parking spaces. Via mySkoda app, owners can control battery status and schedule air-con and heating.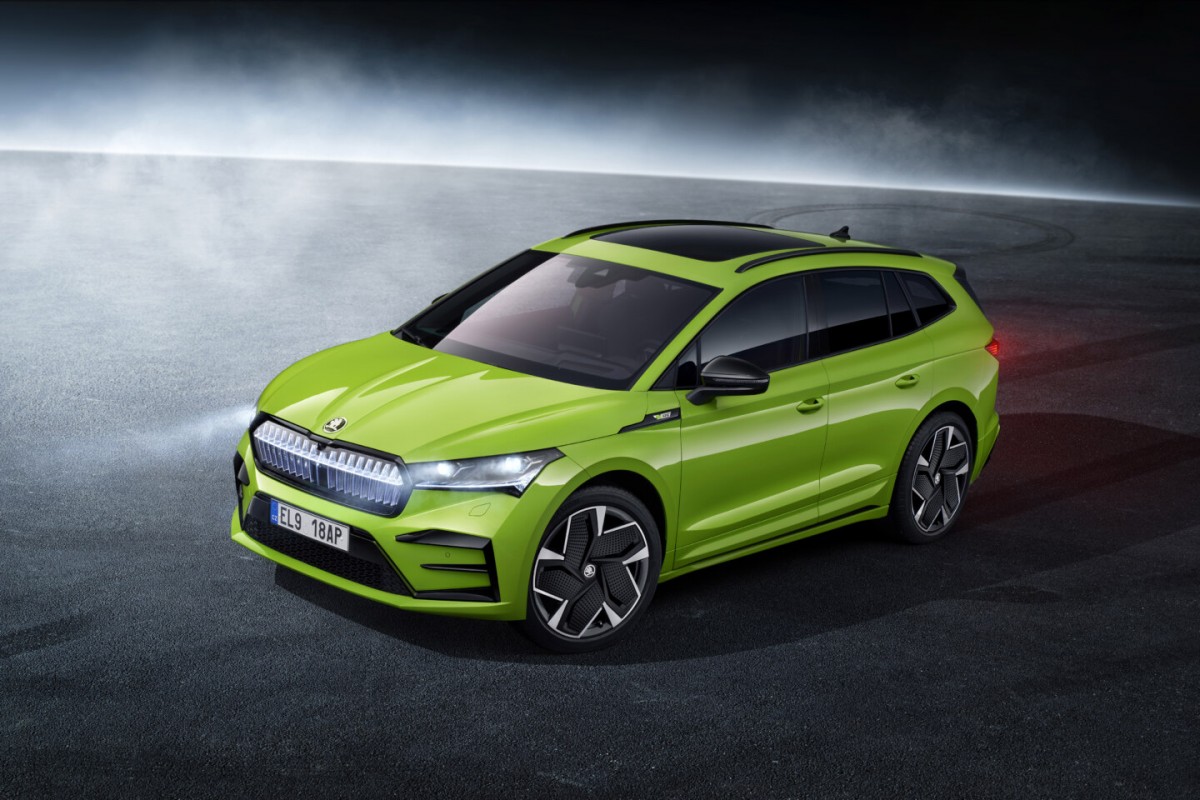 Optional Adaptive Chassis Control monitors the road and adjusts the damping automatically. There are 4 main driving modes plus a fully customized option that allows the driver to choose required settings. The RS version comes with an additional Traction driving mode available at speeds up to 20 km/h which offers constant all-wheel-drive for unpaved and slippery surfaces.
The driver assistance suite is comprehensive - adaptive cruise control, adaptive lane keeping and roadworks detection - something Tesla could use. There is the traffic jam assist and emergency assist as well as pedestrian and cyclist detection systems. Add to it rear traffic alert, collision avoidance, turn and exit assist and you have a car that can do a lot of thinking.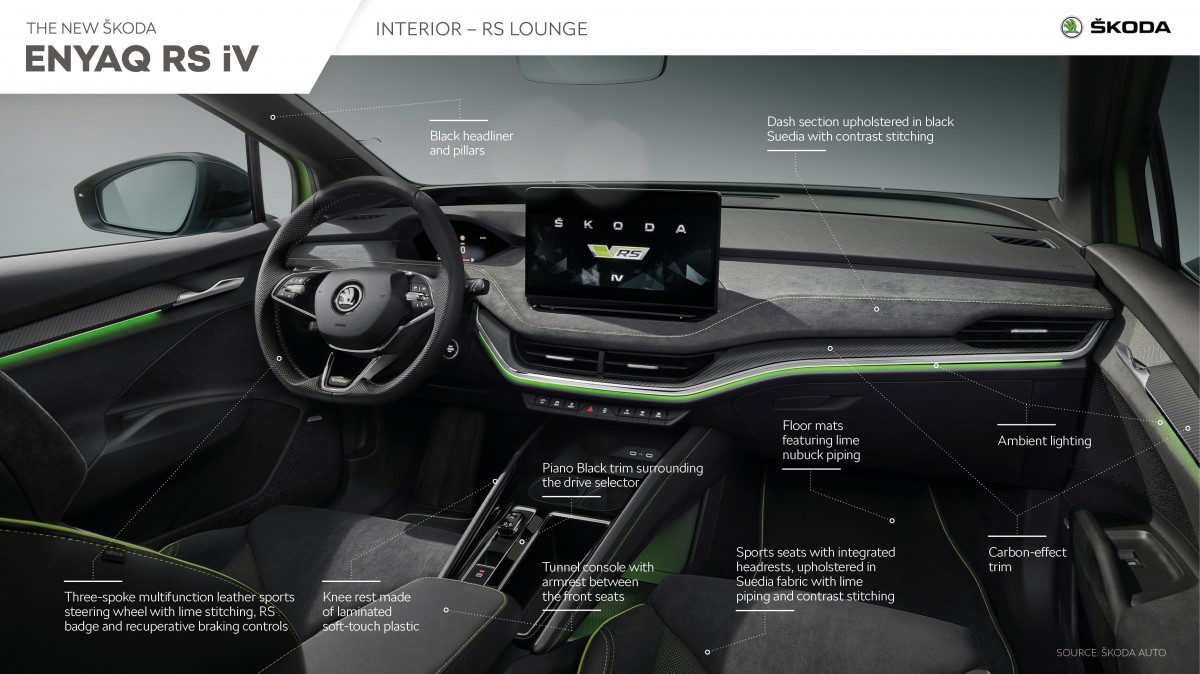 The headlights offer matrix technology with individually adjustable LEDs that help to avoid dazzling other road users. The camera constantly is scanning the road ahead and if it notices another car or a person it will adjust the light without switching the high-beam off.
In all honesty - it's the good old Enyaq that we came to know and like but with a bit of spice thrown in. The half a second better sprint or 35 Nm of torque more than Enyaq 80x will disappear unnoticed under its 2,200 kg weight. What will stand out is the new bodywork with sporty bumpers, the rear spoiler, the 21-inch wheels nnd the RS green color. It will get you noticed and it should trigger an insurance discount since it can be classed as a safety device.
Overall - good looking SUV from SKoda, tried and tested hardware, disappointing software and price much closer to €70,000 than we'd like. In this price range we have VW ID.4 GTX which is technically identical, then there's KIA EV6 GT. It offers less room but way more performance. Then there is the upcoming Hyundai Ioniq 5N and if you're in the US you can get your name down for Chevrolet Blazer SS which will be so much more fun to drive.
They have a version (it's a Škoda, you have to pay for it) front grille being one huge LED "lamp" - it's actually pretty nice, and it does not blind you when you see it even when it's dark. As RS editions go, this is probab...
Yet another non-functional large grille