The days when electric cars were an oddity on the roads are far, far behind us. If the recent sales figures are any indication, EVs are charging full-speed ahead.
Global plug-in electric car sales in July 2023 surpassed the magic one million mark for the third month running.
In total, 1,104,592 new plug-in electric cars were registered in July alone. This is a whopping 41% more than the previous year. If you were holding onto a shred of hope that this might be a fluke, this data might just burst your bubble: EV sales account for about 16% of the total car market. And with an additional 900,000 non-rechargeable hybrids cruising the streets, electrified vehicles (whether BEVs, PHEVs, or HEVs) make up roughly a quarter of the global car market.
Breaking it down, all-electric car sales flew past 750,000 units, taking an 11% share of the total volume. Plug-in hybrids managed less than half that at nearly 350,000 units, or 5% of the market.
The surge doesn't end there. In 2023 so far, a staggering 6.9 million plug-in electric cars have been registered globally, constituting about 15% of the total volume. And if you thought 2022 was a memorable year with 10 million new passenger plug-in electric cars, 2023 will undoubtedly outpace it.
Unsurprisingly, Tesla Model Y took the crown in July, selling a massive 77,289 units. Following closely were a smattering of BYD models, Tesla Model 3, and a few others. Specifically, the BYD Song and Qin families have combined sales of nearly 93,000 units. But, before we herald the Tesla Model Y as the undefeated champion, it seems the Model 3 might have to look out for the formidable BYD Song family.
On the brand front, things heated up. BYD registered a record 250,000 new cars, more than twice more than second-placed Tesla, which moved over 119,000 units.
Others on the top brand list included SAIC-GM-Wuling (thanks to its all-electric micro cars), Volkswagen, GAC Aion, BMW, Li Auto, Mercedes-Benz, Changan, and Kia. It's clear, in terms of volume, both BYD and Tesla are playing in a league of their own.
When looking at the overall automotive groups, BYD continues to dominate with a 21.8% share in the plug-in segment for the first seven months of 2023, followed by Tesla at 14.5%. The next names in line include giants like Volkswagen Group, Geely–Volvo, and SAIC.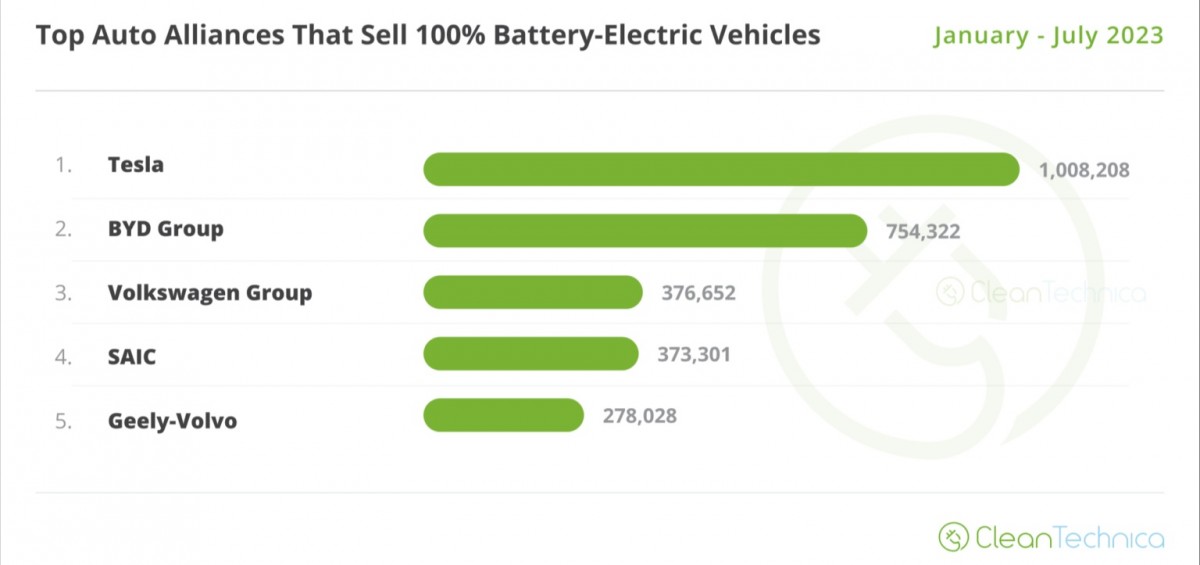 Source: CleanTechnica
In the purely all-electric segment, Tesla takes the lead with 20.9% of the market, followed by BYD at 15.6%. After that, Volkswagen, SAIC, and Geely-Volvo join the mix.
The Tesla Model Y's dominance isn't entirely out of the blue. Despite its newcomer status compared to its sibling, the Model 3, the Y's spaciousness and crossover appeal have clearly resonated with buyers globally.
The electric revolution isn't coming. It's here. The numbers don't lie. But while EV sales are indeed skyrocketing, it's essential to approach these figures with a mix of optimism and skepticism. After all, market dynamics can be as unpredictable as a stray cat on a freeway.
something is not right. Where is Porsche Taycan