Do you remember the Shelby Mustang Mach-E we saw at the SEMA 2022? The one with flashy stickers and a speaker instead of an exhaust? That's right - Shelby made it real even if only 100 units will be available. In a surprise move though, they will only be sold in Europe.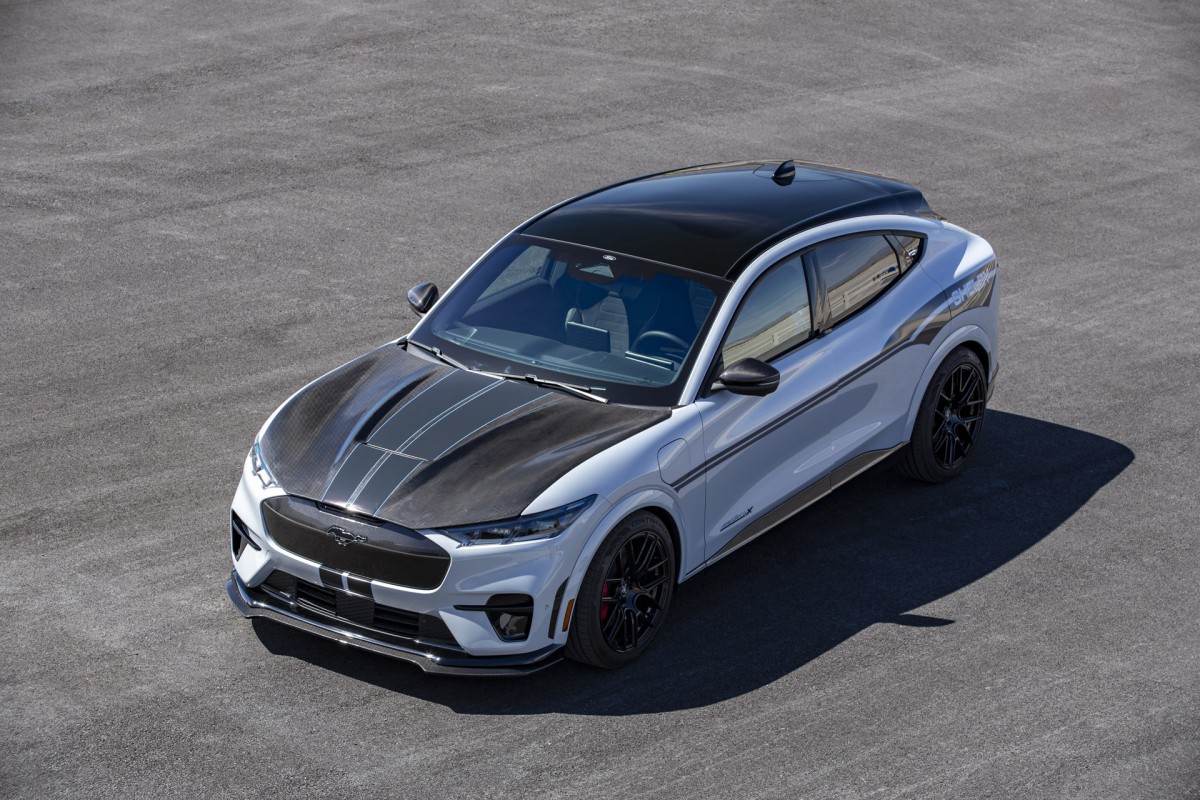 Unlike other Fords massaged by Shelby into proper performance vehicles, Mustang Mach-E GT gets only minor treatment with a huge dose of stickers. The only mechanical part that's updated is the suspension, Shelby installed a 1-inch shorter and stiffer spring which should improve the handling. There is a set of new lightweight forged aluminum wheels - and that's it.
Then there is carbon fiber - lots of carbon fiber. The hood is all-carbon, not just a skin, the front grille and lower splitter - carbon, the mirrors - carbon, and even the lower trim on the doors is made of carbon fiber. And finally, there are stickers - "go-faster stripes" weren't enough and Shelby treated the Mach-E with a set of side decals with a huge "Shelby" big enough for the ISS crew to read it from space.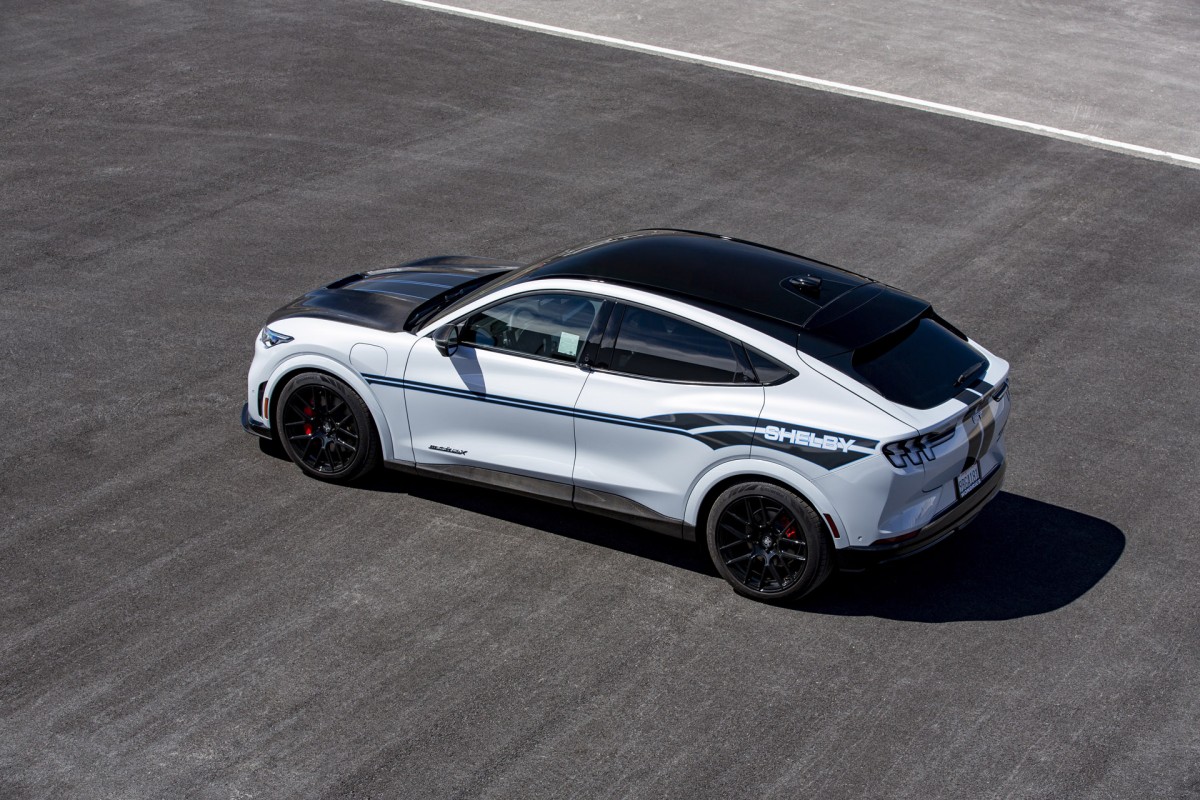 Since Shelby and Borla go hand-in-hand like Red Shoes and Seven Dwarfs, the new Shelby Mustang Mach-E GT comes with Borla's latest Active Performance Sound System. Essentially is a loudspeaker mounted under the rear bumper that pretends the all-electric Mustang Mach-E is not electric at all. The sounds match the driver's input and make the car obnoxiously loud but thankfully there's a switch to keep this thing off.
Shelby knew exactly what it was doing by bringing this special edition to Europe only. The company claims it's because the European EV market grows faster and the European network of EV chargers grows faster than in the US. But the real reason is that nobody would take the Shelby Mustang Mach-E GT seriously in America, especially with the Borla speaker on.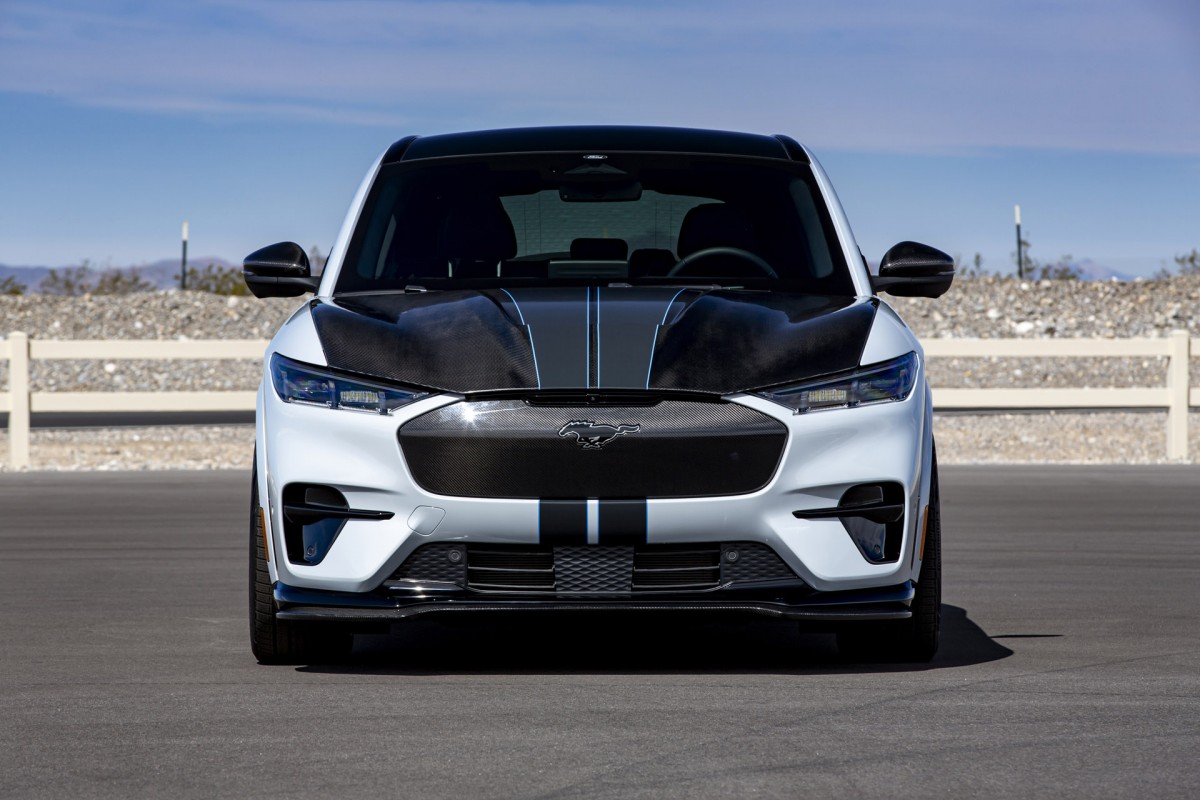 The Shelby theme continues on the inside with branded floor mats, badges, and of course the numbered dash plaque. The vehicle is limited to only 100 units and customers who already own a Mustang Mach-E GT can buy this package now, those who don't have the car already, will have to buy one this year to qualify for the upgrade.
Finally the price - you may wanna brace yourself for this one. Shelby wants €24,900 for this kit which will make the Mach-E GT a €110,000 electric car. That's more than Tesla Model S LR sells for in Europe. AMG EQE 43 4MATIC costs €111,000 in Germany and just for kicks - Dacia Spring 65 will set you back €23,400. That's a whole car cheaper than a set of wheels and stickers from Shelby. And of course the Borla speaker.